Can Tej Pratap's DSS take on the mighty RSS in Bihar?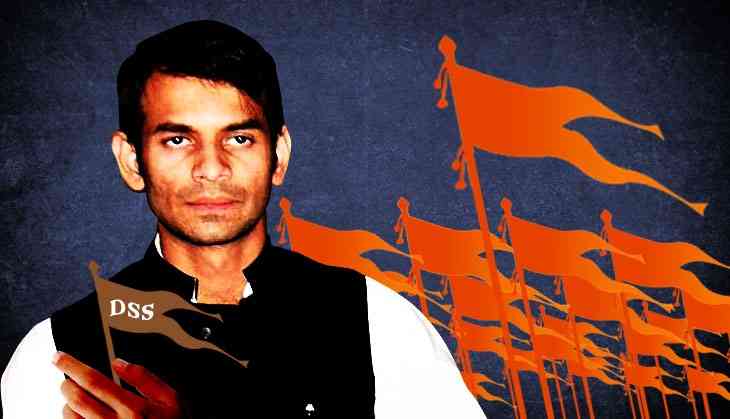 On 2 April, Bihar's health minister and RJD supremo Lalu Prasad Yadav's elder son, Tej Pratap Yadav held a rally cum rath yatra in Patna, announcing a decisive fight against the Rashtriya Swayamsevak Sangh (RSS) throughout the country.
It was the first public event organised under the banner of the Dharmnirpeksh Sevak Sangh (DSS), an outfit launched by him during the last Lok Sabha election. According to Tej Pratap, who is the patron of the organisation, its prime agenda is to fight the divisive agenda of RSS and its allies.
"Today, RSS is spreading religious fanaticism… fanning out its divisive ideology in the country but the DSS will counter them," he told reporters while leading the rath yatra along with his supporters.
"The yatra was successful in the sense that despite scorching heat nearly a thousand supporters from different districts of Bihar participated in it with lots of enthusiasm," says Khurshid Akbar, a social researcher currently based in Patna, who was present there as an observer.
Given the steady rise of RSS and its sister organisations, the initiative by the young minister can be seen as a positive sign. However, the question is how DSS plans to counter RSS, a pan Indian Hindutva organisation with lakhs of committed volunteers. In recent years it has also been able to expand its base in Bihar as well.
Tej Pratap's initiative also assumes significance given that till now he has been seen as a reluctant politician compared to his younger brother Tejaswi Yadav, who is the Deputy Chief Minister of Bihar. Given this track record, it will be an uphill task for the young leader to match the RSS.
But many say that even if the DSS manages to counter divisive forces in Bihar with consistency, it would be a creditable achievement.
What Tej Pratap must do
To do that first thing DSS and its leader Tej Pratap need to move beyond mere rhetoric. A lot of work needs to be done on the ground.
Hindutva forces can only be fought with clarity of thought and action, which seems to be missing as of now.
The DSS' objectives stated on its website read more like the objectives of an NGO whose mission is to work for the empowerment of marginalised groups. One has nothing against NGOs but one has to understand that one can't fight a hydra-like organisation such as the Sangh with the programme of an NGO. It is a full-time political mission that requires ideological clarity and a robust organisational structure.
One of the biggest flaws of the yatra was that it was a show of Rashtriya Janta Dal (RJD) party workers or supporters of the minister. Again there is nothing wrong in RJD supporters participating the rally in large numbers but if it is just RJD workers, it can defeats the purpose.
Another problem with the DSS is that currently it seems almost like a pocket organisation of an individual. This has to be transformed into ideology-based platform from a personality-centric outfit.
Hence, the logical next step of the yatra should be the process of developing ideological clarity and building an organisation at the grassroots level. In this regard, DSS has to build alliances with like-minded groups and individuals.
Fortunately, even today there is no dearth of such people in Bihar. In other words, if Tej Pratap is really interested and serious in his stated mission, he should immediately approach workers other than those of his party, otherwise it will end up becoming yet another frontal organisation of the RJD.
Most importantly, what has to be also kept in mind is how not to present message before the masses. Even the smallest misstep can help consolidate Hindutva forces.
Tej Pratap must be prepared for the long haul. He must remember that in politics what matters the most is not intent but perception. His intent behind creating the DSS might be noble, but it could backfire if the messaging goes wrong.