By batting for Gau Mata & Bharat Mata, is Congress becoming the new BJP?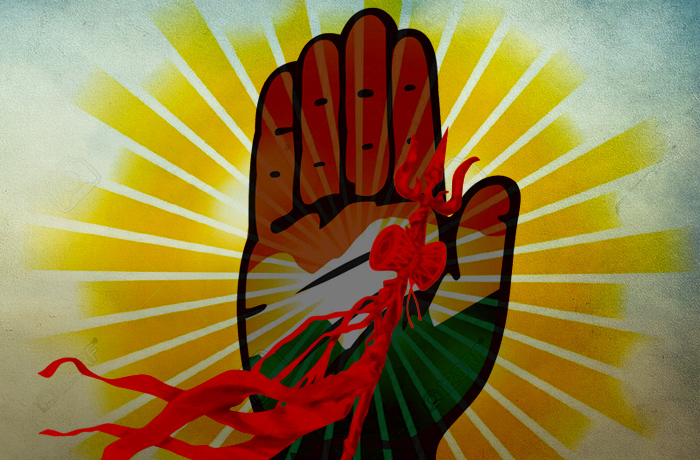 The hypocrisy
Congress preaches tolerance, but backs Waris Pathan\'s suspension for not saying Bharat Mata ki Jai
It\'s Gujarat unit wants cow to be declared as \"national mother\"
It took a confused stand on the JNU sedition row
More in the story
When the Congress made BJP look moderate
Reasons behind the Congress\' duplicity
The BJP and its fellow promoters of the cultural right are undoubtedly to be held responsible for the country's takeover by lunacy. But we must step back a little and look at the complementary role the Congress is playing. One by one, the Grand Old Party is choosing issues and responding in a manner that indicates a clear cut competitive pursuit of the same kind of politics as the BJP's.
Also read - I won't say 'Bharat Mata Ki Jai': Asaduddin Owaisi to Mohan Bhagwat
It began with JNU, where Congress initially jumped to the defense of students' right to raise slogans but later limited its support only to those who did not chant any slogans. The party amended its stand after facing ridicule from those who were condemning Kanhaiya Kumar, Umar Khalid, Anirban Bhattcharya and others for allegedly supporting Afzal Guru and many Kashmiris' demand for the state's right to self-determination.
In shifting its position, Congress essentially sided with jingoists, abandoning the defence of liberal ideals it had earlier expressed commitment towards. While this was a subtle shift towards the right, three instances in the past one week have indicated a very pronounced turn.
Joining hands with BJP, Shiv Sena in Maharashtra
In the Maharashtra Assembly, the Congress joined the BJP, Shiv Sena and NCP to get AIMIM MLA Waris Pathan suspended over his refusal to chant Bharat Mata ki Jai. So keen was the Congress to buttress its nationalist credentials that Congress MLAs shouted down BJP minister Eknath Khadse's suggestion that an apology from the AIMIM MLA would do.
Leader of Opposition and Congress MLA Radhakrishna Vikhe-Patil could be mistaken as a BJP or Shiv Sena member, looking at his comment. "If anybody insults national sentiments, it cannot be tolerated. I demand strong action against the member for insulting the country," he reportedly said.
In Waris Pathan's suspension from Maharashtra Assembly, Congress' stand was more rabid than even BJP
The controversy had originated from Rashtriya Swayamsevak Sangh chief Mohan Bhagwat's earlier statement that the time had come to teach "the new generation to chant Bharat Mata ki Jai". AIMIM chief Asaduddin Owaisi had challenged Bhagwat, saying nobody could force anybody to raise a slogan and that he would not chant it even if someone held a knife to his throat. By supporting Bhagwat's argument and fighting vociferously for it, did the Congress not put itself strongly by his side?
Moving 'nationalist' resolution in Madhya Pradesh
Two days after Pathan's suspension, Congress and BJP MLAs in the Madhya Pradesh Assembly joined hands to pass a unanimous censure motion against Owaisi for his remarks. This motion was problematic on multiple fronts. To begin with, what business, pray, does a state assembly have to take umbrage at a statement made by a Member of Parliament? Apart from that, Owaisi doesn't even belong to Madhya Pradesh and neither was he in the state when he made that statement.
In an Assembly dominated by BJP members, this motion was moved by Congress MLA Jitu Patwari. Irony must have died that day, especially seeing Patwari move this motion invoking former Prime Minister Jawaharlal Nehru. Patwari reportedly said Nehru had described the country as 'Mother India' in his work Discovery of India. "The refusal to chant Bharat Mata Ki Jai' is an insult to Bharat Mata and it should be condemned by this House, irrespective of the party," he added. The motion was passed amid chants of 'Bharat Mata Ki Jai' from treasury and opposition benches.
Adopting cow as mother in Gujarat
While the Congress was batting for the country's status as mother in Maharashtra and Madhya Pradesh Assemblies, it was fighting for the cow to be elevated as the national mother in the Gujarat Assembly. A day after an activist of a cow-protection outfit committed suicide demanding "mother of the nation" status for the cow, Opposition Congress supported the demand in the Assembly.
Even as the BJP was non-committal on the matter, Leader of Opposition Shankersinh Vaghela announced that the Congress would support the state government if it declared the cow as "rashtra mata". Congress MLAs reportedly even raised slogans against cow slaughter and walked out of the Assembly for some time in protest. Vaghela later told reporters, "Cow is our mother and the BJP government must declare it as our national mother."
Congress in Gujarat has demanded that the cow be declared as India's national mother
The common narrative in all these incidents is the Congress' adoption of Hindu majoritarianism that was so far championed by BJP and Shiv Sena. The Congress used to take limited recourse to these instruments earlier too, but now it appears to be trying to adopt them lock, stock and barrel.
The party's shrunken size in the Lok Sabha and depleting fortunes in state assemblies might explain this race for the Hindu vote. But in joining this race, the party has possibly failed to realise that this strategy is not a steed that it can mount and dismount at will. It is, if anything, more akin to a tiger that John F. Kennedy spoke about in 1961 - "those who foolishly sought power by riding the back of the tiger ended up inside".
More in Catch - Nationalism debate: curious case of Asaduddin Owaisi, Javed Akhtar & Anupam Kher
Make the cow our national animal? It already is!