BSP workers' abuse also deserves condemnation, but not from BJP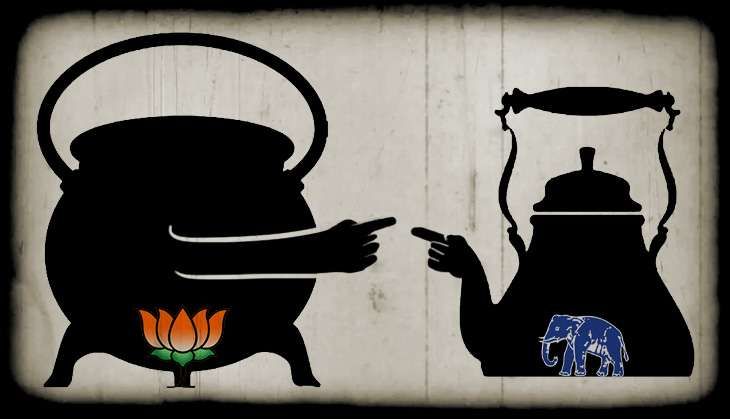 The Bharatiya Janata Party is facing a huge Dalit backlash because of a coincidental converging of Dalit protests from three different parts of the country.
Cornered, the party is attempting to turn the tables by hitting out at Bahujan Samaj Party supporters for making derogatory references to the female family members of expelled BJP leader Dayashankar Singh during their protests.
BSP workers held massive demonstrations against Singh in Lucknow on 21 July, protesting over his statement comparing BSP supremo Mayawati to a prostitute.
During these protests, BSP workers reportedly chanted slogans demanding that Singh's sister and daughter be presented before them. Singh's wife has claimed that her daughter is feeling traumatised and that she will file an FIR against Mayawati for the trauma faced by her and her family.
Condemnation from all quarters
The slogans, if they were indeed chanted, are crass and deserve unambiguous condemnation.
Senior journalist and pro-Dalit activist Urmilesh was quick to post this on his Facebook wall.
John Dayal, human rights activist and spokesperson for the United Christian Forum said: "The nationwide anger against the humiliation and victimisation of Dalits in targeted violence by gau rakshaks and others has shaken the government and the political establishment. Beginning with the suicide of doctoral scholar Rohith Vemula, and the rape and murder of Dalit girls, the anger has made common cause with the religious minorities protesting Sangh excesses on multiple issues.
"It is therefore very disturbing to see some elements in the Bahujan Samaj Party use objectionable language, verging on the same sort of misogyny as shown by the Sangh leadership. The BSP supreme leader must restrain her followers. The entire movement risks being diverted and wasted in such unwanted diversions."
Congress MP and spokesperson Sushmita Dev told Catch that while it was the democratic right of the BSP workers to protest, every right comes with a sense of responsibility, and decorum must be maintained.
JD(U) MP KC Tyagi said that while the protests by the BSP workers are justified, he would advise them to use restrained language. He said "we can not use the same words and phrases that we condemn".
BJP's gameplan
However, what the BJP seems to be doing is raising the volume of this condemnation so high that it drowns out the loud sounds of protest against the original act of Singh's comments. How can a party that provides patronage to an army of abusive speakers, hate-mongers and rabble-rousers attempt to show the mirror to others?
Has the BJP forgotten about the conduct of its junior foreign minister VK Singh, the former army chief, who has a penchant for coining offensive terminology like "presstitutes"? Has it also forgotten what Singh had said after the murder of two Dalit kids in Haryana's Faridabad last October? In a bid to insulate the government from the controversy over the killings, he had asked could the government be held responsible "if somebody throws a stone at a dog".
Or has Sadhvi Niranjan Jyoti, of the "Ramzaade vs haramzaade" fame been forgotten? She continues to be in the Union Cabinet, as does Giriraj Singh, who had remarkably insulted Congress president Sonia Gandhi, 'Nigerian' women and women in general in the same sentence last year. No action has been taken so far against BJP's MP from Unnao, Sakshi Maharaj, who openly propagates the utility of 'Hindu' women as baby-making machines.
And then there are the rabble-rousers who are the real stalwarts of BJP, like Gorakhpur MP Yogi Adityanath, who justifies the mob-lynching of those who are merely suspected of eating beef. He also wants Hindus to organise and fight back, a view shared by his party colleague Ram Shankar Katheria, the MP from Agra.
At least four BJP members who are accused in the Muzaffarnagar riots of 2013 continue to hold positions like minister, MP, MLA and vice-president in the party, including Sanjeev Balyan, Sangeet Som, Hukum Singh and Suresh Rana.
In such a scenario, it would only be fair to ask the BJP what locus standi it has to raise its voice in such a manner against the BSP?
Edited by Shreyas Sharma
More in Catch
Arrest Dayashankar Singh for his misogynistic remark, demands Mayawati
Dayashankar Singh is an 'illegitimate child': BSP MLA's response to 'prostitute' barb
Mayawati worse than a prostitute, says BJP leader. Modi to pay the price