Booze, big bucks & blood: How Shiv Lal Doda became the Akalis' man in Abohar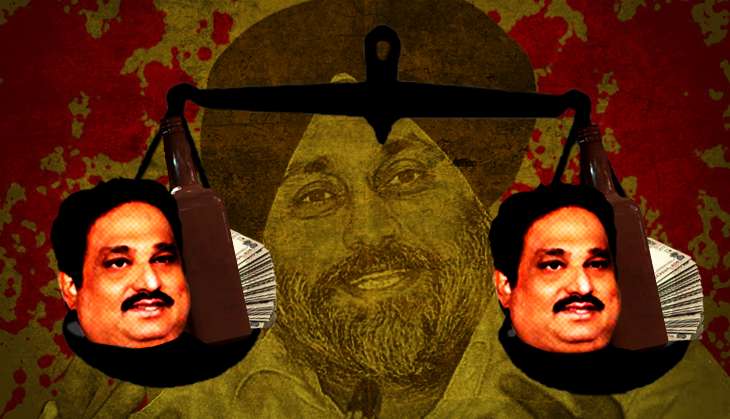 Liquor baron Shiv Lal Doda, who is accused of murdering a Dalit youth Bheem Tank, has announced that he will withdraw from the electoral fray from the Abohar Assembly constituency in Punjab in favour of the BJP candidate.
But as of Saturday evening he was still in the fray as the returning officer found that the person who came to withdraw Doda's nomination, wasn't authorised as per procedure.
He is up against the sitting MLA and former Leader of the Opposition - Sunil Kumar Jakhar of the Congress. It is likely that Doda will withdraw in the BJP's favour in the next couple of days.
The SAD-BJP's calculation is that out of the 1.60 lakh voters in Abohar, around 60,000 are from the Arora community, to which Doda belongs. With Doda, who was contesting as an independent, opting out, they feel the votes would now go to BJP nominee Arun Narang, who is from the same community.
However, the alliance isn't just about Arora votes in Abohar. It reflects Doda's nexus with political parties. It is this nexus that has made him a key player in of one of the biggest liquor cartels in North India.
Ice to liquor
Doda's is almost a rags-to-riches story as he used to sell ice near the bus stand in Abohar, a town near India's border with Pakistan as well as Punjab's border with Rajasthan.
In 1985, he had to run away from the town after he and his brother were accused of stabbing their neighbour with an ice pick.
Though Doda was let off, he couldn't return to Abohar for a while and went to live in Gurgaon. His brother Ved Doda was convicted but, after his release, became a liquor contractor in Abohar.
In 1996, Doda set up Gagan Wine Trade and Financers Limited, named after his son Gagan, with its address at a farmhouse in Delhi.
From the mid 1990s onwards, there was a huge proliferation in Punjab's liquor trade and Doda capitalised on this boom.
In 2002, Captain Amarinder Singh came to power and gave state-wide license for wholesale distribution to liquor giant Ponty Chadha, which was cancelled by his government by 2006.
The Akalis came to power in 2007 and they changed the liquor policy to giving wholesale licenses to just two entities per district. According to this report, players linked to the Akali Dal benefitted from this process. One of those who made huge profits in this period was Shiv Lal Doda.
Emboldened by his booming business and the political backing of the Akalis, Doda contested from Abohar in 2012. Even though it was a BJP seat, the Akalis tacitly backed Doda who gave Jakhar, the outgoing leader of the Opposition, a scare by securing over 45,000 votes. The BJP nominee got just a little over 9,000 votes, which incidentally, was also the margin of Jakhar's victory over Doda.
Doda's business empire
Today companies linked to Doda have diversified from liquor manufacturing to real estate and even films. Doda is listed as the founder and chairman of the Gagan Group of Companies and his son Gagan is the managing director. Other family members also hold important positions. His brothers Joginder Pal Doda and Avinash Doda are both listed as executive directors as is nephew Amit Doda.
According to the Gagan Group's website, it has the following associated concerns:
Gagan Wine Trade & Financers

Gagan Distillers & Beverages

Ridhi Sidhi Estate

Drive In 22 Resorts

Royal City Infrastructure

Punjab Liquors

Gagan Vasu Cine Links

Doda Wines

Jai Bhole Nath Enterprises Pvt Ltd
But the company directory of the ministry of corporate affairs shows that there are many other companies that Doda family members are associated with. The main figure in these companies is Shiv Lal Doda's son Gagan.
Female members of the family - such as his wife Sunita Doda and one Suhani Doda - are also listed as directors in many of these companies. Here are some of the other companies controlled by Doda's family:
Liquor
Scottish Highlands

Rock and Storm Liquors

Kaizen Brewing
Real estate
Udit Vasu developers

Uttaranchal developers

Royalcity Infrastructure

GT developers
Wholesale trade (no specific category)
Skate Trades and Agencies

Royal NGC trading
Doda's Uttarakhand connection
In some of these companies, other liquor manufacturers in Punjab are listed as directors, which indicates that they are also part of the same liquor cartel as Doda.
An interesting case is that of Scottish Highlands Pvt Ltd, a liquor manufacturing company based out of Sunam in Punjab's Sangrur district.
Gagan Doda is listed as a director in this company along with two other Sangru-based liquor manufacturers - Varundeep Singla and Ramandeep Singla. The Singla duo also own a company called Rock and Storm Distilleries Pvt Ltd, not to be confused with Rock and Storm Liquors, that is controlled by Gagan Doda.
Rock and Storm Distilleries manufactures a whiskey brand known as Dennis, that is extremely popular in Uttarakhand. There have been allegations that Dennis has grown in Uttarakhand under the patronage of the Congress government in the state.
This happened after the Harish Rawat government assigned the distribution of liquor to the Uttarakhand Mandi Parishad. The policy harmed existing liquor syndicates and ended up benefitting a new player on the block - Dennis, which grew by leaps and bounds after this.
A Rock and Storm Distillaries report from December 2015, says that "Dennis Special is far ahead of the competition in Uttarakhand". The company claims to be the "fastest growing start-up in this domain".
This is not very different from what happened in Punjab under the Akalis. After the Akali government restricted the wholesale distribution of liquor to two entities per district, it allegedly benefitted newer companies that were affiliated to the Akalis in some way or the other. Apparently, three of Punjab's five leading liquor manufacturers are linked to the Akalis -- Bikram Majithia's Saraya Group, former Faridkot MLA Deep Malhotra and Shiv Lal Doda.
The case of Dennis shows how the liquor cartel of which Doda and the Singlas are a part, is growing across North India courtesy political patronage that cuts across the political divide.
Ponty Chadha dominated the entire liquor market of North India at one point of time, largely because of his proximity to various political parties. But after his murder, the space has been taken by a number of liquor cartels involving players like Doda.
Doda's support to the BJP, therefore, is not just a political realignment in Punjab. It is also indirectly linked to the Uttarakhand elections and the need for the liquor cartel to been in the good books of the government in the state.
Reign of terror in Abohar
When news broke earlier this month that Doda was holding a political meeting with Akali functionaries in Fazilka jail, it hardly came as a surprise to anyone in Abohar.
People in the town say that Doda has been a law unto himself and he would still have been out, had the SAD-BJP not feared losing Dalit support following Bheem Tank's murder.
According to this report in The Indian Express, soon after Doda returned to Abohar, the town's most successful liquor contractor Roop Lal Bansal, was pulled out of his car and assaulted by a group of 25 men, on 7 January 1999. They repeatedly hit him on the leg with hammers and he still finds it difficult to walk.
Bansal told The Indian Express that a politically influential man, had earlier threatened him and told him leave the town and quit the business.
Another Abohar resident, Satpal Setia, who used to work with Shiv Lal's brother Ved Doda, was murdered in broad daylight alongwith his wife on 20 November, 2002. His brother, Ghanshyam, told The Indian Express that his brother had refused to work with Shiv Lal after Ved's death, after the latter's death earlier that month.
A Godfather-like figure, Doda does a lot of charity work in Abohar. He owns over 150 liquor vends in Abohar and provides employment to thousands of people. Very few people have dared to take him on, largely because he enjoys the Akali government's backing.
Bheem Tank's murder
Bheem Tank, a young Dalit, also worked for Doda's liquor vends and had quit only six months before his murder on the night of 10-11 December, 2015.
He reportedly had 12 criminal cases pending against him - the last was a rape case lodged against him on the day of his murder.
Tank's mother Kaushalya claims that on the night of 10 December, Harrinder Singh Harry, an employee of Doda, called Tank and asked him to come for a meeting at Doda's farmhouse at Ramasra.
"He was forcing Bheem to join work again. Bheem had opened a dhabha. He never wanted to be part of the liquor vends, but they were getting fake FIRs lodged against him. They were forcing him to go back to work, warning him that more cases would be lodged," she told the media.
Jaspal Singh Bhola, who reached the farmhouse after midnight on 11 December, claims that he saw his nephew Gurjan and Bheem Tank in a pool of blood with their chopped off limps strewn around.
He also claims that before dying, Tank told him that "Shiv Lal Doda and his nephew Amit were behind what happened".
The aftermath and the election
Soon after the murder, the Akalis began distancing themselves from Doda, at least publicly. With both the Congress and AAP raking up the incident, the Akalis were afraid of losing Dalit votes because of Tank's murder.
This changed in the run-up to the Assembly polls. The Akalis realised that they couldn't defeat Sunil Jakhar without Doda's help. Initially, the party seems to have been backing Doda as an independent, at the expense of the BJP candidate. This was evident in the manner in which Akali functionaries met with Doda in Fazilka jail.
But fearing a repeat of 2012 in which the votes against Jakhar got split, they seem to have prevailed upon Doda to support the BJP
candidate
.
Doda, too, on his part needs friends, both because of the case against him as well as for the success of his liquor cartel in Punjab and Uttarakhand.
According to the Gagan Group's website, Shiv Lal Doda's motto is "nothing is impossible". Perhaps Doda is still counting on a miracle that the SAD-BJP would win Punjab, especially Abohar, and he can once again lord over this border town.