BK Bansal suicide: Is Amit Shah influencing the CBI?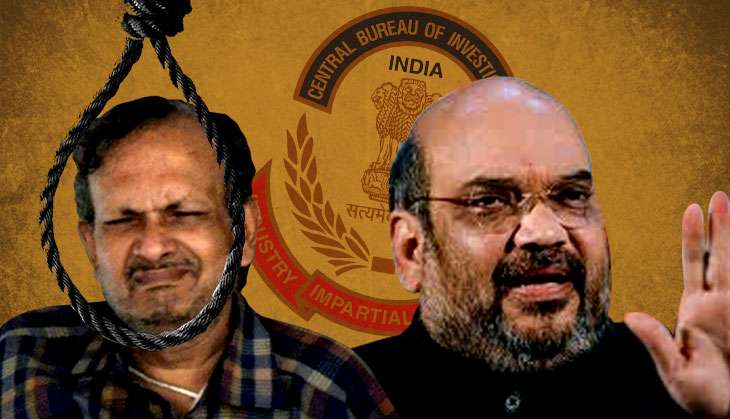 BK Bansal ends his suicide note with the words 'Bharat Mata ki Jai' ironically the same words with which Amit Shah ends his speeches. If Bansal's suicide note is to be believed, Shah is the mentor to his alleged tormentor-in-chief CBI DIG Sanjiv Gautam.
The tragedy of Bansal and his family is unimaginable. On 27 September Bansal, a Corporate Affairs ministry official, committed suicide along with his 31-year-old son Yogesh. Barely two months earlier, on 19 July, his wife Satyabala and his 27-year-old daughter Neha had ended their lives.
According to reports, Bansal remained strong in the immediate aftermath of their death and said that "life goes on". But somewhere in between, something broke within Bansal and his son and they chose to end their lives by hanging themselves at their East Delhi apartment on 27 September.
In his suicide note, Bansal names Sanjiv Gautam and his team as the tormentors who forced him and his family to take this step. Significantly, he also links Gautam to one of the most powerful men in the country - BJP President Amit Shah.
Bansal claimed that Gautam threatened him by saying, "I'm Amit Shah's man. Who can touch me? What I will do to your wife and daughter that hearing their treatment will send shivers down people's spine..."
Bansal wrote that Gautam ordered the two female officers in his team to torture his wife and daughter so much that they are "almost dead".
CBI had raided the Bansal residence at 3 PM on 18 July with his wife and daughter present. The raid lasted till 5 AM on the morning of the 19th. By 1:30 PM, they had killed themselves and written in the suicide note that "they had lost the will to live" after the CBI action.
"Even if I was at fault in the case, why were my wife and daughter pushed to suicide by CBI officials?...This wasn't a suicide, it was the murder of two women," BK Bansal wrote.
Bansal's suicide letter can be considered a dying declaration and is admissible as evidence. The Delhi Police could have arrested Gautam for abetment of suicide but has chosen not to do so.
The National Human Rights Commission has now asked the CBI to submit an action taken report on the contents of the suicide notes.
The CBI, more specifically Sanjiv Gautam and his team, stand accused of the worst kind of torture and harassment that drove four people towards suicide.
Bansal, who was accused of taking a bribe of Rs 9 lakh to block an investigation into a Mumbai-based pharma company when alive, has now become a whistleblower after his death.
In his suicide note, Bansal alleges that Gautam threatened him saying, "you and your family would be tortured so much that you will beg for death, but you won't get that either'".
Bansal and his entire family are now dead. But his death has raised serious questions over Gautam and the influence Amit Shah allegedly wields in the CBI.
What are Sanjiv Gautam's links with Amit Shah?
Sanjiv Gautam's proximity to Amit Shah isn't something Bansal concocted. On 18 April this year, India Samvad did a story titled "Inside CBI, officials dance to Amit Shah's tunes, fail to act against big fish".
The story states that the "Narendra Modi's government has handed over the task to fight corruption in to DIG Sanjiv Gautam of the CBI anti-corruption wing. Sanjiv Gautam is considered to be a close aide of BJP President Amit Shah".
"Sanjiv Gautam even does not pay heed to his senior Joint Director Anurag Garg...He is even said to overlook CBI Director Anil Sinha's orders many times," the report further states, adding that he takes orders directly from Shah.
It alleges that the anti-corruption branch officers raided Delhi Chief Minister Arvind Kejriwal's Principal Secretary Rajender Kumar, "to please Amit Shah".
Another controversial raid by the CBI's anti-corruption branch was on Himachal Pradesh Chief Minister Virbhadra Singh in September last year. The raids became controversial as they were conducted on the day Virbhadra Singh's daughter was getting married.
The Congress accused the BJP of using the CBI to conduct a political vendetta. "What was the need to conduct a raid on his (Virbhadra Singh's) daughter's wedding? It's not as if he is a fugitive criminal. It is clear this is being done at the BJP government's behest," a Congress spokesperson had told Catch in the immediate aftermath of the raids.
There can be a great political cost for targetting a sitting chief minister on the day of his daughter's wedding. It is unlikely that the CBI would have done it without the backing of the Narendra Modi government.
Gautam is said to have played a key role in the Virbhadra Singh raid as he is the head of the CBI's Chandigarh Range, under whose jurisdiction Himachal Pradesh falls.
In different ways, the Bansal case as well as the raids on Virbhadra Singh reflect the willingness of certain CBI officials to indulge in harassment for the sake of it.
Sanjiv Gautam is a 1995 batch IRS officer who has been with the Customs and Central Excise department. On 27 May 2014, he was appointed as DIG at the CBI's Anti-Corruption Branch. Before this he was private secretary to Jitendra Singh, minister of state under the UPA. The IPS lobby is said to have been unhappy with an IRS officer like Gautam being posted at such a high rank in the CBI.
Bansal's allegations reveal the degree of impunity with which Gautam seems to be operating. It must be remembered that Amit Shah was in-charge of the Home Ministry in Gujarat and was accused of using the police to carry out fake encounters of Sohrabuddin Shaikh, Tulsiram Prajapati and Ishrat Jahan.
Even though Shah was discharged in the case, some say because of the CBI's ineptitude, it was clear that he did give certain controversial officers like DG Vanzara and PP Pandey a free hand in the state.
Now with Bansal's allegations, it seems that Shah is doing the same at the Centre as well.