BJP war-room: the infighting behind Sushma Swaraj's woes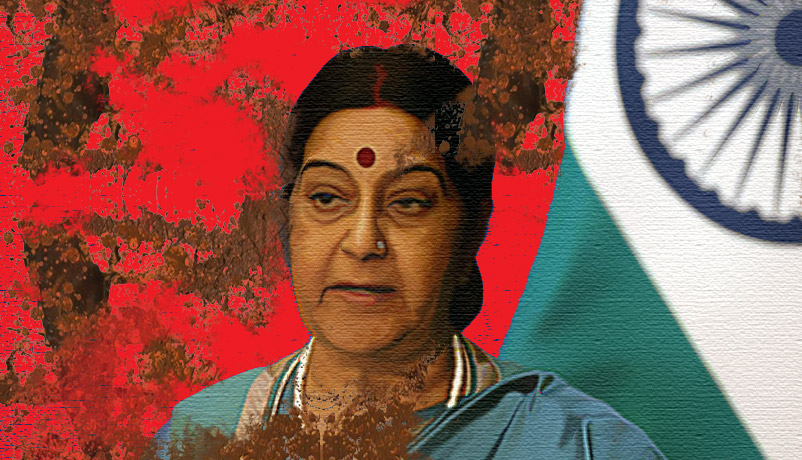 The controversy
Sushma Swaraj is in the dock for \"helping\" tainted former IPL commissioner Lalit Modi secure travel papers in the UK.
This has given Congress the ammunition to target the Modi government.
The tussle
Lalit Modi is known to be close to Swaraj\'s family. Her husband and daughter are his lawyers.
But the expose against her has more to do with the infighting within BJP.
There\'s a fight for who should be PM Modi\'s number 2.
Swaraj won praise for her handling of the hostage crisis in West Asia. Her rivals wanted to bring her down.
Lalit Modi was the Swaraj family\'s underbelly and was the perfect pawn to bring her down.
The defence
Barring one prominent leader, the government and party is defending Swaraj.
Others feel they could be next in this fratricidal war.
Just when Sushma Swaraj was basking in the glory of being voted as the best performing minister of the Narendra Modi government in several opinion polls, the unforeseen happened.
So much dirt has been flung at her that, despite trying to shake it off, she has lost some of her sheen.
Fight for the Number 2 slot
Party insiders claimed that this was the result of an ongoing fratricidal conflict in the second rung leaders in the party.
Like the fictional character in JK Rowling's Harry Potter series, Lord Voldemort or 'He-who-cannot-be-named', no one in the Bharatiya Janata Party (BJP) was willing to name Swaraj's tormentor.
The BJP has never had such a comfortable majority of 282 seats in Parliament. And despite its shortcomings, there has not been a more stable government at the Centre for a long time.
However, instead of focusing on consolidating and providing effective governance, the government has been thrown into a tizzy countering allegations about the External Affairs Minister helping a fugitive - Lalit Modi - get British travel documents.
The claim of Prime Minister Narendra Modi that he ran a scam-free administration has suddenly begun to sound hollow. A chink has been exposed in his armour.
Sensing an opportunity, the Congress has moved in with a thrust - intending to draw blood. It has accused the government of favouritism, corruption and misuse of power.
Asked about who was responsible for this, a BJP source said cryptically, "There is no need to spell out who leaked the information to provoke the furore against Swaraj and the government. Everyone in the media knows whose handiwork it is. We in the party also know who is responsible. The cleverness of people who do such damage is that no one can name them publicly."
There seemed no doubt in the party that in-house rivalry had given the Congress a handle to beat the government with.
Lalit Modi was close to the Swaraj family. Sushma's husband and daughter are his lawyers. He was their soft underbelly
Senior party leaders admit that Swaraj should have been more careful and should not have done anything that would seem improper.
But they believe that her troubles are a direct result of a number of senior leaders fighting for the number-two slot in the government, after Narendra Modi had outstripped them all for the top slot.
Like the apocryphal Indian crabs trapped in a box, they claw at anyone trying to climb out ahead of the others.
Sullying spotless Swaraj
That Swaraj was an obvious target was evident. She was seen as a minister who spoke little, performed big and never claimed any credit for herself.
A highly placed BJP source explained, "Look at the performance of the ministers in Prime Minister Modi's Cabinet. In the last one year, only one person had not come in for any public criticism - Sushma Swaraj. So she had to be dragged in the mud."
In April, the external affairs minister received 'Thank you' and 'Proud of you' messages from Indians across the globe for her efforts to evacuate stranded Indians from war-fronts in the Middle East.
Along with grateful messages from 4,600 Indians, the Ministry of External Affairs had received messages congratulating it from 41 countries, including Britain, France and the US.
Swaraj's clean report card made many in the party feel good, but not all her peers. "They took the advertising slogan 'Daag achhe hein (stains are good)' quite literally as far as Swaraj was concerned," a wag from the party remarked.
He explained, "The allegations surfaced when she was addressing the grievances of individuals on Twitter. Twitter itself later became the platform where she had to justify her helping Lalit Modi. Clearly, her rivals could not tolerate that she was seen as diligent and had a spotless image. Now enough dirt has been thrown at her and her image has been sullied. Now her detractors will wait and watch to see how the drama unfolds."
Lalit Modi a pawn?
Party sources argue that Lalit Modi was only incidental to the controversy - an instrument for achieving a certain objective.
One of them argued, "The expose had nothing do with Lalit Modi per se. He was close to the Swaraj family. Swaraj Kaushal and their daughter were Modi's lawyers. Links with him were the soft underbelly of the Swaraj family. So, he was used to target Sushma."
There is also an inter-ministry rivalry involved in the case. The investigation against Lalit Modi was being conducted by the Enforcement Directorate, which is under the Finance Ministry.
He was being helped, ostensibly on 'humanitarian grounds', by the Ministry of External Affairs. One ministry did not consult the other as should have been done.
Party sources also dismiss the suggestion that the entire controversy is related to one-upmanship in cricket politics or that the party is divided into pro- and anti-Lalit Modi camps.
"Lalit Modi is not important enough for the night of long knives being witnessed in the BJP. He was merely an instrument used," a senior leader claimed.
Defend Swaraj or we're next
This is also not a case of the Prime Minister's Office cutting Swaraj down to size, party sources argue.
"If that were the case, do you think that Rajnath Singh and Amit Shah would have been stoutly defending Sushma Swaraj? And if they were only doing so formally, they could have been lukewarm in their defence, which they were not," they argued.
There are others who see some specific individual interests being served by supporting Swaraj.
Rajnath Singh would want her support for pursuing his latent ambitions within the party and - who knows - if the opportunity arises, within the government also. Singh is seen as a potential aspirant for the party president's post.
As for Amit Shah's support for Swaraj, he also was not happy with anyone making an attempt to make Prime Minister Modi dependent on him, even if that were to happen by default.
Both he and Rajnath Singh perhaps also thought that if Sushma Swaraj was being targeted today, it could be their turn next.