BJP suspends rebel Kirti Azad. But is it a victory for Jaitley? Not quite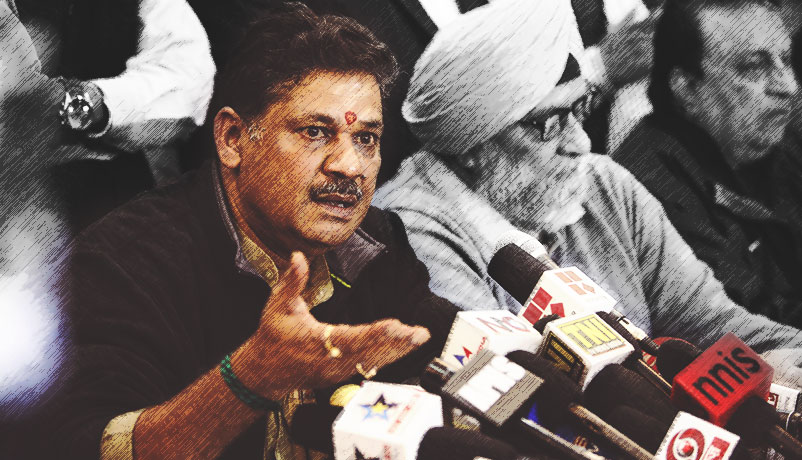 The action
Kirti Azad has waged a long battle against corruption in the DDCA
This has often put him in conflict with fellow BJP MP Arun Jaitley, the former DDCA president
Recently on Twitter, Azad dared Jaitley to sue him
The reaction
The BJP on Wednesday, 23 December, suspended Azad for \'anti-party activities\'
A day earlier, his wife Poonam was removed as a Censor Board member by the Jaitley-led I&B ministry
More in the story
Why the BJP chose to make an example of Azad
Does Azad\'s suspension mean a victory for Jaitley? Not quite
Why even PM Modi is in a dilemma when it comes to Jaitley and the DDCA case
The Bharatiya Janata Party has suspended Lok Sabha MP Kirti Azad, ostensibly because he has indulged in 'anti-party activities'.
In a short suspension letter, where the list of names, designations and addresses was longer than the actual statement, the party said: "Owing to anti-party activities, Shri Kirti Azad, MP, Darbhanga, is suspended from the party with immediate effect."
There is no further elaboration, no mention of how long the suspension will last, whether there was an internal hearing or a show cause notice to Azad... nothing at all.
Also read - DDCA muck: the questions facing the Subramaniam panel and their answers
On television channels, party spokespersons justify the strong action by stating that he went against the party line and attacked Union Finance Minister Arun Jaitley.
But privately, party leaders react with sadness. As one senior leader tells Catch: "They should've issued him a notice; this is not the way to suspend someone." Another says: "The party has done the wrong thing. They couldn't handle Kejriwal, so they sacrificed one of their own. They should've at least spoken to him.
Why Azad was sacrificed
Kirti Jha Azad was one of India's Cricket World Cup-winning heroes in 1983. After retiring, he followed his Bihar chief minister father, Bhagwat Jha Azad, into politics, first becoming an MLA in Delhi, and then getting elected to the Lok Sabha in 1999, 2009 and 2014.
Azad, a stalwart of Delhi cricket, is also known as the man who introduced BJP colleague Jaitley into cricket administration. But some years later, Azad started blowing the whistle on various issues within the DDCA, including internal politics and corruption. This sometimes led him into direct confrontation with Jaitley, who was president of the DDCA from 1999-2013.
The question arises that since this internal conflict has been going on for some years, why has this step been taken now? The answer is simple: Azad's exposes against the DDCA have provided ammunition for Arvind Kejriwal to give the DDCA turf war a political hue and launch a furore against Jaitley, backed by the Congress.
Azad's own shoot-from-the-hip style of talking also seems to have contributed to it. Here's what he wrote on Twitter recently.
' hello dear @arunjaitley hampar defemation file kar rahe ho na? Please karo na Don't take injunction, don't gag freedom of speech.

- Kirti Azad (@KirtiAzadMP) December 20, 2015
Obviously, after this full-frontal attack, his position was untenable. First, his wife, Poonam Azad, was removed as a member of the Censor Board, which comes under the I&B ministry also headed by Jaitley. And then, he himself was suspended from the party.
The holy trinity of the BJP
The BJP has three faces - Prime Minister Narendra Modi, Jaitley and party president Amit Shah. Union minister Uma Bharti once compared them to the holy trinity (Tridev) of the Hindu pantheon - Brahma, Vishnu and Shiva.
While it might have been Modi who was the face of the BJP's triumph in the 2014 general elections, Jaitley actually plays a crucial role in the government's decision-making. And with the power that the Tridev exert over other members of the government, there's no chance of challenging them. Even if you do try it, it's not possible to sustain it.
The Darbhanga MP was suspended with immediate effect for indulging in anti-party activities
Before the Bihar election, this trinity was completely unchallenged. But the defeat at the hands of the Mahagathbandhan has weakened their position. The party has already faced major embarrassments due to statements made by RK Singh and Shatrughan Sinha. More and more party leaders in states like Bihar, Uttar Pradesh, Madhya Pradesh and Rajasthan are voicing dissent.
The BJP just couldn't allow anyone else to take a shot at this core and get away with it. So, as soon as Azad attacked Jaitley, he had to be made an example of. As a party insider says: "It was too late to react in the case of RK Singh and Shatrughan Sinha's statements. But this was a fresh case, and a clear message had to be sent to party members - 'stay within your limits'."
A victory for Jaitley?
So Azad has been suspended. This must mean a victory for Jaitley, right? Well, not quite.
In fact, Jaitley looks to be on an even stickier wicket. Till now, what held Azad back was his political affiliation. Now, after the suspension, what's stopping him from going all out against Jaitley? Instead of helping the Leader of the House in the Rajya Sabha, the BJP has probably brought more discomfort to him.
It's not a coincidence that none of the prominent faces of the party have come out all guns blazing in Jaitley's defence in the DDCA case. Not Rajnath Singh, not Sushma Swaraj, not Nitin Gadkari. Not senior state leaders like Vasundhara Raje, Shivraj Singh Chouhan or Raman Singh. Not even RSS functionaries.
DDCA corruption whistleblower Azad had taken Arun Jaitley head-on with his tweets
Instead, the party fielded Smriti Irani to defend Jaitley when Delhi CM Kejriwal and opposition parties started demanding his resignation.
They all have reasons not to stand firmly behind Jaitley. Since May 2014, most of them have faced embarrassing moments and controversies, and Jaitley has done even less to defend them. Some allege he was behind some of those controversies to cut his colleagues down to size.
Also read - How Modi's rivals in the BJP have been cut to size
Jaitley might be one of the primary faces of the party, but he is not a popular face. His brand of politics and his closeness to the media is not liked within the party or by the RSS. His closeness to the PM and control over the government may have increased, but so has the envy against him. He has few friends and well-wishers within the BJP, and the list is shrinking by the day.
Modi's dilemma
What PM Narendra Modi said on 22 December was interpreted as a hint to Jaitley to step down. He said: "Advaniji jitna pavitra hain, Jaitleyji utna hi hain (Jaitley is as pure as Advani)."
Advani had once resigned and stayed away from the government when he was accused in the Hawala scam, till the probe proved him not guilty. Was this a hint from the PM for Jaitley to step aside and face a probe?
Also read - DDCA row: 5 reasons why BJP's suspension of Kirti Azad is no surprise
In the 18 months of the Modi government, Jaitley doesn't have a good report card. The economy hasn't really boomed as promised before the elections. Even his suggestions on the political front, such as floor management during Parliament sessions, the land acquisition ordinance and putting up Kiran Bedi as the CM candidate in Delhi have backfired. He is the top legal brain in the government, but there have been no big developments in the 2G and coal scams.
BJP has put Jaitley on a sticky wicket. Without the party's shackles, Azad will get more aggressive
Modi's dilemma is clear: he would want to cut Jaitley down to the same size as others who have faced allegations of misconduct. But he is the PM's master key too. No one, including Modi, can directly ask him to step down.
If Jaitley takes a call and resigns, it will be a win-win situation all around. It will save the government further embarrassments on the DDCA front, and if he then turns out to be not guilty as he claims, it will make him stand tall as a man of integrity.
More in Catch - Jaitley-DDCA row: AAP-BJP logjam continues, Kirti Azad asked to keep mum
DDCA row: Shatrughan Sinha calls Kirti Azad 'a hero'; says Arun Jaitley should resign like Advani did after Hawala
Kirti Azad calls Jaitley a 'napunsak' on Twitter, claims account was hacked