BJP's Mission UP: Veterans sulk as outsiders lead Amit Shah's army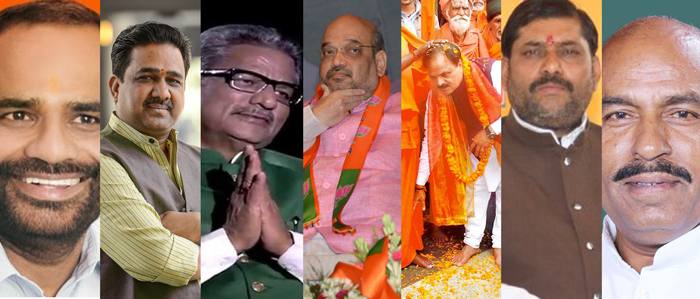 There was a time when the Bharatiya Janata Party's affairs were dominated by Uttar Pradesh. Today, the party is ruled by two Gujaratis: Prime Minister Narendra Modi and BJP president Amit Shah.
Even though PM Modi represents Varanasi in UP in the Lok Sabha, leaders from the state have very little say in the party.
Even Shah's core team responsible for the 2017 UP elections is dominated by outsiders.
1. Om Mathur - BJP's in-charge for UP. Hails from Rajasthan
2. Virendra Khateek - the only SC face in Shah's team. He is from Madhya Pradesh
3. Rameshwar Chaurasia - co-incharge for UP. Hails from Bihar
4. Satyendra Kushwaha - co-incharge for UP. Hails from Bihar
5. Sunil Ojha - co-incharge for UP. Hails from Gujarat
6. Ramesh Bidhuri - co-incharge for UP. MP from South Delhi
7. Sunil Bansal - General Secretary (Organisation) in the state BJP. Hails from Rajasthan
"Their core commitment is not to the state. They are committed to the leadership (Modi and Shah)," says a party leader who has been active in UP for the last three decades. He says that there is nothing wrong in having in-charges from outside. But their purpose is to help the state leadership not rule over it.
Many believe the purpose of this team is actually the reverse - to cut the state leadership to size.
Leaders of the Ram Mandir movement, such as MM Joshi, Vinay Katiyar and Kalyan Singh, have been sidelined
Laxmkant Bajpai, president of the BJP's UP unit, disagrees with this criticism. "State in-charges have come from other states earlier as well. This is done to ensure that the organisation functions in an effective manner,"he says.
"The criticism is baseless. They (critics) are only showing their personal frustration. They should raise these issues at party forums," he adds.
"Where the people who led the party during the Ram Mandir agitation? What positions do they hold? Do they even have a say?" asks a disgruntled veteran.
Sidelined leaders
UP was the state from where the BJP's chariot gained momentum, after the Ram Janmabhoomi movement. This is where many BJP leaders like Atal Bihari Vajpayee, Murli Mnohar Joshi, Kalyan Singh, Rajnath Singh, Uma Bharti, Kalraj Mishra, Lalji Tandon, Vinay Katiyar and Yogi Adityanath, became national icons. But now most of those who participated in the movement have been sidelined, as have many other leaders from the state.
Murli Manohar Joshi
The BJP's state level summit was recently held in Kanpur, from where Joshi is the MP. His photo appeared along with Amit Shah in the posters for the summit. But Joshi was missing from the summit itself.
His absence was downplayed by the party. But others say that if indeed the party saw Joshi as an important leader, he would have attended the summit.
A few weeks back, Joshi, while addressing a gathering in Varanasi, voiced his disappointment at the Union government for not doing enough to clean the river Ganga.
Yogi Adityanath
The firebrand MP from Gorakhpur is said to have been cut to size. Adityanath had suddenly sprung into action on the eve of last year's by-elections in the state, with his communal statements. But the party seems to have decided to keep the vitriol at bay, for the time being.
Kalyan Singh
He was once the main OBC face of the BJP and its most popular leader in UP, especially after his role in the Babri Masjid demolition in 1992. Now, he is nowhere to be seen in state politics and has been shifted to Rajasthan as the governor.
Vinay Katiyar
Another firebrand leader, Katiyar has been sidelined for some time now. He says that these 'outsiders' are just 'helpers' and nothing else. "These new recruits are here here to help state leaders. It is wrong to say that they are running the party. All of must work together," Katiyar told Catch.
Varun Gandhi
Gandhi shot into prominence in UP after his fiery speeches during the 2009 Lok Sabha elections. But his decline began soon after Shah took over as the in-charge for UP in 2013. Though Gandhi still his some popularity in parts of the state, Shah has ensured that the Sultanpur MP doesn't have much of a say in party affairs.
So, what happened to BJP in the state which gave it such big leaders? Bajpai hints that the leaders themselves are to blame. "Whose fault is it? The same people under whom this vacuum got created," he said. However, he insists there is no crisis in the state BJP. "The second line leadership is ready. We are working on the third and fourth line. Soon the BJP will be stronger than ever before," he says.