BJP's claim of a Congress-mukt Bharat is nothing but another jumla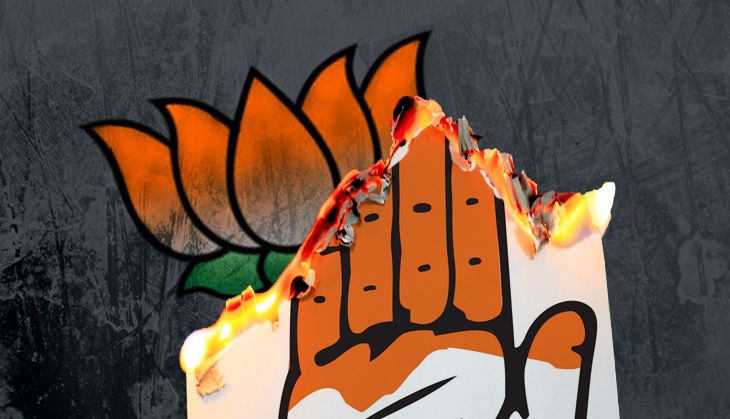 It is one thing to say that the BJP's electoral graph is on the rise, but quite another to say that Congress is nearing extinction. Not counting the 7 states in which Congress is in power now, the party still has a healthy presence in the four states and one Union Territory that went to polls in this round. This presence translates into the existence of the Congress' patronage networks even in states in which it is out of power.
A total of 822 seats were up for grabs in this round of polling, out of which Congress has won a little less than double the number of seats won by BJP (Congress 115, BJP 64). This is not a pointless statistic. It must be looked at along with the fact that a large majority of these 822 seats, 643 in total, were won neither by Congress nor by BJP, but by other parties.
Also read - How Gogoi's ego clash with Himanta Biswa Sarma cost Congress the state of Assam
In fact, a Times of India study points out that in the last 30 elections since 2012, including the five just concluded, other parties put together have won more than half the total of seats up for grabs (2,195 out of 4,117).
The picture that emerges is of the Congress party maintaining a competitive presence in an electoral space heavily dominated by regional parties. This presence is also pan-India - these 115 seats of the Congress plus those in states in which it is in power are spread across the country, only barring the West. This holds true from Himachal Pradesh and Uttarakhand in the north to Karnataka, Kerala, Tamil Nadu and Puducherry in the south, to Bihar and West Bengal in the east and Assam, Manipur, Mizoram and Meghalaya in the north-east.
Even in the West, Congress has 61, 42 and 21 MLAs in BJP-governed Gujarat, Maharashtra and Rajasthan, respectively. What it is losing is power, even as its presence still remains. This continuing presence means that there are still forces in all these states which work for the Congress and others which the Congress works for, a network established over decades. No national party comes even close to this kind of a presence across the country.
For achieving its goal of Congress-mukt Bharat, the BJP will have to not just ensure that it keeps winning all elections henceforth, it will also have to pray that the regional parties eat into only the Congress's space, not BJP's. The Congress' decline is undeniably visible and it is quite possible that its patronage networks might wither away automatically if this decline continues. However, till that happens, the Congress is what it is - a national party with a pan-India presence.
The growing strength of regional parties further indicates that they are the main challengers to the national ambitions of any party. The Congress's existing presence gives it as a natural advantage in this struggle, which the BJP lacks. Amidst all this, to say that this verdict has taken BJP two steps closer to a Congress-mukt Bharat is a bluff.
More in Catch - Congress in crisis: Grand Old Party, same old problems