BJP plays its trump card. Mahesh Sharma sounds Ram Mandir war cry in UP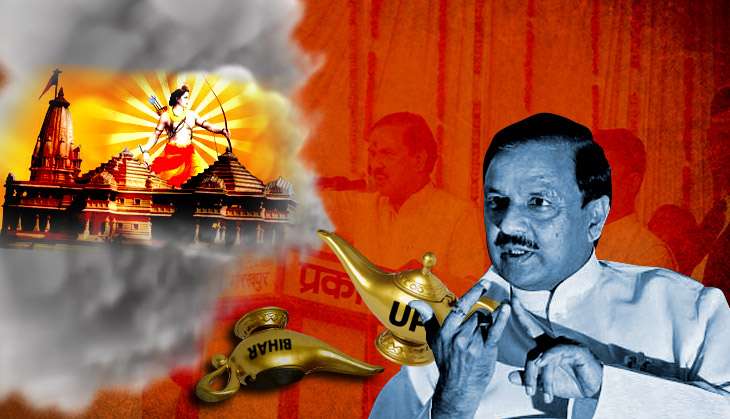 Mahesh Sharma sounds Ram Mandir war cry in UP (Arya Sharma/Catch News)
In one chapter of Tulsidas' Ramcharitamanas, the Vaanar Sena is impatiently looking to reach Lanka and when all else fails, it begins invoking Lord Ram's name and builds a bridge across the ocean.
BJP, which is really desperate to conquer Uttar Pradesh, on Tuesday did something similar through Union Tourism and Culture minister Mahesh Sharma - it laid political foundation of Ram Mandir for next year's polls.
Ram Mandir is the mother of all communal conflict in Uttar Pradesh. When Sharma invoked Ram, he also brought up the ghosts of Babri Masjid, whose demolition caused deaths of thousands of people in the state and outside it.
"Mann ban chuka hai, mahaul ban chuka hai. Ram Lalla ka adesh ho chuka hai (we have made up our mind, the atmosphere is right, we have received Ram Lalla's order as well)," Sharma said in a public speech in Ayodhya, and left no doubt about the BJP's intention of playing the Ram Mandir card in the run up to the 2017 Assembly elections in Uttar Pradesh.
While the ostensible reason behind culture minister's visit was the building of a Ramayana museum to promote spiritual tourism in Ayodhya. His actual motive - of opening the Ram Mandir front for his party's campaign in the state - was neither concealed by him nor lost on the public.
All indications, from sources within the party, and from Sharma's heavily political speech - loaded with repeated references to 'Ram Lalla', 'Ram Rajya', 'Ram ka kaam' - point towards an increasingly belligerent campaign on Ram Mandir. One that becomes the talking point across the state.
Playing to a script
The speech Sharma delivered on Tuesday was not delivered on a whim or heat of the moment. His speech and references were based on cold logic and a clearly thought out plan by the party for next year's polls.
The Mandir is a particularly favourite with the party because all that's required from them is to light the fuse. The bigger the explosion, the greater the polarisation, the better for BJP. And in case its leaders are asked about their promise to build the temple - just say that their hands are tied by the Supreme Court.
While allowing voices like Mahesh Sharma's to attract the general sentiment, BJP has also allowed loose cannons in the party to raise the pitch even higher.
Rabid elements like Vinay Katiyar, the face of the violent Ram temple movement in Ayodhya in the 1990s, who on Tuesday called the idea of Ramayan Musuem 'a lollipop' and called for the building of Ram Temple.
Another face of the Ram Janmabhoomi agitation, currently the water resources minister in Modi Cabinet, Uma Bharti has promised a Ram Mandir in Ayodhya by 2017. In a press conference on Monday she again said that the disputed land "will always belong to Ram".
Hindu consolidation is the aim