BJP may make social media following a criterion for UP candidates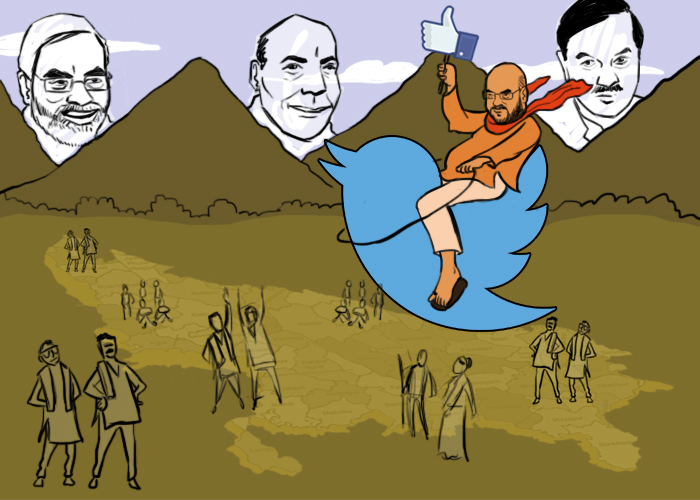 The meeting
On Monday, there was a high-level meeting of UP BJP leaders with PM Modi and party president Amit Shah
Shah hinted that social media following could be an important criterion for selecting candidates for next year\'s Assembly polls
The significance
UP has the second largest internet user base in the country after Maharashtra, with 22.90 million users
The popularity of leaders like Modi and Arvind Kejriwal has inspired leaders like Akhilesh Yadav to get active on social media
More in the story
The targets set by Shah for every BJP MLA and MP
The key questions if BJP does push ahead with this strategy
Dileep Saxena, the former district BJP president of Rampur in Uttar Pradesh, faces arrest after Samajwadi Party leader Azam Khan lodged a complaint alleging Saxena had posted objectionable content on Facebook against him.
While the eccentric Khan is not known for taking kindly to social media messages that rub him the wrong way - last year, a student of Class XII was arrested for allegedly uploading a controversial post - the political battleground of India's most populous state is increasingly going virtual.
Read: BJP brass set to anoint Manoj Sinha as UP president
In fact, the BJP might eventually choose its candidates for the next year's state Assembly elections based on their online popularity.
BJP president Amit Shah hinted at this strategy during a high-level meeting on Monday. The meeting was held at the residence of Union Culture Minister Mahesh Sharma, who is also among the contenders to be named the party's CM candidate in UP.
Apart from several state leaders, the meeting was attended by Prime Minister Narendra Modi and Home Minister Rajnath Singh.
Shah's instructions
During his brief address at the meeting, Modi asked the leaders how many villages in their areas had been electrified under the Deen Dayal Jyotigram scheme. He also advised the leaders to organise 'Urja Utsavs' at such places.
But, Shah's instructions were even more significant. He reportedly said that every party MLA must have at least 25,000 followers on social media, while the target given for every MP was 50,000.
BJP president Amit Shah hinted at the strategy during a high-level meeting attended by the PM
He signalled that social media presence could be one of the most important criteria for distribution of tickets for the Assembly elections slated next year.
Announcing that a separate social media wing would be established for the state party unit, he emphasised the involvement of booth-level workers in social media activities.
Internet in UP
Out of a total population of around 204.02 million, Uttar Pradesh has nearly 134 million eligible voters. It is the state with the highest number of voters (over 3.81 million) aged between 18 and 19.
Although the internet density in the state was pegged at just 1.9% of the entire population in 2011, the 2013 data of the Telecom Regulatory Authority of India claimed that over 22.90 million people use the internet in Uttar Pradesh. It stood next only to Maharashtra in terms of the number of internet users in the country.
Also read: Controversial Smriti, firebrand Yogi or motormouth Mahesh. Who'll be BJP's face in UP?
According to a 2014 report by the Internet and Mobile Association of India (IAMAI) and the Indian Market Research Bureau (IMRB), Lucknow had the third highest number of internet users (1.95 million) among cities having a population of more than 1 million.
The internet boom is also increasingly taking over rural areas of Uttar Pradesh. TRAI data suggests the eastern part of the state had over 10 million internet users.
Market experts say internet penetration might be higher in urban India, but the growth of internet subscriptions is much more in rural areas, because of smartphone technology.
Clearly, no party wants to miss the opportunity to engage and persuade such a significant number of voters through social media.
Following Modi and Kejriwal
This is the reason Chief Minister Akhilesh Yadav has also stepped up his activity on the social media. Yadav has over 23.37 lakh followers on Facebook, while around 8.87 lakh people follow him on Twitter.
Read more: State BJP wants a CM nominee for #UP2017. Will Modi, Amit Shah oblige?
Last month, he announced a new social media initiative, 'Know Your Budget', aimed at sharing budget-related information with farmers and young voters.
He seems to have taken a cue from leaders like Narendra Modi and Arvind Kejriwal. The Prime Minister is the second-most followed politician in the world, behind only Barack Obama. The social media campaign played a crucial role in his resounding victory in 2014. He then added two million followers during the first 100 days of his tenure.
Every party MLA needs to have 25,000 followers on social media, while the target for MPs is 50,000
Social media activity also came in handy for the Aam Aadmi Party in Delhi. Kejriwal currently has over 6.6 lakh followers on Facebook and around 7.2 million followers on Twitter.
Several UP politicians are fast catching up with the trend, with leaders like Varun Gandhi using social media frequently.
The only exception is Mayawati, whose party still adheres to the classic ground campaigning style. This is also because most of BSP's support-base comes from weaker sections, who are still deprived of the internet facilities.
The side effects
While social media significantly reduces the cost and effort of campaigning for political parties, it has its own side effects.
Many Indian politicians have been accused of boosting their online popularity with fake followers. It remains to be seen how Shah and his team plan to filter out such leaders, if the party chooses to make social media presence a yardstick for prospective candidate.
According to TRAI, with 22.90 million internet users, UP is second to Maharashtra among all states
Political rivalry and competition for tickets might also result in online smear campaigns against opponents. Social media has also been used to fan violence and rumours on many occasions. What is the guarantee that this won't happen if the BJP decides to shift the turf of the political battle to the virtual world?
Also, will it not be discrimination against aspiring candidates from deprived sections, most of whom can still only dream of the internet?
Translated by Deepak Sharma
Edited by Shreyas Sharma
More in Catch:
House vs House: How govt negated Opposition's token victory on Aadhar Bill
J&K gets ready for PDP-BJP alliance version 2.0
Dalit worker alleges rape by IIMC official on campus
Savi Sharma might be the most boring & important author in Indian publishing