BJP may go for simultaneous polls in 2018. And Cong probably knows that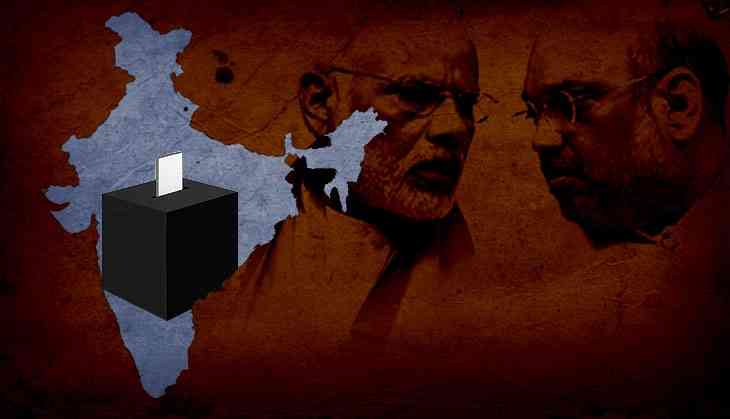 Holding elections to all state Assemblies in India at one go along with Lok Sabha elections was among the first few projects to be raised by the BJP after coming to power in 2014.
That dream may just become a reality now that the party is actively pursuing it and making preparations to implement it soon.
Prime Minister Narendra Modi has already publicly backed the idea. Former president Pranab Mukherjee had also supported it.
Earlier this year, the Niti Aayog had also recommended simultaneous polls in "synchronised" two phases. It made the Election Commission the nodal agency to study the proposal and recommended establishment of a working group of stakeholders.
The EC itself has reportedly supported the proposal, only flagging a few critical challenges, including the requirement of a Constitutional amendment to shorten or extend the terms of some Assemblies.
Sources told Catch that BJP's top leadership is nearly convinced that this gigantic exercise can be attempted and that end-2018 will be a good time for its implementation. BJP chief Amit Shah is currently touring across the country for the purpose of building a nationwide consensus on the project, sources added. Most BJP-ruled states have already agreed to come on board and efforts are on to convince states ruled by NDA allies as well as Opposition parties.
As things stand now, terms of at least 10 Assemblies in any case are scheduled to come to an end in a period of six months around the proposed date, November or December 2018. These include:
Karnataka – May 2018
Mizoram – December 2018
Chhattisgarh – January 2019
Madhya Pradesh – January 2019
Rajasthan – January 2019
Sikkim – May 2019
Andhra Pradesh - June 2019
Arunachal Pradesh – June 2019
Odisha – June 2019
Telangana – June 2019
Terms of 21 other Assemblies are far away from that period. Postponing their elections or bringing them forward will be difficult. These include -
Gujarat – January 2018
Himachal Pradesh – January 2018
Meghalaya – March 2018
Tripura – March 2018
Nagaland – March 2018
Assam - 2021
Bihar - 2020
Goa - 2022
Haryana – November 2019
Jammu & Kashmir – March 2021
Jharkhand – January 2020
Kerala - 2021
Maharashtra – November 2019
Manipur - 2022
Delhi – February 2020
Puducherry - 2021
Punjab - 2022
Tamil Nadu - 2021
Uttar Pradesh - 2022
Uttarakhand - 2022
West Bengal – 2021
Given that a large number of these are governed by either BJP or allies, it may not be difficult for the party to get their Assemblies dissolved. Wherever the party will find resistance, it may resort to the sort of tricks that were seen in Arunachal Pradesh and Uttarakhand.
As the EC has reportedly already informed the Centre, amendments to the Constitution might be needed in some cases to tinker with the original tenure of an Assembly. BJP hopes to sail through such amendments too, against its hope of seeing its numbers rise in the Rajya Sabha next year.
Sources said Opposition parties have got wind of this plan and may have started their own preparations for the impending polls. In fact, sources say it is the possibility of Lok Sabha polls taking place in 2018 that has propelled Congress Vice-presesident Rahul Gandhi to swing into action.
Gandhi is currently touring the United States from where he is regularly hitting the headlines for presenting a sound critique of the Modi government and presenting his own credentials as a challenger to Modi in the next elections.
The buzz around completion of organisational polls in the Congress party is also growing, with multiple sources saying Gandhi is set to become the party president by the end of October 2017. By then, he is expected to have put in place his own team in the party at the national level as well as in states, making it convenient for the party to get into poll mode November 2017 onwards.