BJP in a fix as Manjhi-Paswan engage in a verbal duel
N Kumar
| Updated on: 9 September 2015, 2:34 IST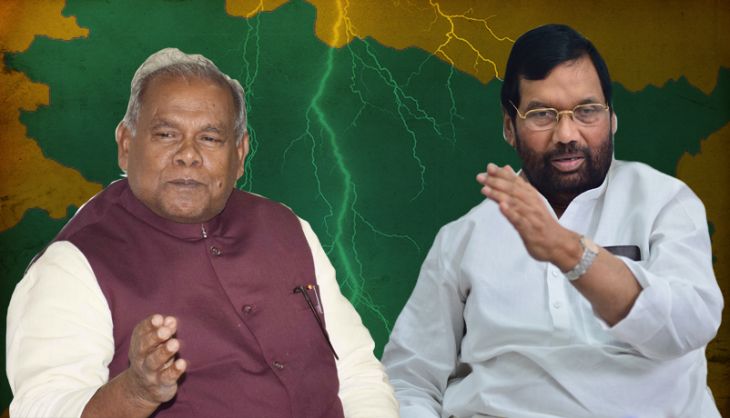 The outburst
Former Bihar CM Jitan Ram Manjhi accused Ramvilas Paswan of dynastic politics
Manjhi charged Paswan of keeping quiet on Dalit issues
Paswan\'s son Chirag expressed dismay at the attack
The cause
A few days ago Paswan had downplayed Manjhi\'s status as a Dalit leader\'s
Paswan said he was \'tried and tested\', Manjhi \'still under trial\'
Manjhi now says an ant can also take on an elephant
The meaning
Pundits think the dual is just a bargaining strategy
The two leaders will want to bag as many seats as they can for the Bihar polls
The NDA jeered at the Bihar grand alliance after Mulayam walkout, but now it is finding it hard to manage fissures within its own ranks.
A tussle among its constituents, that started over allocation of seats for the forthcoming Bihar elections, has led to a rift between Lok Janshakti Party (LJP) supremo Ramvilas Paswan and former chief minister Jitan Ram Manjhi.
The Dalit leaders are vital to the BJP's plans to challenge the grand alliance's social justice plank, especially the Mandal-sequel rhetoric of Rashtriya Janata Dal boss Lalu Prasad.
Manjhi has accused Paswan of dynastic politics, claiming he has been promoting only his kin. He also charged the LJP leader of maintaining silence over Dalit issues.
The former CM cautioned Paswan not to take him lightly, reminding the LJP boss that even an ant can beat an elephant.
The unexpected salvo astonished Paswan's son Chirag, who is also the leader of the party in Parliament. "Manjhi is a respected leader. It is hard to understand why he has spoken against us, he said.
Paswan junior doesn't really have much to say to counter Manjhi's diatribe. But the Hindustan Awam Morcha leader's timing may be questioned.
It is no secret that Paswan has shared the spoils of power with his kith and kin. The family is well aware that to challenge Manjhi will be like stirring up a hornet's nest - Manjhi has nothing to lose and everything to gain from the upcoming elections.
A few days ago Paswan said there could be no comparison between him and Manjhi as he was a "tried and tested" Dalit leader whereas Manjhi was "still under trial".
After that political pundits were sure that a response from Manjhi was on its way.
Paswan and Manjhi are useful for the BJP to counter the social justice plank of Lalu and Nitish
Manjhi certainly realises how important he is for the NDA to counter the agenda of the rival camp, especially at a time when the Lalu-Nitish combine is fighting hard to woo over the already dissipated Dalit-Mahadalit-most backward class vote bank.
Political analyst Mahendra Suman believes the verbal duel between Paswan and Manjhi is not unnatural. Such rumbling is always expected before the allocation of seats.
Both leaders are trying to pressure the BJP to get as many seats they can by playing the game of one-upmanship. Senior journalist Pushyamitra thinks both leaders are trying to gain advantage over one another now as they have earlier praised each other on numerous occasions.
It is not yet clear who will win this battle of tactics but the odds seems to be stacked against Manjhi.
Not only is Paswan's party older, but it also has a presence in the Lok Sabha. Although, it is not lost upon the BJP that Paswan's present clout is only a shadow of his past. LJP has only one MLA in the present state assembly. Paswan has only the Modi wave to thank for his present position.
Paswan can benefit the BJP in two ways: He is known to have the ability to draw the he votes of Bihar's Paswan community, which constitutes about 2.5 per cent of the electorate. This support base has prevented him from being relegated into political oblivion.
Second, the BJP can use his party as an alibi to field candidates from the upper castes, the party's core supporters.
Manjhi's significance is different. He was the only one to directly challenge Nitish Kumar and took away 12 MLAs with him. He has been particularly aggressive towards the Bihar chief minister ever since.He has emerged as a new political phenomenon in BJP's scheme of things. The party is trying hard to project him as an icon of Mahadalit politics.
Manjhi may or may not fetch votes but the BJP can counter the social justice plank of Lalu and Nitish by keeping him in the forefront.
But the spat between Paswan and Manjhi is a cause of concern for the NDA as Manjhi is known to be political turncoat, siding always with those who enjoy 'achhe din' (good times).
Manjhi was a Congressman during the heydays of the party in Bihar. He shifted to the RJD with Lalu's rise to power and later switched to the Janata Dal (Union).
There is no guarantee that he would not return to the JD(U)-RJD fold if the BJP fails to win in Bihar. As a reason, he can always cite BJP's being an upper-caste party or raise the bogey of communalism.