Free laptops, colour TVs and scooties are part of BJP's vision for transforming Bihar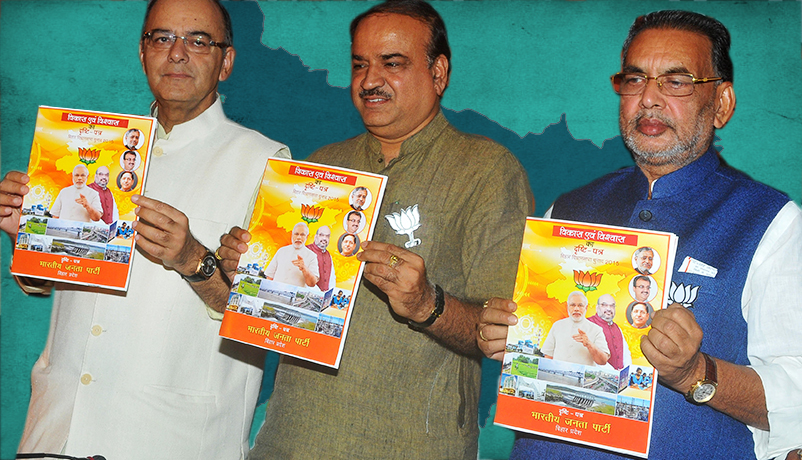 Focus 2015
The BJP released its vision document for Bihar polls
Focus areas include law and order, agriculture, education
The party has something even for journos
No manifesto
The party is moving away from manifestos
No manifesto means no accountability, says minister
A poem by former Prime Minister Atal Bihari Vajpayee, an invocation to the electorate to vote for the party in large numbers, a liberal sprinkling of the NaMo factor and a host of announcements - some ambitious, others purely populist - that's BJP's vision document for the 2015 Bihar Assembly Elections.
The 20-pager, released by Union finance minister Arun Jaitley on Thursday, has been split into several categories. As 'jungle raj' is the focus of BJP's attack on the Grand Alliance, law and order occupies a prime place. A separate police force for VIPs, CCTV cameras in major cities, a 24x7 control room for women, a new crime and criminal tracking system... the list is long.
On agriculture, the party says it would table a separate annual budget every year and provide electricity for at least 12 hours for agriculture within three years. There is also a sketchy mention of insurance for crop loss. On good governance, the party promises an anti-corruption agency with a unit in every district.
Assuming it will this election and some more, the BJP promises a house for everybody by 2022, 5 decimal of land for the landless and a set of dhoti and sari every year for the poor.
Patna, Gaya, Bhagalpur and Muzaffarpur will be turned into coaching hubs and every panchayat will get an intermediate-level school, the party says. Taking a leaf out of Akhilesh Yadav's campaign textbook, BJP has also promised laptops for 50,000 students who clear metric and senior secondary examinations.
BJP's Bihar plan include cow protection centres; law to protect SCs, STs from forced conversion
Reaching out to migrant Bihari labourers working in other states, the party proposes to set up a cell for their assistance in every such state.
Its Union minister may call journalists "presstitutes", but in Bihar the BJP would like to dole out sops for them in a peculiar display of kindness: insurance and medi-care facilities and laptops to those accredited by the government.
A separate directorate will be set up for rearing and protecting cows, says the party which has always held the issue pretty close to its heart. It also talks about setting up institutions for researching various facets of cow-science and cow-centred mechanisms.
The document mentions a new policy for the youth but doesn't underline even its broad contours. No announcement for the health sector really stood out apart from one on free treatment for acid attack victims.
Several routine announcements were directed towards women: cheap loans, checking female infanticide and setting up of cooperatives. One Stop Rape Crisis Centres find a mention - in keeping with Justice Usha Mehra's directives - but once again without much detail, making it look like a token announcement. Oh! And 500 girls clearing matric and senior secondary examinations would get scooties.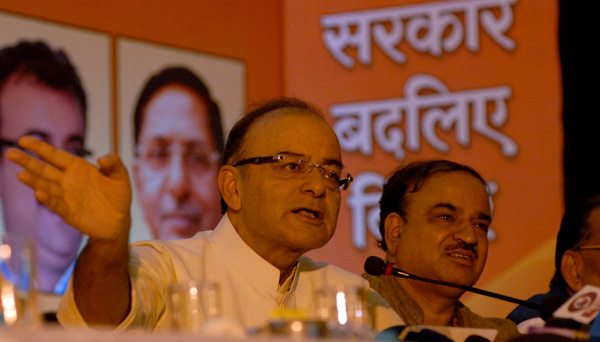 Electricity has always been an issue in Bihar. Apart from quoting Vajpayee - aao phir se diya jalayen (come, let us light the lamps once more) - the vision document says free electricity connections for the rural poor, and power connections for tube wells will be priority.
Separate commissions will be set up to study and solve the problems of industry and businesses. Separate electricity feeders will be installed for industrial areas, targeting round-the-clock power supply. A venture capital fund worth Rs 500 crore will be created for promoting local entrepreneurs.
For SCs, STs and OBCs, a special campaign will be started to fill vacancies in government jobs. The party also vows to protect them from forced religious conversions, enacting a new law. Dalits and mahadalits will also get free colour TVs.
A special all-round development plan for Seemanchal targets to please the minorities. The vision document also talks of promoting Urdu, computerising madarsas and proper management of Wakf properties.
The BJP is setting up a remarkable tradition of doing away electoral manifestos. This is to avoid unnecessary trouble of people seeking accountability for promises made in a manifesto, says a top cabinet minister on conditions of anonymity.
People anyway don't read manifestos, says the minister and adds that the NDA will come out with a common minimum programme when it forms the government.