Bihar turns to a draconian law for prohibition. Here's why it is terribly short-sighted of Nitish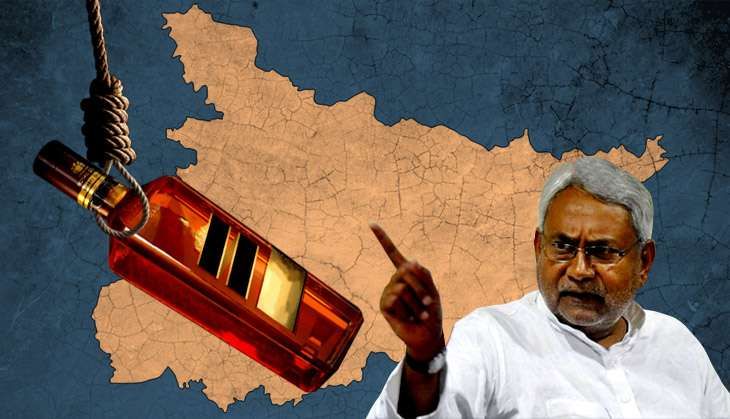 The liquor prohibition story in Bihar is far from over yet. The state government has recovered from the setback induced by the high court judgement by notifying the Bihar Prohibition & Excise Act, 2016 just two days after the ruling.
However, the recovery is temporary since hoteliers and restaurant owners in the state have already announced that they will challenge the new Act soon after Dussehra.
The earlier petitions that led to the landmark high court order had also been filed by their federation, apart from some individuals.
And it gets worse
The new Act is stricter and has many provisions that have been widely labelled as draconian. These include a jail term of up to 10 years, fine up to Rs 10 lakh, confiscation of property, the presumption of guilt of and consequent action against all adult members of a family, community penalty, life imprisonment and even death.
Chief Minister Nitish Kumar has himself defended these provisions on several occasions, saying they make "violators directly accountable for their actions".
In an article that the CM wrote for NDTV, he pointed out at least six key reasons behind his defence.
These included -
1. It was an electoral commitment
That he was simply keeping his promise made to the electorate that if he will come back to power, he will implement liquor prohibition.
2. Mahatma Gandhi was in its favour
According to Kumar, "When it came to banning liquor, he (Gandhi) made it a primary agenda." He quoted from a piece written by Gandhi in 1931 - "If I was appointed dictator for one hour for all India, the first thing I would do would be to close without compensation all the liquor shops."
3. The Constitution calls for it
Under Part IV of the Constitution of India, the Directive Principles of State Policy urge the state to 'endeavour to bring about prohibition'.
4. Supreme Court has also nudged policymakers
Kumar said, the SC has held that "there is no fundamental right to do trade or business in intoxicants. The State, under its regulatory power, has the right to prohibit absolutely every form of activity in relation to intoxicants and its manufacture, storage, export, import, sale and possession."
5. People have cheered the campaign
Kumar's assessment is that people in Bihar, especially women, are very happy with prohibition. He also said that even people in other states like Uttar Pradesh and Jharkhand have cheered his appeals for prohibition. He called it "the will of the people".
6. If there has to be prohibition, it has to be strictly implemented
His argument to support stricter provisions is that if prohibition is good then it has to be supported wholeheartedly. Any administrative laxity that could become a loophole must be plugged.
The best excuse so far?
As far as the argument of electoral commitment goes, Kumar is clearly using it as an excuse because prohibition is highly unpopular even among a large number of those who voted for the Grand Alliance. Using Gandhi as a shield is again quite disingenuous.
What does it say about Kumar that among all the qualities of the Father of the Nation, he found wisdom in only the one in which Gandhi displays a secret aspiration for dictatorship?
Directive Principles of State Policy (DPSP) has always been a democratic obstruction, manifested in many existing debates like those on the ban on cow-slaughter and uniform civil code.
Not one politician, including Kumar, even touches upon its other directive principles like a just social order, addressing income inequalities, preventing concentration of wealth, equal livelihood opportunities and equal pay for equal work for men and women, free legal aid, right to work, participation of workers in management, and a myriad others.
People cheering a campaign is a double-edged sword. That's exactly the kind of excuse a federal government may use for going to war with another country. It's a dangerous argument and can not be used as a yardstick for evaluating a policy's democratic credentials.
Problems with the new act
And then there are the harsh provisions. As think-tank PRS Legislative Research has comprehensively analysed, the Act is problematic on several levels -
1. The presumption that "family members, owner and occupants of the building or land ought to have known that an illegal act is taking place" may violate Article 14 and Article 21 of the Constitution.
2. The Act also has a vague but alarming provision that says no court will have the power to pass an order with regard to property confiscated in the event of a violation. If the Act doesn't provide for judicial recourse for an aggrieved person, there could be hardly anything more draconian than that.
3. The punishments provided for do seem disproportionate to the offence committed. For example, the Indian Penal Code prescribes a 10-year sentence for crimes like acid attack, or trafficking of a minor. The problem with the application of death penalty can not be overstated.
In spite of having been pointed out these excesses, Kumar is carrying on with his campaign, almost in an obstinate manner.
Is he doing this only because he has no other issue to build up a constituency on that could propel him to national politics? Only he knows the answer to that question.
What is clear right now is he has turned alcohol addiction into an excuse for an authoritarian crackdown. If his intentions are genuine, he is clearly misguided. If it is only motivated by the desire to win the race for the country's top job, it is a short-sighted move.
Edited by Jhinuk Sen
Also read: How Bihar is enforcing a prohibition through a draconian law
Also read: Bihar prohibition backlash: Nitish getting isolated on his own turf
Also read: Prohibition in Bihar & Nitish's big plans: will the HC order manage to thwart it?