Bihar's Grand Alliance on the verge of break-up. Nitish set for NDA return?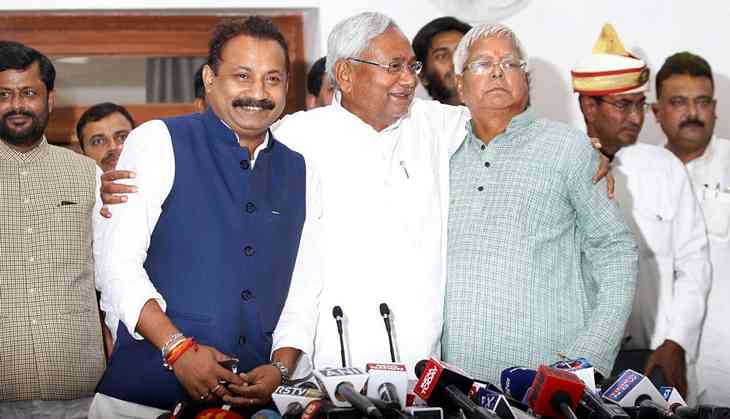 (Ajay Aggarwal/Hindustan Times/Getty Images)
It's a break-up which observers have been predicting for a long time. In fact, to some, it's a surprise that the parties have managed to stave it off for so long.
But now, it seems that the Grand Alliance of the Rashtriya Janata Dal (RJD), Janata Dal (United) [JD(U)] and the Congress in Bihar has entered its final lap, less than two years since it came to power.
Developments in Bihar in the last one week were dominated by particularly acerbic statements and counter-statements by spokespersons and leaders of all three parties, with the JD(U) on one side and the RJD and the Congress on the other. At the root was JD(U)'s decision to break Opposition ranks by backing the NDA's candidate for the Presidential election, Ram Nath Kovind.
The bickering that followed didn't play out merely at the level of second-rung spokespersons. Top leaders of all three parties got involved and temperatures soared so high that JD(U) and RJD were forced to hold in-house meetings in a desperate bid to douse the flames.
However, the alliance has taken a severe beating, and sources have told Catch that Bihar Chief Minister and JD(U) chief Nitish Kumar has decided to get the RJD off his back.
War of words
RJD chief Lalu Prasad Yadav was the first to take Nitish head on by saying that the latter's decision to back Kovind was a 'historic blunder'. On cue, many other RJD leaders took things to the next level, with Raghuvansh Prasad Singh, Bhai Virendra and Ashok Kumar Sinha slamming Nitish. Yadav's son and deputy CM Tejashwi Yadav also took a dig at Nitish in a post on Facebook.
JD(U) leaders were quick to retort, with spokesperson Sanjay Singh and party general secretary KC Tyagi issuing terse statements.
Adding fuel to the fire was senior Congress leader and Leader of the Opposition in the Rajya Sabha, Ghulam Nabi Azad. In a veiled reference to Nitish, Azad said those with 'many principles' took different decisions.
Tyagi then hit back at Azad, saying the Congress was not speaking like an ally, and this behaviour would push the JD(U) towards the NDA. He added, for good measure, that the JD(U), in any case, was in a comfortable relationship with the NDA under former Prime Minister Atal Bihari Vajpayee.
The implications of Tyagi's statements are serious, as they indicate JD(U) may have made up its mind to go back into the NDA fold.
It was only on Tuesday evening that efforts were made to bring down temperatures, gag spokespersons, and give out messages of coalition unity in Patna. However, alliance leaders appear to have reached a point of no return, and sources have told Catch a fall-out might only be a matter of time.
But why the fall-out?
There are many theories doing the rounds regarding why Grand Alliance leaders would want to call it off.
One theory suggests Nitish is uneasy about the action by the Enforcement Directorate and the Income Tax Department against Lalu and his family members. Nitish is purportedly apprehensive that these cases will taint the alliance and the government, and therefore, it is important to appear at a distance from the Yadav family.
Another theory is that Nitish has been upset with the RJD supremo for a long time because of the latter's alleged penchant for calling up officers like Superintendents of Police and District Magistrates directly, bypassing the government. Nitish has allegedly taken this as an interference in administration, and wants to end it once and for all.
Sources also said Nitish has been told that the Yadav family may have also misused government machinery to amass a fortune through controlling appointments, postings, transfers and award of contracts. This is also something over which the CM is said to be unhappy, and determined to take action against.
The other angle behind the purported split is said to Nitish's long term political calculations. Sources said Nitish's assessment is that the Extremely Backward Classes, which were the JD(U)'s vote bank, are not happy with him, and have begun deserting his party and the alliance. This leaves Muslims as the largest vote bank with the alliance, but they are more RJD's vote bank than any other party's.
Nitish is said to have calculated that for the Lok Sabha polls of 2019, as well as the Bihar Assembly polls of 2020, it will be best for him to go back to the NDA to retain his position in Bihar, and not allow Lalu to become a bigger force than him.
However, sources added that this is not to be expected immediately, as Nitish is a resolute but slow-mover.
Nitish Kumar and Lalu Yadav attempted a rapprochement Wednesday evening through a telephonic conversation. Yadav also tweeted subsequently that the alliance was solid like a rock and talks of a break-up were a media creation. JD(U) too gave out a message of unity with RJD and Congress and warned the BJP to stop spreading rumours.
It must be noted that breaking the alliance is not in Yadav's interest because that will immediately render his sons jobless. For Kumar, maintaining ambivalence will be best at this juncture because it will keep Yadav on his toes and BJP eager. However, sources say the split is still very much on the table and Kumar wants to first see how far will the BJP go in forcing central agencies to go after Yadav's family members.
The next few days, therefore, will be crucial for the Grand Alliance.