Bihar polls: what does a high turnout of women voters really mean?
Nivedita
| Updated on: 13 February 2017, 5:52 IST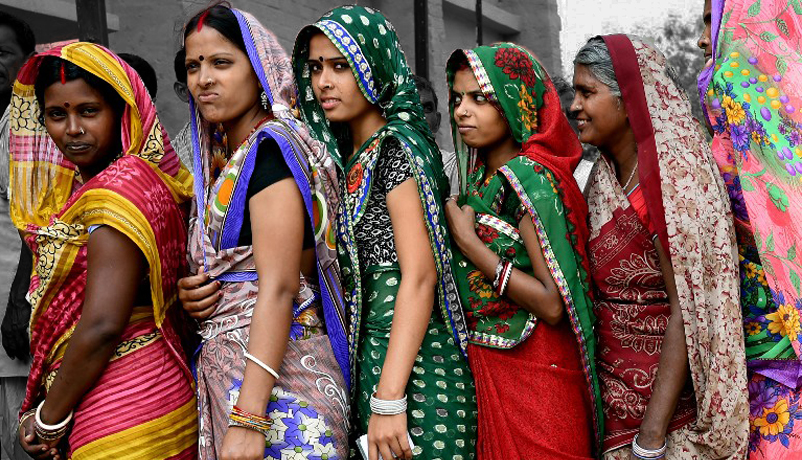 If there was one aspect that stood out in the first phase of polling in Bihar, it is substantially high turnout among the women of the state.
At 59.5%, the turnout among women voters was 5% higher than their male counterparts.
But the numbers don't tell the complete story of the lakhs of women who queued up at polling booths to caste their votes. Some walked miles barefoot, some braved physical harm to come and exercise their franchise.
This signals a silent revolution in Bihar.
It is a clear lesson for political parties that they cannot keep women on the fringes of the political process any longer. They have been forced to admit that women would eventually hold the key to power.
Decoding the female vote
All the parties in Bihar have miserably failed to gauge the mood of female voters in these elections.
Women seem to be emerging as one of the most decisive blocs, in a rapidly transforming political landscape of Bihar, much like Muslims, Dalits and Yadavs.
There are about 3.11 crore female voters in Bihar and they can tilt the scales in every constituency.
In fact, Nitish Kumar would not have retained power in 2010 without the overwhelming support he got from women voters.
Can women surprise pollsters once again? It is quite possible. If women vote in a consolidated manner, all the calculations based on caste, religion and opportunism would go completely haywire. The same goes for young voters, if they vote across caste and communal lines.
Nitish Kumar would not have retained power in 2010 without the support of women voters.
Who gains?
Political parties have never shied away from making any concrete promises to women. Nitish Kumar has done well on some counts. For instance, his move to provide 50% reservation for women in Panchayat bodies have opened new political avenues for them. But a lot more needs to be done.
It is not easy for women to succeed in politics, which continues to be dominated by money and muscle power.
Past elections
The turnout among women used to be much lower in the first few Assembly elections after independence.
1962: 32%
1972: 41%
1980: 46%
1985: 45%
1990: 53%
There was a significant increase in the 1990 elections, largely because of the political mobilisation of backward castes. However, this did not result in the political emancipation of women.
What's holding women back?
The current social set up does not encourage women to be active in politics as it threatens its very existence.
There have been few women ministers in Bihar since independence. Everybody knows the fate of the Bill to provide 33% reservation to women in state assemblies and the Parliament.
The real challenge before women is to elect a government that is sensitive to issues concerning them. They should be free from domestic violence and have an equal right to live. Nobody should be able to challenge their right to education, their right to choose whom to marry and what to wear.
The women are aware that social transformation is a much slower process than political change. The shackles of caste, class and religion are also holding them back.
The women of this age are aware that social divisions have only harmed them. They are fighting against it by honing their capabilities. Politicians are also beginning to realise that they need to woo women through new agendas and packages. They are aware of the political power of women.
Women, too, are realising their own power. This is the reason they have come out in large numbers to choose their government. They know their future lies in political empowerment.