Bihar govt turns a suspicious eye towards RJD in Rs 900 crore NGO scam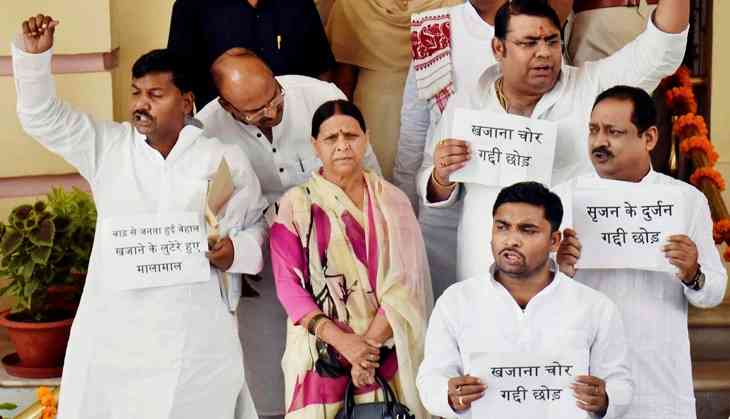 The massive scam involving misuse of government funds by an NGO in Bihar is a rare case of an act of corruption announced by the government.
With remarkable alacrity, Bihar Chief Minister Nitish Kumar informed the media about it on 9 August and then went on to recommend a CBI probe days later. It may now slowly be becoming clear why Kumar was so eager to bring the scam into public light.
Director General of Police PK Thakur announced on 21 August that those involved in the scam were suspected of having been actively swindling the exchequer since 2002. That may sound like just another fresh detail in a scam that has seen the numbers and the list of names of those involved only swell in the last two weeks.
However, this new mark on the scam's alleged timeline is key because this is the first time that it has gone beyond Kumar's tenure.
Perspective
In 2002, Bihar was still in the Rashtriya Janata Dal-era and party chief Lalu Prasad Yadav's wife Rabri Devi was the CM. Kumar came to power for merely eight days in March 2000 and went to serve his first full term only from November 2005 to November 2010. So in 2002, Devi was firmly in power and the DGP's announcement indicates that the state government's probe is most likely be directed against RJD leaders too now.
This puts Kumar's eagerness in perspective, but only partially. If it is indeed proven that the scam was in operation under the RJD government in 2002, that also means that it unfolded in large part under Kumar. RJD was thrown out of power in 2005, to return only in 2015 and in alliance with Kumar's Janata Dal(United) and Congress. In no way does this new revelation absolve JD(U) and BJP of complicity, because they were in power in the state for a much longer duration co-terminus with the scam than RJD.
In fact, BJP leader Sushil Modi was the deputy CM and finance minister for eight years in this period - from 2005 to 2013. It has also been reported that in 2013, the then Bhagalpur DM Prem Singh Meena had ordered a probe into the activities of the said NGO, Srijan Mahila Vikas Sahyog Samiti (SMVSS). The inquiry report was allegedly never released in the public domain.
Where the case stands
RJD has been protesting vociferously in Bihar since reports of the scam broke out and has demanded that Supreme Court be requested to order a judicial probe into the scam.
It is significant that 18 people have already been arrested in connection with the scam and none of them are politicians. Six of them are government officials, 2 are bank managers and 8 others are junior bank officials. The money involved has gone up to over Rs 870 crore now, from the Rs 295 crore announced by Kumar the first day. Twelve FIRs have been filed.
While the founder and long time chief of Srijan, Manorama Devi, is no more, her successors who controlled the NGO, Amit Kumar Sinha and his wife Rajni Priya, are absconding. Tragically, a key accused passed away at a hospital while in police custody on Monday. Mahesh Mandal was an official of the state government's welfare department and was reportedly suffering from multiple ailments.