Babulal Gaur is attacking his own regime in MP. What's he playing for?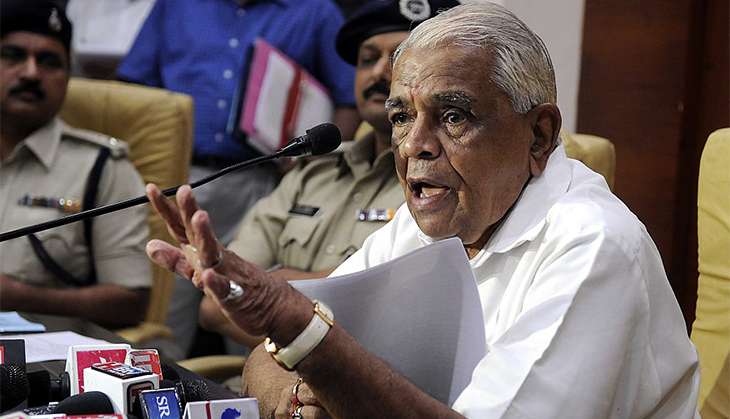 The BJP government in Madhya Pradesh is facing heat in the assembly over "financial mismanagement". For one, it stands accused of "lavishing" nearly Rs 15 crore on its ministers despite borrowing money due to the state's acute financial crisis.
Interestingly, the attack is led not by the opposition Congress, but by Babulal Gaur, the former BJP chief minister who, until not long ago, used to sit next to his successor Shivraj Singh Chouhan in the assembly. Gaur has now been shunted to a seat five rows behind the chief minister's berth after being ousted as the home minister.
It's a precarious situation for the octogenarian leader who was the second important figure in the government until recently. Gaur was shunted out of the cabinet under the central BJP leadership's direction that no leader aged above 75 should be a minister.
The diktat clearly hasn't amused Gaur. "A leader's capability to discharge his duties should be the deciding factor, not his age. I am still fit and more active than other MLAs and ministers. I'm fulfilling my responsibilities perfectly. In fact, many younger ministers aren't performing well. What kind of a formula is this? You are not judging a person by performance," he complains.
Gaur is also miffed at his unceremonious exit from the cabinet. "They should have denied me the ticket in the first place. Why was I pushed out midway? It is like a passenger buying a rail ticket for a full journey and getting booted out along the way," Gaur laments.
Now, he is paying the party back. So much so that Chouhan is finding it hard to counter Gaur's salvos. He, in fact, entered the assembly only after Gaur left for Delhi. More worryingly for the chief minister, Gaur is hobnobbing with the anti-Shivraj camp in the party. He recently went to meet former finance minister Raghav Ji in Vidisha.
Also Read: Three biggest teacher recruitment scams that India should be ashamed of
Once a mainstay of the government, Raghav lost his ministerial berth after a CD purportedly "exposing" his "illicit affair" was made public. Raghav had to go to the jail and has remained in political wilderness since. After meeting Raghav, Gaur quipped, "Ghayal ka dard sirf ghayal hi samajh sakta hai (Only a wounded man can understand the pain of another wounded)."
Career over?
Gaur, 86, is by no means a political lightweight. He first entered the MP assembly after winning a bypoll to Govindpura seat in 1974. No one has managed to dislodge Gaur from this seat since. He first became a minister in 1990.
In 2002, Gaur was installed as the leader of opposition. His moment of glory came in August 2004 when he was elevated as chief minister following Uma Bharti's resignation in the wkae of her controversial Tiranga Yatra. Gaur was entrusted the chair on the condition that he would vacate it for Bharti as soon as the controversy had blown over. Gaur, however, reneged on this tacit pact, leading to a bitter feud with Bharti. It was left to the party top brass to find a compromise, under which Gaur resign in November 2005.
Also Read: 42 dead: why is Shivraj Chouhan not facing more heat in the Vyapam scam?
Gaur was replaced as chief minister with Chouhan. Gaur was, however, adamant that he be made a minister. And he prevailed, despite the party's reluctance. He kept the job all these years in spite of many brushes with controversy.
Gaur has now set his eyes on Uttar Pradesh. He's nursing an ambition to become the neighbouring state's governor. Apparently, this is why he has taken on his own government in MP: he remarked in a lighter vein during assembly proceedings recently that he would quietly leave the assembly for Raj Bhawan in UP.
Gaur, a Yadav by caste, is aware that his party needs him only until the UP polls are held early next year. He is busy convincing the central leadership that his appointment as governor of UP, which has a substantial population of Yadavs, will benefit the BJP in the election. If his demand is not met, he has reportedly threatened, he will keep embarrassing the government in MP. Will he have his way?
Also Read:
MP Home Minister Babulal Gaur gropes woman, video goes viral