#BiharPolls: Aurangabad is mad with the BJP but may have voted Modi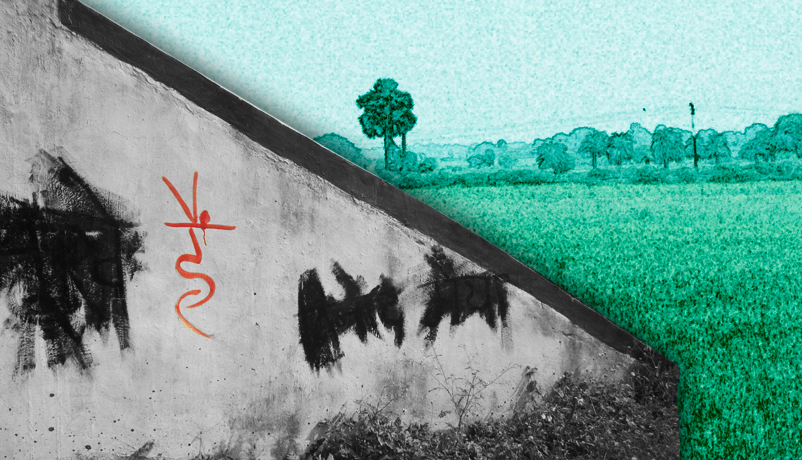 The constituency
There are signs of drought near Aurangabad in Bihar
Farmers are upset with the BJP MLA Ramadhar Singh as well as CM Nitish Kumar
The MLA hasn\'t fulfilled many of his promises
The trends
Many people in Aurangabad look up to PM Narendra Modi
Some acknowledge the good work done by Nitish but slam him for aligning with Lalu Prasad
More in the story
Who is likely to win Aurangabad?
Can Modi help Ramadhar Singh overcome anti-incumbency?
How has Nitish shot himself in the foot?
In Manjurkha village just about 10 kms away from Aurangabad town, signs of drought are clearly visible. Local water bodies have dried up, the soil beneath the standing paddy crop has cracked and large swathes of sun-burnt paddy crop can be seem from a distance.
The farmers, large number of them Rajputs, are upset with the state government as well as sitting MLA, BJP's Ramadhar Singh. They say, he hasn't visited them once in last 15 years. Among them is 65-year-old Dr Virendra Kumar Singh, former Principal of AN Sinha College, Aurangabad. Dr Singh is an old RSS supporter and recalls with fondness the days of the Jan Sangh when he used to host several local leaders at his house.
Singh says fellow Rajput Ramadhar knows this village is especially upset with him, which is why he has not turned up even at the peak of campaigning. The reason is that he had promised to solve the irrigation problem of the region and also that every home in the village will get water supply. Many years have passed and the promise still remains unfulfilled.
Farmers in Aurangabad are upset with the Nitish Kumar govt as well as the BJP MLA Ramadhar Singh
Anti-incumbency against BJP MLA
Ramadhar Singh has been winning the assembly elections from Aurangabad since 1995. His successful run was interrupted only once from 2000 to 2005, when RJD's Suresh Mehta had defeated him. RJD's candidates have been the runners-up in the last three elections. However, this time the Grand Alliance decided to field Congress' Anand Shankar Singh instead of an RJD candidate. Singh is also a Rajput, making the fight on this seat essentially a battle between two Rajput leaders.
Our conversations with random voters indicate that very few are happy with Ramadhar's tenure. Some complain of lack of good roads, some of bad drainage facilities and some others of poor health infrastructure. The traditional RSS supporters even express dissatisfaction with the BJP over non-realisation of an old Sangh Parivar dream: the Ram Mandir in Ayodhya.
"Ram Mandir bhi nahi bana,(We didn' get the Ram Temple either)" Virendra Singh tells us on a note of disappointment, adding, "hum log ab party badalne ke pher me hain (we are planning to change our party now)." Asked how does he feel about the RSS' latest attempts to win over Dalits with the "One temple, one well and one crematorium" slogan, Singh voices his disapproval. He believes this was not just impossible but inadvisable.
Modi factor versus local anti-incumbency
However, it soon becomes clear that Singh will not really carry out the threat of deserting the BJP. "Is baar ek aakhri mauka hai (We will give BJP one last chance this time)" he announces, explaining, "Is baar Modiji se bahut ummeed hai (this time there is a lot of hope from Prime Minister Narendra Modi)".
The Modi-factor is weighing heavily in the minds of many in Aurangabad, a factor that might help Ramadhar beat a strong anti-incumbency. One of Modi's rallies had also been organised in Aurangabad, which is helping Ramadhar secure support for himself in the PM's name.
In Aurangabad town, Catch caught up with two young students belonging to the Rajput community at a book shop where they were looking for information related to various competitive examinations they were preparing for. Sumit Kumar Singh, 22, and Rakesh Kumar Singh, 25, both expressed admiration for Chief Minister Nitish Kumar. They say that Bihar achieved a lot of progress under him in terms of construction of roads and health infrastructure.
However, Nitish flopped in the education sector, the students said. They pointed that candidates who couldn't even spell basic English words properly were made teachers. They have decided to vote for BJP this time, since they like the vision Modi has articulated in his speeches and foreign trips.
Lalu drives voters away
Fifty-seven-year-old Kanhaiya Prasad runs a khaini (tobacco) shop and also assists in conduct of prayers at the nearby Mahakal temple. Prasad, belonging to the swarnkaar caste (OBC), has a long list of grievances against MLA Ramadhar Singh. These include poor electricity supply, lack of adequate water supply and absence of doctors as well as lack of medicines at the Sadar hospital. However, he is forced to caste his vote in favour of Singh once again, because on the other side is somebody who is asking Hindus to eat "gau-maans" (cow-meat). It is a not-so-veiled reference to BJP's allegations against Lalu Prasad that he was asking Hindus to eat cow-meat.
57-year-old Kanhaiya Singh will vote BJP as he won't support someone who asks Hindus to eat beef
A Brahmin cycle-repair shop-owner and a Kayastha salesman also expressed support for BJP, saying they had voted for Nitish last time and would have done so again had he not joined hands with Lalu.
A little ahead, 30-year-old Mukesh Prajapati who runs a paan-shop gave us possibly our biggest surprise so far. Mukesh is a Kumhar by caste (EBC) and has studied up to 9th standard. He has a poor opinion of Ramadhar Singh but he is also disappointed with Nitish. "Nitish said remove the Jungle Raj. Now he has entered the same jungle," he said. This time there is need for change and therefore he will vote for BJP in the name of "Modiji".
Nitish said remove the Jungle Raj. Now he has entered the same jungle, says Mukesh Prajapati
In a simple but deep insight into how politics also works at inter-personal levels, 39-year-old driver Naresh Kumar Ravi, belonging to the Ravidas caste, told Catch that about 7-8 months ago, a theft took place in his locality. When police deployed sniffer dogs in the locality to look for clues, the dogs entered Ravi's house. He wasn't home at that time and the police picked up his 3 brothers, locked them up and even thrashed them during the interrogation.
When Ravi got to know of this, he requested his employer, a Rajput and a local BJP leader, to save his brothers. The man personally visited the police station and got Ravi's brothers released. Ravi says he always knew his employer to be a generous man but this act further elevated his position in his eyes. Ravi has decided to vote for the BJP as voting for any other party will weigh heavy on his conscience as a betrayal of his master.