Are tricolour yatras the best idea for instilling nationalism in India?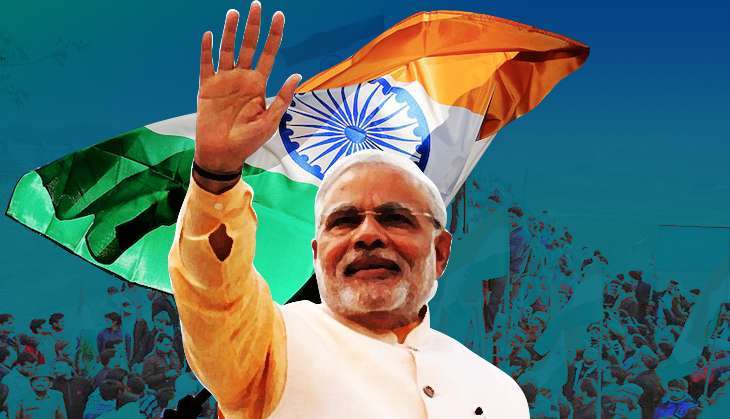 Ahead of 15 August, the ruling BJP government has launched plans - supposedly high on symbolism - apparently to instil "nationalistic and patriotic" feelings among people. A report in The Indian Express on 20 July said that Prime Minister Narendra Modi has suggested that the "party should take out Tiranga Yatras across the country to evoke "nationalism and patriotism" - two slogans that have rallied its supporters in recent months."
Tricolour yatras
The week-long yatras will begin on Independence Day. Addressing the BJP Parliamentary Party meeting, Modi laid down guidelines on how the yatras should be carried out. "He said MPs and MLAs should set out on bikes carrying the Tricolour, which should be at least 8 feet high, so that it evokes feelings of patriotism and nationalism among people, especially the youth. He specifically told us that we should also wear a helmet, which too should preferably have the Tricolour on it," a BJP MP told The Indian Express.

For a Prime Minister who likes to wear his love for the nation on his sleeve, and who was the first among his predecessors to kneel down at the "altar of democracy" the first time he entered Parliament, Modi seems to forget about his people at home when he travels abroad. In fact, it may even be argued that the Prime Minister often seems disturbingly impervious to the violence inflicted on his own people at home. Instead he appears to be entirely preoccupied with courting international leaders and media, winning accolades from them, even as criticism of his silences mounts at home.

Between 8 July, when Kashmiri militant Burhan Wani was killed by security forces, and 16 July, Prime Minister Narendra Modi must have tweeted at least a 100 times, mostly from abroad. As Kashmir spiralled into violence, Modi - who was touring the African continent - paid homage to Gandhi, unveiled his statue, relived his historic train journey to Pietermaritzburg in South Africa, and (but of course) posed for photographs, shaking hands with a range of heads of states and business leaders.

Also read: Today's Nero plays drums: How Delhi failed Kashmir, yet again

Yet, not a single one of his diverse tweets manifested the Prime Minister's concern (assuming that he was concerned) about Kashmir, which was seething with rage while Kashmiri youths were getting killed or maimed by so-called 'non-lethal' pellet bullets. Either cries of anger and desperation did not reach the Prime Minister. Or he deliberately tuned himself out of the 'noise' while at home.

Silence at home, vocal abroad
This staunch silence in the face of an endless series of national crises, is even more jarring because Prime Minister Modi expects everybody else in the country - especially those he and his party have labelled dissidents - to abide by a strict code of nationalism and nationalistic behaviour. Modi never reacts to protests or violence at home. Instead, his Twitter feed is overflowing with demonstrations of empathy for various events abroad.
Consider for instance, Modi's prompt reaction to and condemnation of the killings in Nice this Friday. "Appalled by the horrific attack in Nice. I strongly condemn such mindless acts of violence. My thoughts are with the families of deceased," the Prime Minister tweeted on 14 July. He followed this up with a second tweet: "I hope the injured recover soon. India shares the pain & stands firmly with our French sisters & brothers in this hour of immense sadness."
While the youth in Kashmir - their critiques, political dissidence, and demands - have been rigorously ignored by Modi, the Kenyan youth seem to have caught his attention more swiftly over the past few days. On 11 July, he sent out several tweets: "Told youth at @uonbi - a safe, prosperous Kenya & a strong Africa is your destiny. Let no one take it away from you"; "Spoke on the rich legacy of Kenya, accomplishments of Kenyans in various fields & how Kenya has a right ecosystem for innovation-led growth."
Before this - while violence and repression was unfolding in all its brutality in the Valley - the Prime Minister took time out to enthusiastically praise atomic energy scientists. He tweeted, "The second reactor at Kudankulam became critical yesterday. This is a piece of great news, which makes us happy." Then he followed it up with this tweet, "I congratulate the atomic energy scientists, both from Indian and the Russian side for this major technological success."
The Prime Minister has made his inexplicable (and some might even say offensive) silence part of his larger policy of not taking a stand on controversial matters; matters which essentially call out his party on its core political and ideological beliefs and practices. Modi - who believes social media to be a critical tool for disseminating political ideas and governance policies - cynically embraces a 'wordlessness' whenever he believes that the issue at hand requires an intervention on the ground.
Instead, he specialises in making abstract commitments to cultural and religious tolerance that remain purely at the level of lofty rhetoric.
Whether we talk about the murder of Mohammad Akhlaq in Dadri almost a year ago or of riots, hangings, lynchings, and violence against Dalits, the Prime Minister never adequately reacts to these incidents. Even more than Manmohan Singh (who Modi condemned for his silence,) our current Prime Minister - armed with a battery of social media platforms - chooses to speak about everything but the violence afflicting contemporary India.