Are Muslim labourers working on 'secular' Lalu's plantation? - Owaisi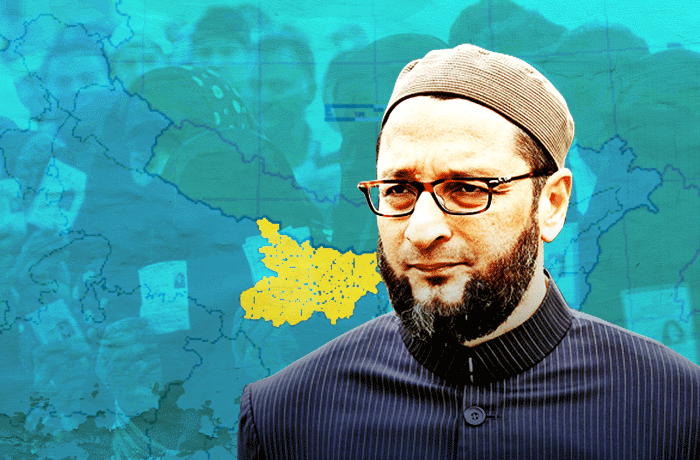 The decision
Its focus is on the Muslim-dominated Seemanchal region
Owaisi attacked \'secular parties\' in an interview to Catch. Here\'s what he said
The challenge
What\'s wrong if AIMIM contests elections? The sky is not going to fall
I had campaigned for Lalu Prasad in 2005. Now why have I become communal for him?
I don\'t ask for votes in the name of religion. But I will speak about Muslims\' empowerment
The defence
It\'s wrong to say AIMIM is helping BJP. Did BJP win in 2014 because of us?
Everyone knows Muslims are backward. Nothing wrong in speaking about their welfare
After its success in the Maharashtra Assembly elections last year, the All India Majlis-e-Ittehad-ul Muslimeen (AIMIM) is all set to try its luck in north India for the first time. AIMIM chief Asaduddin Owaisi has announced that the party will contest the Assembly elections in Bihar, with a special focus on the Muslim dominated Seemanchal region of the state.
Owaisi is being accused of harming "secular" forces as the AIMIM is likely to eat into the JD(U)-RJD-Congress alliance's Muslim votes.
Speaking to Catch, Owaisi defended himself by saying that the "so-called secular parties" have done nothing for minorities in the state. He says it is about time that minorities stand up and fight for their rights. Excerpts.
What are your plans for Bihar? How many seats is the AIMIM going to contest?
As we have already stated, we are going to contest only in the Seemanchal region. We will decide soon on the exact number of seats. We will not have an alliance with any political party. Our main plank is the development of the Seemanchal region.
Why only Seemanchal? Is it because of the Muslim population there?
This is the first time we are entering the electoral fray in Bihar. Right now Seemanchal is our priority. We want to expand the party in Bihar in future.
It's not just because of the Muslim population. There are people from different castes, religions, biradaris there. Seemanchal is one of the most backward regions in Bihar. The Purnia division is the most backward in Bihar in terms of irrigation, development and health indicators.
This is your first election in north India. Is it a good time to contest in Bihar?
Unfortunately, I don't believe in stars or horoscopes.
I am talking in terms of the political calculations and the timing.
We are a political party. If we don't contest elections then what we are here for? We are not an NGO or something. What is wrong in it? The sky is not going to fall if MIM contests the elections.
You are ruling out any alliance with Lalu Prasad and Nitish Kumar or anyone else. Lalu and Raghuvansh Prasad Singh have had a public disagreement on the question of an alliance with you.
It is for them to decide. In 2005, Lalu didn't call me. I went on my own initiative to campaign for him for five days. You can check this with the top Muslim leaders of RJD. He told top Muslim clerics in Nalanda that Owaisi campaigned for him. Whether he remembers this now is a different matter. At least Raghuvansh Babu says that Owaisi is secular.
So what changed in these 10 years? In 2005, you campaigned for Lalu and now you are contesting against him?
Expansion of a political party is a natural process. And why should I not contest? When we are asking Naga insurgents to lay down their arms and join the democratic process, why can't Owaisi or his party contest elections?
Are Muslims labourers working on some plantation for Lalu Prasad Yadav? When he says that Yadavs will never betray him, he speaks of his own community. Nitish talks about social justice and development, but he also plays the Kurmi card.
Everyone plays identity politics. But questions are raised only when I speak about Muslims' rights
The BJP talks about Upper Castes and gets Paswan in, but no one talks about that alliance. Lalu, Nitih and BJP can speak about their castes with pride but questions are raised if Majlis speaks about the poor situation in Seemanchal.
Why are there only 19 Muslim MLAs in Bihar Assembly even though it should be 41 in proportion to their share in the state's population?
But this shows that even you are driven by the politics of identity.
Akali Dal talks about Sikhs, Dravidian parties talk about Dravidians in Tamil Nadu, Congress talks about Vokkaligas in Karnataka and Reddys in Andhra Pradesh, NCP and MNS invoke the Marathi Maanus, who doesn't play the politics of identity? But when I ask about my (community's) rightful participation in democracy, I am told that I cannot do it. Why?
I don't ask for votes in the name of religion. But I speak about the empowerment of Muslims and that is not a violation of electoral laws.
Why is BJP pleased that you would be contesting in Bihar?
If that is the case, why did Raghuvansh babu say that Owaisi is secular? How did I help BJP when I didn't contest in Haryana, Jharkhand and Jammu Kashmir?
Critics say that your presence and speeches would help the BJP consolidate Hindu votes in Bihar.
Did the BJP use my speeches to get 280 Lok Sabha seats nationally? Did the NDA get 31 seats in Bihar because of my speeches?
But your speeches went viral on YouTube and Facebook.
Why you don't say same thing about Modi's speeches? For God's sake, why don't you guys have the guts to write that the majority vote has gone to the BJP. No one has guts to debate this because the majority and Upper Castes can do no wrong. It is the minority which must always follow the line. No, we will not follow the line. I want an agenda to be set.
My empowerment should not take place. My share in development should not increase. My children should not study but still I should vote for you. For what?
Analysts also say that if you don't perform well in Bihar, this would affect your possibilities in UP as well?
Don't worry about UP. UP is a different thing. UP will show what we are.
Please answer one question. Media and political parties speak about the freedom of expression, why am I not allowed to hold a single public meeting in UP? We will hold meetings in Bihar. Let us see who stops us.
If I say something about one writer, channels will flash it all day. But here a member of parliament is being prevented from holding public meetings and no one talks about it.
Don't you think stopping your meetings will help you and harm Mulayam?
Who are Mulayam and Lalu? In their weddings, their entire family wants to click selfies with Modi. And then come and call Modi names and allege that Owaisi is helping him. Owaisi never goes close to Modi, politically or personally.
What is your assessment about Bihar? Who is going to win?
For me, the victory of my candidates is most important. I have also said that wherever my candidates are not contesting, please vote for a secular candidate and defeat the BJP. Now, what more do you want me to say?
You are being compared with hardliners like Togadia. They also call you 'Zinda Aurangzeb'...
They can say whatever they want but that cannot deter me. As a political science student, I remember that the same sort of allegations were hurled at Kanshi Ram's BAMSEF and BSP. I will not be cowed by such allegations.
Are you trying to be the 'real representative' of Muslims in this country? Why is the Muslim leadership in India so divided?
There is no Muslim leadership. Our leaders are Lalu, Mulayam, Nitish, Sharad Pawar and so on. And where is development? You have read the Sachar Committee report and the Ranganath Mishra report, we can't go lower than this. We can only rise.
Look at how the Modi government has failed. They promised good governance but they've brought only conflict.
We aspire to be a permanent member of the UN Security Council and our rulers' priority is to change the names of roads, banning beef, or forcing Muslims to go to work on Bakrid.
What I said about Yakub Memon, I will take it with me to my grave. I will not change. Azam Khan is against Yakub Memon but he must answer why couldn't a single Muslim get elected to Parliament from his party? Their only MPs are five members from the party's first family.
So who is secular - Azam Khan or Owaisi?
In the present political environment, Owaisi is the most communal and dangerous person alive. I don't know about his Excellency Azam Khan Saheb.