Has Jayalalithaa sacked a minister for saying she's ill?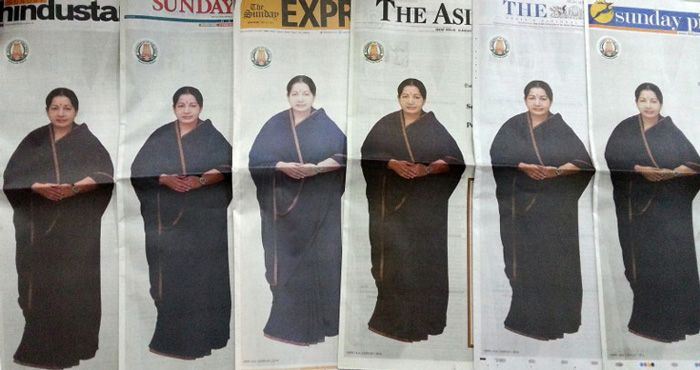 The sacking
Tamil Nadu CM J Jayalalithaa has sacked transport minister V Senthil Balaji
No official reason has been given for the sacking
Jayalalithaa has reshuffled her cabinet 15 times since 2011 and removed eight ministers
The cult
The AIADMK is virtually a cult of Jayalalithaa
Analysts say she keeps chopping and changing in order to remain the only source of power
It is alleged that Balaji had given an interview to a local channel without Amma\'s permission
V Senthil Balaji's prayers for the acquittal of his party chief in a corruption case seem to have worked for her. The formidable J Jayalalithaa assumed office once again as Tamil Nadu chief minister in late May.
But the transport minister in the AIADMK government appears to have forgotten to pray for himself. Balaji was peremptorily sacked on Monday, 27 July. He was also stripped of his party post as district secretary of Karur.
No official reason was forthcoming, and those close to him say Balaji himself found out through a press release, even as he went about his daily routine in the Secretariat.
News of Balaji's dismissal was sudden, but hardly surprising. He was one of the few ministers who had survived 15 cabinet reshuffles, remaining as transport minister since 2011.
And while Balaji himself was unavailable for comment, rumours are rife that he was kicked out because he dared to give an interview to a Tamil channel on a documentary about his constituency, Karur.
As far as the AIADMK goes, it seems speaking out of turn, without Amma's permission, is a strict no-no.
"Nobody is above the leader in this party and no one can aspire to that," said Vaasanthi, political analyst and author of a book on the political cult of Jayalalithaa. "No one can display any semblance of intelligence. She has always been that way."
Senior leaders within the party are clueless about what prompted the dismissal.
"A change of ministers is left to the CM," said a senior party leader, who did not wish to be named. "Madam has some other programme or assignment for him, in view of the coming elections. He will definitely have some other role in politics, especially in view of the 2016 elections."
Spokespersons insist that 'Amma knows best', and that her decisions are usually sound. "It is entirely Amma's prerogative," said Avadi Kumar, a spokesperson. "It is wrong to speculate on reasons when she has decided on a course of action."
A number of ministers have suffered embarrassing and unexplained dismissals during Jaya's regime. Since 2011, eight ministers were sacked, along with several party seniors.
There have been 15 cabinet reshuffles under Jayalalithaa since 2011, and 8 ministers have been sacked
The reasons for the dismissals, although none official, range from involvement in corruption cases, losing two seats in the Lok Sabha polls out of a total of 39 and even an alleged illicit-but-consensual affair.
A self-appointed spokesperson of the party, retired IAS officer Malaichamy, was kicked out in May 2014 for alleged "anti-party activities".
This move came a day after Malaichamy gave interviews to television channels stating that Amma and BJP's then-PM candidate Narendra Modi were friends, and hinted at an alliance between the two parties in the state ahead of the Lok Sabha polls.
In keeping with Jayalalithaa's portrayed status as a 'cult leader', though, not all those dismissed are condemned to political purgatory.
Ministers like SP Velumani and Gokula Indra, who were initially removed, have managed to stage a comeback. Nobody in the party knows why they were brought back.
"She has been that way since her first term - she wants to maintain her image of a 'cult leader'," explained Vaasanthi. "No explanation has ever been given for why they have been sent off or brought back. Nothing is transparent in the AIADMK, nobody knows what goes on. There is a big Iron Curtain, which no one can pierce. The fact that someone who is dismissed can be brought back at any time - this means that the party fears her, the party depends upon her for its survival."
Other political analysts say that such dismissals could have been done on the basis of adverse state intelligence reports about the ministers concerned.
"This is purely an internal party scrutiny," said C Lakshmanan, political analyst and assistant professor at the Madras Institute of Development Studies. "The party might have received some vigilance reports and they may have acted upon that. The actual reason may not be pronounced in public because the party has to face the public.
"The caste of each minister and party leader also plays an important role in decisions like these. For instance, both the Dravida Munnetra Kazhagam and the AIADMK district secretaries from the Kongu region are Gounders, the dominant caste in the area. Whichever dominant caste has a powerful control over that district will get the district secretary's post."
Whatever the reason, the final word is unquestionably Amma's. There is no higher appeal possible within the party itself.
"These are all assignments given to people within a party," said Rabi Bernard, Rajya Sabha MP and AIADMK spokesperson. "Assignments are evaluated and, if performance is not satisfactory, then they are removed. After some time, another chance is given to them. Amma has no personal likes or dislikes. She evaluates people on the basis of merit, like a teacher would, and she takes a decision."
And so it goes in Tamil Nadu under Jayalalithaa. Balaji may have refused to shave his beard in prayer for his leader and 'Idhaya Deivam' (Goddess of the Heart) Amma. He may have lit one lakh lamps at a temple for his leader's comeback. He may have waltzed around wearing a lit up two-leaves symbols on his head while campaigning for his leader in the RK Nagar bypoll.
But in the end, Amma always, without fail, knows best.