Amit Shah's protector. Amit Jethva's alleged killer: Meet Kodinar's king Dinu Solanki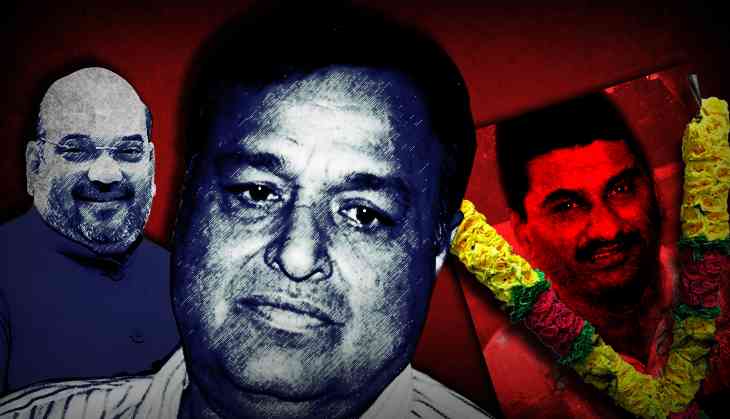 Narendra Modi has consistently used the Somnath temple to project himself as a pious Hindu leader, both during his tenure as chief minister and now as Prime Minister. He has spent considerable resources in beautifying the temple town and visits it often.
But as one begins moving east from Somnath to Kodinar, the roads become progressively worse and the façade of piety gives way to a dark reality of Modi's appeasement of a notorious magnate: Dinu Boghabhai Solanki. Solanki was allegedly behind the murder of RTI activist Amit Jethva and has been accused of being involved in illegal mining and intimidating those who stand up to him.
Despite the allegations, his activities have continued unabated largely due to the blessings of Modi and Amit Shah.
Solanki's links with Amit Shah
On 1 December, BJP president Amit Shah arrived at Kodinar to address an election rally. The crowd was small - barely 2000 people turned up to listen to Shah. But the BJP national president was undeterred and during his speech he predicted that by 11 AM on 18 December, the BJP would have won 150 seats in Gujarat.
Shah's rally wasn't so much to assert the BJP's invincibility. It's main purpose was to express his solidarity with Solanki. Shah's show of support for Solanki was important as only a month back he had been sent to CBI custody after the Supreme Court revoked his bail following a petition moved by Jethva's father Bhikhabhai Jethva accusing both CBI and Solanki of contempt of court.
Solanki is a three-time BJP MLA from Kodinar and was the party MP from Junagadh from 2009 to 2014.
However in Kodinar, he is seen as almost a Don-like figure.
"He is like the Dawood Ibrahim of Kodinar. He controls every aspect of the place - politics, business, religious affairs. Nothing can happen here without his will," says Jaisinh Mori, a resident of Kodinar and a Congress supporter
Amit Shah's friend
Solanki, a Karadia Rajput, can't contest from Kodinar anymore as it became a Scheduled Caste reserved seat before the 2012 Assembly elections. But he continues to pull the strings here.
The sitting MLA from Kodinar, Jethabhai Solanki was denied a ticket by the BJP, supposedly at Dinu Solanki's behest.
He resigned from the party even before the candidate was announced, citing that the party was "listening only to Dinu Solanki". The party eventually Mepabhai Vadher, who is said to have Dinu Solanki's blessings.
Interestingly, in his speech in Kodinar, Shah didn't even mention the name of the candidate but spoke about Dinu Solanki a number of times.
He even joked about Solanki's absolute power in the area by telling the audience, "Why, won't you clap if Dinubha isn't here to tell you to?".
Jethabhai Solanki's supporters accuse Shah of bowing before Dinu Solanki. "It is clear who pulled the strings at at whose behest. Everyone knows the close links between Dinubha and Amit Shah," said a supporter of the former MLA who didn't want to be named as he "feared for his life".
Jaisinh Mori, however, didn't hesitate in speaking about the close links between Shah and Solanki.
"Everyone here knows that Shah took refuge with Dinubha in Kodinar when he was on the run from the CBI in the Sohrabuddin Shaikh encounter case in 2010," Mori alleged.
Noghan Dahima, Another local who didn't fear to speak his mind, said "they (Shah and Solanki) are two of a kind. In fact I would say Solanki is more dangerous. Both were chased by the CBI (in different cases). Shah took refuge with Solanki but Solanki never ran away anywhere".
Despite Solanki's arrest, Dahima is confident that he would "manage the election" even if he is in jail. "Who knows he might even get out before polling day," he said.
Dahima's words proved to be prophetic as on 6 December, just three days before polling in Kodinar, Solanki was given bail by a special CBI court with the assurance that he will stay in Diu, outside Gujarat, until 18 witnesses in the Amit Jethva murder case are examined.
Jethva's father criticised the judgment saying that sitting in Diu, Solanki can easily intimidate witnesses who live a short distance away. Diu is just 44 km from Kodinar. Sitting in Diu, Solanki can easily supervise the BJP campaign in the seats of Una, Kodinar and Talala which fall under his area of influence.
Solanki's business
While Dinu Solanki's main business is limestone mining, he is said to have a stake in sugar mills, shipping and construction. Locals say he even controls a TV channel in the area.
Having being involved in politics at the Taluka level since the 1980s, Solanki was already an influential figure in Kodinar. The major turning point for Solanki came when Ambuja Cements set up its plant in Kodinar in 1997.
Solanki began providing transportation and other logistical support to Ambuja and his business grew manifold as a result. His business ties with Ambuja also expanded, transforming Solanki from a small politician-entrepreneur into a business magnate. This increased his stature within the BJP as well. In 1998, he was elected to the Assembly with a margin of over 19,000 votes, getting nearly twice as many votes as his Congress rival. He was re-elected in 2002 and 2007 and became an MP in 2009.
Amit Jethva's killing
Amit Jethva had taken on Solanki accusing him of being involved in illegal mining activities in the Gir forest. Since 2008, he filed six Right to Information queries regarding illegal mining in protected forest area just outside the Gir Forest National Park. His family says that soon after he began questioning illegal mining activities, Jethva began getting threats. On one occasion, Solanki allegedly threatened Jethva in front of a huge gathering.
It is alleged that Solanki's goons and BJP cadres mercilessly thrashed Jethwa for questioning his activities.
In 2010, Jethwa filed a Public Interest Litigation in the Gujarat High Court, accusing Solanki and his family of being involved in the rampant illegal mining in the Gir forest.
Along with Solanki, his business is run by his sons Jaspalsinh Dinubhai Solanki, Bhaghirathsinh Dinubhai Solanki, brother Amarsinh Boghabhai Solanki and Amarsinh's son's Devang Amarsinh Solanki and Jaydev Amarsinh Solanki. They are all directors in the family-run firm Rajmoti Exim & Shipping Pvt Ltd.
Jethwa also requested the court to stop power supply for companies mining in these areas.
As a result of Jethwa's efforts a case against Dinu Solanki was filed and the police and geology department raided and seized mining equipment was seized. But the equipment is said to have been mysteriously stolen later.
Jethwa wanted the matter to be investigated by a Lokayukta and slammed the BJP government in the state of deliberately stalling the appointment of an ombudsman.
Barely a month after the case against Solanki was filed, Jethva was shot outside the Gujarat High Court building in Ahmedabad on 20 July 2010. Despite being injured, Jethva tied to catch the assailants and managed to grab the kurta of one of them. The kurta had a laundry tag leading to Junagadh. Incidentally, Solanki was the BJP MP from Junagadh at that time.
"He was a sincere activist, one of the few people who dared to take on Solanki in this area," Daimia says.
Solanki's clout has only increased since then.
In February this year, the Gujarat High Court accused the Gujarat police of favouring Solanki in another case and not probing him effectively.
"The lack of anxiety of the police and its inertia in acting on the complaint lodged by the writ applicant promptly and effectively is apparent. The police have been mute spectators so far. The entire state machinery appears to be stacked in favour of Mr. Solanki, probably because he belongs to the ruling dispensation," observed Justice JB Pardiwala, in response to a writ petition filed by one Jetuben Salot. Salot has alleged that Solanki and his goons vandalised her home and threatened her family.
The election
Solanki wasn't given a ticket from Junagadh for the 2014 elections and there were attempts to sideline him in the Gujarat BJP after Modi and Shah moved to the Centre.
One of the objects of his ire was Jethabhai Solanki, the sitting MLA and a one-time associate.
He fielded Independent candidates against the official BJP nominees in the 2015 Taluka Panchayat polls. Out of 22 seats, his nominees won 12 seats and showed the BJP its place.
Therefore, in the upcoming Assembly elections, the party had no choice but to bow before his demands.
"The change of Kodinar into a reserved seat has come as a blessing. Otherwise, Dinubha Solanki would have ruled from here forever," Mori says.
"Congress managed to defeat BJP in Kodinar in the 2009 bypoll. We will succeed again," he added.
This is a battle for survival for Solanki. His supporters say that if Congress comes to power in Gujarat, it would could mean trouble for their leader.