Amit Shah makes it clear in Saharanpur: It's BJP vs Muslims in UP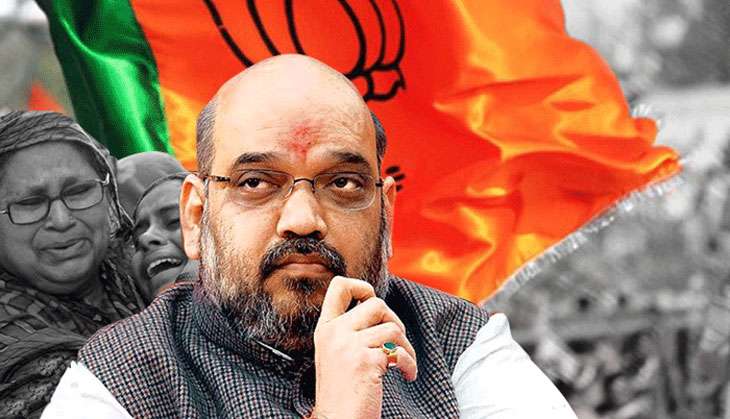 BJP president Amit Shah flagged off the party's Parivartan Yatra with a rally in Saharanpur. But as Shah's speech progressed, it became clear that his talk of Parivartan and development in UP is just a smokescreen. The BJP's main strategy in these elections is to create a communal polarisation by targetting UP's Muslim minority.
The setting
BJP chose to begin its UP campaign from Western UP's Saharanpur district, where Muslims account for 41% of the population. The Darul Uloom seminary in Deoband, which wields influence among a section of Indian Muslims, is located in this district.
It is also a place which witnessed communal violence in July 2014, barely a few months after the Narendra Modi government came to power. BJP has particularly been focusing on Saharanpur. PM Modi chose to celebrate his 2 years in office with a rally in Saharanpur in May this year.
The targets
Amit Shah cleverly chose his targets in his speech, focusing on the Muslim leaders in Samajwadi Party and Bahujan Samaj Party.
"Chief Minister Akhilesh Yadav projects himself as a Vikas Purush. He says that as long as he is the chief minister, leaders like Afzal Ansari and Mukhtar Ansari will not be included in the SP. The people of UP want to ask you, that Afzal Ansari is in your party and you are still the CM. Under your rule, what will happen to Afzal Ansari, what will you do about Ateeq Ahmed, about Azam Khan? The entire SP is full of Ateeqs, Azams, Afzals and Mukhtars".
Clearly, this was not a reference to leaders with a criminal background whom the SP has allegedly patronised. Had that been the case, he would have mentioned the most notorious case - of Raghuraj Pratap Singh aka Raja Bhaiya. While Mukhtar Ansari and Ateeq Ahmed do have a criminal background, the same cannot be said about Azam Khan.
The only thing common between all these leaders is that they are all Muslims.
This "attack Muslims" approach was clear even in his attack on BSP supremo Mayawati.
"Behanji (Mayawati) says that she will liberate UP from them (SP). If there are Ateeq, Azam, Afzal and Mukhtar here, we have Nasimuddin (Siddiqui) there (in BSP). Where will you escape to? It's a choice between the devil and the deep blue sea."
"We have no one of this sort. There are no Gundas in BJP. We have no place for Gundas in BJP. Only BJP can create a Gunda Mukt UP," Shah added.
Siddiqui is the most prominent Muslim leader in BSP. Though he faces corruption charges, he is not known for having a criminal background.
In fact, there are many non-Muslim politicians far more deserving of the "Gunda" tag than Siddiqui or Azam Khan - Raja Bhaiya, DP Yadav and Amarmani Tripathi to name a few. But Amit Shah didn't mention even one of them.
In fact, if Shah really wants a Gunda Mukt UP, he should first begin with his own party's state president Keshav Prasad Maurya, who has several criminal cases against him. He is a prime accused in a murder case and has been booked for promoting enmity between groups, criminal intimidation, deliberate acts of hurting religious sentiment, criminal conspiracy and rioting.
Maurya's elevation shows Shah doesn't really care about a Gunda Mukt UP. Rather, more ominously, he seems to be using "Gunda" as euphemism for Muslims.
The threat
Without saying it explicitly, Shah said that the BJP will ensure the protection of UP's Hindus. Citing the alleged exodus of Hindus from Kairana, he said "the residents of Western UP are being forced to leave the area. SP is responsible for this. If BJP comes to power, no one will leave their villages. Only the ones who are forcing you to leave, will be made to leave."
Shah went on to take credit for the surgical strikes and said that "BJP got it done". He didn't even mention the Indian Army.
In fact, Shah used the surgical strikes to issue a threat. "If anyone dares to do anything, we know how to respond with an eye for an eye, a bullet for a bullet."
Shah also accused the SP and BSP of playing vote bank politics on the triple talaq issue.
Shah's speech is reflective of the larger narrative the BJP is trying to weave - by conflating Pakistan sponsored terrorism, criminalisation in UP and the state's Muslim minority - and creating a sense of insecurity among Hindus.