Alpesh Thakor set to win Radhanpur. Even BJP candidate says 'Congress Aave Chhe'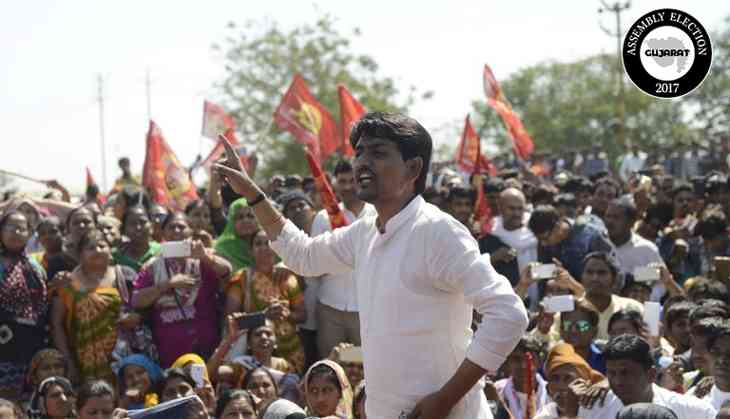 On 8 December, Lavinjibhai Thakor, the Bharatiya Janata Party's candidate from Radhanpur Assembly Constituency in north Gujarat, announced, "Gujarat ma Congress ki sarkaar aave che (In Gujarat, Congress will form the government)" Upon realising what he had just said, Lavinjibhai tried to correct himself but it was too late and the damage had already been done. Soon the video of the purported incident went viral with voters across the constituency ridiculing Lavinjibhai.
Lavinjibhai has been in the Congress for decades only to quit when former chief minister Shankersinh Vaghela decided to rebel against the Grand Old Party right before the Rajya Sabha elections in the state. Lavinjibhai was then given a ticket by the BJP from Radhanpur where he is fighting against Congress' Alpesh Thakor who joined the party a few days ago.
"This incident is a testimony of all that is wrong with the BJP. Their candidate isn't even sure about which party he belongs to. Thakors are upset with Lavinjibhai since he didn't even consult anyone before quitting. He even had the audacity to contest on a BJP ticket and ask for votes. I will not waste my vote on a candidate who changes parties like we change clothes and has no respect for ideology," said Sendabhai Thakor of Kalyanpur village.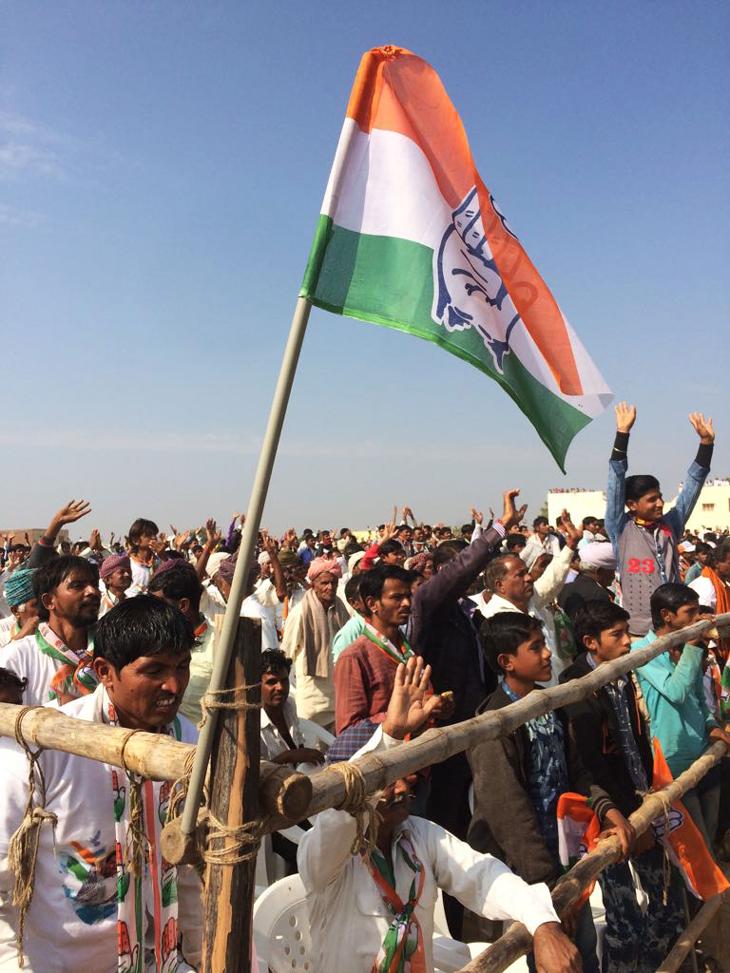 Akash Bisht
Even the mood in BJP's office in Radhanpur town is not very encouraging, with its own leaders upset not only with the video but also at how a turncoat has been given a ticket at the behest of a dedicated BJP leader. "This video is a clear sign of what is in Lavinjibhai's heart. He will take some time to realise that he is now with BJP. You can't learn it in few days, it comes with time," says BJP's Radhanpur in-charge, Bharatbhai Rajgor.
Rajgor's tone is laced with sarcasm as he begins to talk about Lavinjibhai and then says how candidates do not even matter for BJP because Gujaratis are party's "dedicated voters". He adds that even the likes of Alpesh would not be able to defeat the BJP machinery which has its dedicated workers campaigning in each booth. "People vote for Prime Minister Narendra Modi and the development he has brought in this region. If you are getting water to drink, it is because of the prime minister," he says with a certain degree of arrogance.
Further, he claims that though the younger of the other backward classes, particularly Thakors, may be inching towards Congress, the elders are with us. "We have spoken to them and they have promised to vote for BJP," he adds. Interestingly, he also goes on to claim how other castes are getting increasingly anxious over the rise of Alpesh and how he and his men could indulge in hooliganism and vigilantism if voted to power.
"If it was any other candidate from Congress against Lavinjibhai, he would have certainly won. Alpesh is a blessing in disguise," mentions Rajgor.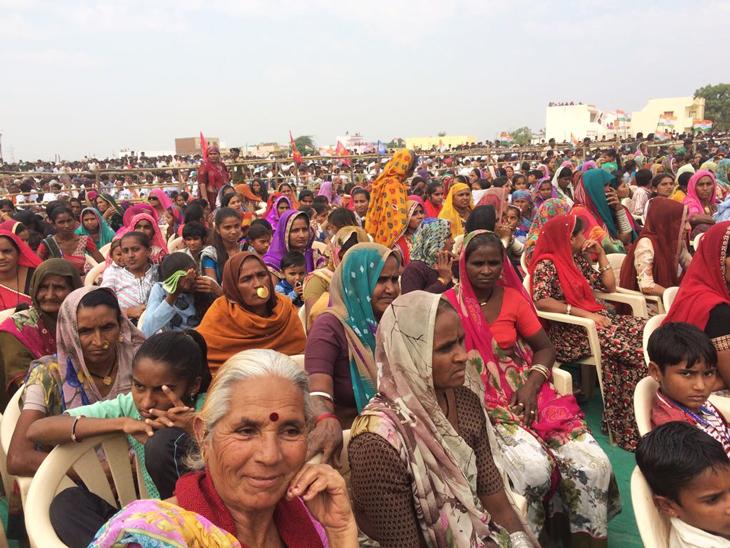 Akash Bisht
Meanwhile, just few kilometers away, the atmosphere at Congress office is in stark contrast with that of the BJP. Bubbling with energy, Alpesh's supporters are pacing up and down the office with several sheets of papers that looked like voter list. They are all busy preparing for next day's election rally in the town that will see Alpesh and Jignesh Mevani campaign together.
What sets the Congress supporters apart is how they talk less about Alpesh and more about the issues in the region that according to them have not been properly addressed by the BJP government. Less of rhetoric and more of substance is what Alpesh's supporters say they believe in.
They talk about problems of clean drinking water, sewage, education, employment, prohibition, privatisation of education, salaries of contract employees and aanganwadi workers, and how Radhanpur after 22 years of BJP government remains untouched by "Modi's development model". Their arguments are backed by logic and not just rhetoric.
"Our current MLA is illiterate and did what the sahebs from Ahmedabad and Delhi told him. We no longer want that. We don't want a remote controlled MLA. We want someone who can talk about us in state assembly and hold the government accountable. If Lavinjibhai wins, do you think he would be able to ask any questions?" asks Laljibhai Thakor, who calls himself a proud member of Kshatirya Thakor Sena set up by Alpesh.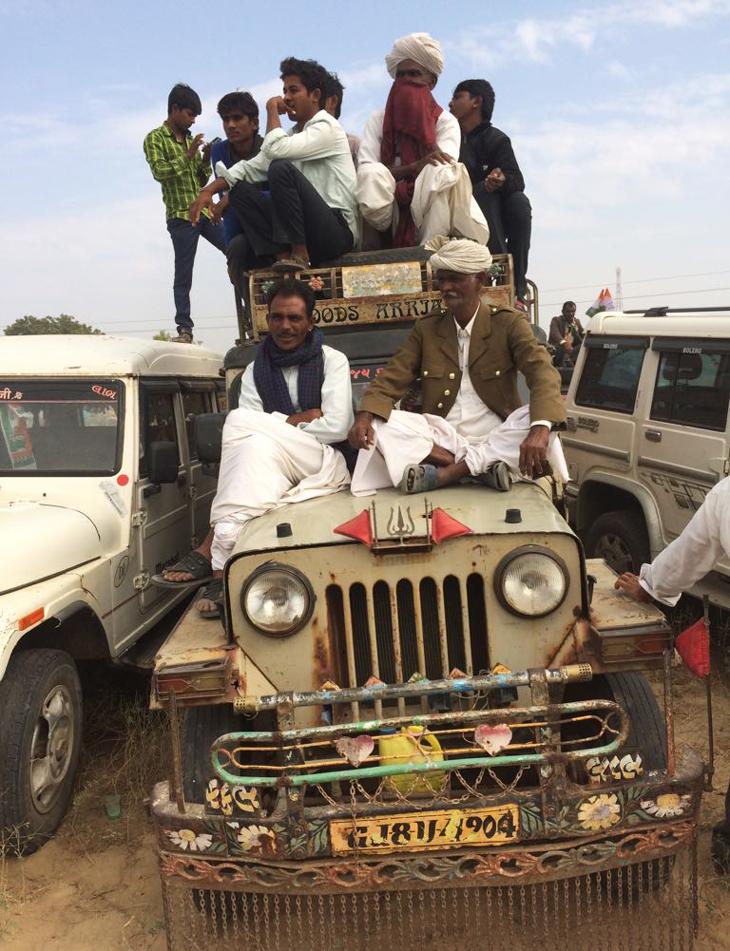 Akash Bisht
As Laljibhai continues to lambast Modi government, several others join the conversation and point out how elections in Radhanpur has become all about Alpesh vs Modi. They point at how BJP doesn't even care about Lavinjibhai or for that matter any other candidate. "It is all about Modi who wants to win at any cost and if you see his speeches, you would realise that he is getting desperate. This means Gujaratis are doing something right," he adds.
Countering BJP's allegations of Alpesh being an outsider in Radhanpur, Khodaji Thakor of Nanakpura village questions how did Modi contested and won elections from Varanasi in 2014. "Was he not an outsider? Why this double-speak by BJP? Didn't Shankersinh Vaghela become chief minister after he contested from Radhanpur. So, these are just tactics to divert attentions," points Khodaji.
Convener of Thakor Sena and OBC, SC and ST Ekta March, Alpesh is from Viramgam and the Congress sent him to Radhanpur because of its high OBC population. In fact, by allotting him ticket from Radhanpur, Congress strategists have played a masterstroke as it is likely to help the part get OBC, particularly Thakor votes, throughout Patan district.
Apart from being a Thakor, who constitute nearly 25% of Radhanpur's population, Alpesh has been successful in mobilising 150 other small castes, particularly the OBCs, who constitute nearly 67% of the constituency's population. Along with Radhanpur, OBCs constitute close to 60% of the population in nearby seats such as Patan, Chanasama and Siddhpur.
Contrary to mainstream media reports on Radhanpur, Alpesh certainly looks the favourite to win the seat and out of 50 or so people this correspondent interviewed, no one, except a 17-year-old boy, claimed a BJP victory. "Alpesh will win. He gives hope unlike his opponent," says Dineshbhai Bharwad. Those interviewed included Dalits, Muslims, Kshatriyas, Brahmins, Kolis, among other castes, and all of them confided that Alpesh does have an edge.
Meanwhile, what has also worked for the Congress is how Alpesh has helped it in deflecting two critical issues that would have otherwise proved costly for the grand old party. Lack of organisational skills and criticism of party's leadership camping in Karnataka when the region was battling floods has successfully been deflected with Alpesh's induction.
Firstly, Alpesh's Kshatriya Thakor Army was the first to visit the flood affected areas, a fact no one denies and which is also routinely raised by Alpesh, has certainly helped Congress evade this criticism. Secondly, the lack of organisational strength has been negated by the Thakor Sena's volunteers who are campaigning across the region to ensure Alpesh's victory.
For the BJP, the problems are plenty. Battling anti-incumbency, it is also expected to see Shiv Sena and an independent candidate, Dr Vishnu Zula, cut its votes in this closely contested battle. In 2012, Congress' Bhavsinhji Thakor lost the seat by slim margin of 3,834 votes to BJP's Nagarji Thakor. "Sena will cut nearly 6,000 of our votes and a similar number of our votes will be cast in favour of the Zula. Considering how close the elections were last time around, this too should go down to the wire," says BJP's Rajgor.
Zula, a well-known doctor in the area, who commands respect amongst business community and others in Radhanpur town, filed his candidature as an independent after being denied the ticket by BJP. He is what many believe will prove to be a game changer in favour of Congress.
Not only this, even BJP workers are abandoning the party and coming in large numbers to listen to Alpesh. At one such rally, 22-year-old Sagar Thakker, informs how he was a local ABVP leader till few days and after his brother announced that everyone in the family will vote for Congress, he has changed his mind.
So, what made his brother change his mind? "Congress manifesto promises withdrawal of fixed salary structure which has forced many salaried individuals like my brother to vote for Congress," he says. According to him, Lavinjinbhai is almost like a Congress candidate. "So, why not vote for Congress candidate. Moreover, Alpesh is young and does make sense unlike the BJP MLA who didn't even know what ABVP was," he says.
Meanwhile, at the same rally in Radhanpur on Sunday, Alpesh and Jignesh Mevani lambasted the BJP and Prime Minister Narendra Modi for their false promises and atrocities on Dalits and failing to live up to the expectations of the farmers. And, when the two spoke, the crowd heard them carefully with men, women, children and elderly nodding their heads in approval.
A loss in Radhanpur will be far more than just embarrassing for the BJP. Firstly, the saffron party hasn't lost the seat in Radhanpur since 1998 and secondly, it will lose it to Alpesh who is expected to only grow in stature to challenge BJP in future too.
In fact, BJP has fielded some of its heavyweights, including UP chief minister Yogi Adityanath, himself a Thakur, and state minister Shankersinh Chaudhury, to woo crowds. But that too seems to be not working. In fact, Alpesh camp questions the logic behind so many ministers to Radhanpur and Sakir Rauma asks, "If Vikas has come to Radhanpur then why do you need these ministers?"