Akalis prepare ground for forthcoming local polls; release a six month report card of Amarinder government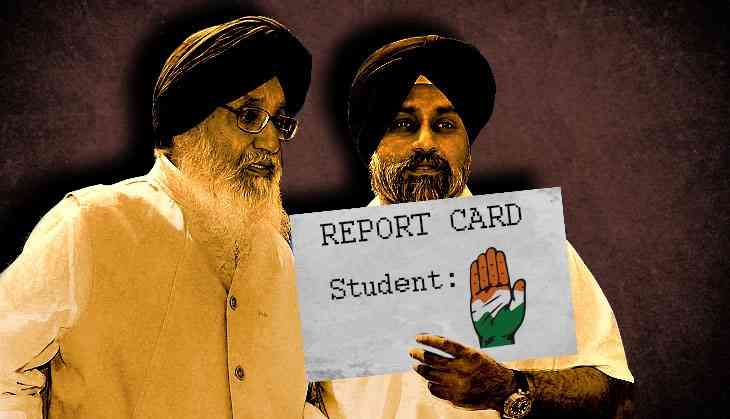 (Arya Sharma/Catch News )
The Shiromani Akali Dal (SAD) seems to have started preparing for the forthcoming local body polls in Punjab as well as the and also the Gurdaspur Lok Sabha by-election – to be contested by ally Bharatiya Janata Party (BJP). Friday party President Sukhbir Singh Badal upped the ante by attacking the Captain Amarinder Singh government.
The SAD timed the attack such that it came as the Punjab chief minister left for the United Kingdom for a week. He was quick to hit back though. The SAD also announced it will launch an agitation against the state government, the details of which will be formulated at a party core committee meeting on 16 September.
Sukhbir castigated the government for "non-performance" and called it a government of "false promises, false hopes, deceit, blatant lies, fraud, betrayal and utter failure". He has challenged the Punjab government to come up with at least one achievement.
Amarinder responded by accusing Sukhbir of unleashing a negative, anti-people agenda, with misleading statements and baseless charges against his government.
Among the most serious charges Sukhbir leveled was the dilution of sanctity of the Cabinet system. "The government is now using it as a political statement. A cabinet decision is something sacred that is deemed implemented right from the time it is announced," he said, recounting the failures of the government in honouring Cabinet decisions on issues such as loan waivers to farmers or granting pensions.
"The only decision that they have implemented is that of giving a job to former CM Beant Singh's grandson," Sukhbir said.
The Akalis charged the Amarinder government of stopping public welfare schemes initiated by the previous National Democratic Alliance (NDA) regime, led by the party in.
Also, this government had failed to implement its manifesto promises, Sukhbir said:
"Instead of increasing the Shagun scheme amount to Rs 51,000, they have stopped even the Rs 15,000 being given earlier.
"No pension has been disbursed since January this year.
"The Mukh Mantri Tirath Scheme has been stopped.
"The insurance cover given to the government employees has been stopped.
"Even the Scheduled Caste and Backward Caste scholarships are on hold.
"The dues to the sugarcane farmers have not been paid (except for those in poll-bound Gurdaspur)," he alleged.
"Even the Kurki (auction) of land for non payment of loans continues because the government has not abolished the relevant clause in the Revenue Rules. The clause which they are playing up for having abolished is some other irrelevant clause. More than 200 farmers have committed suicide in the last six months and the government has failed to keep its promise of a compensation of Rs 10 lakh and a job to their kin," Sukhbir said.
He also called the much-hyped Job Melas a fraud: "They claim that there were four lakh applicants and 30,000 jobs were given. Those getting employment also include students from other states who have been coming to study in the universities set up by us.
"The government has back-tracked on giving an unemployment allowance of Rs 2,500 that the Congress promised. They have stalled the work on 200 skill development centres that we had started to set up. They have even stalled the Sewa Kendras that we had set up. Are you creating jobs or depleting jobs ?"
He was caustic about state Finance Minister Manpreet Badal and Urban Development Minister Navjot Singh Sidhu, both of whom have been Akali targets for sometime. "Amarinder is not interested in running the government. Manpreet does not know finance. He has a negative mind and cannot think big or come up with resources, Sukhbir said.
According to him, Sidhu has 'Badal phobia'. "Eighty brand new buses we procured for BRTS, Amritsar are standing idle as the project has been stalled. Same is the case with a world-class indoor stadium that stands locked. He should be prosecuted for destroying government assets," Sukhbir said.
Reacting to the charges, Amarinder said the Punjab's prevailing financial crisis was the result of ill-conceived and corrupt policies of the erstwhile SAD-BJP government. Coupled with the delay in Goods and Service Tax dues from the Centre, they have led to delays in salary disbursement of government employees this month.
He lambasted Sukhbir for misguiding farmers over debt waiver and Kurki abolition, accusing him of playing with their lives to further his own political agenda.
Amarinder said former CM Parkash Singh Badal and his deputy, Sukhbir, were trying to rake up non-issues to create a platform to take their political ambitions forward. "That's why they resort to street politics, rather than being a constructive Opposition," he said.
Edited by Joyjeet Das