After quitting Cong, will SM Krishna join BJP? It could be mutually beneficial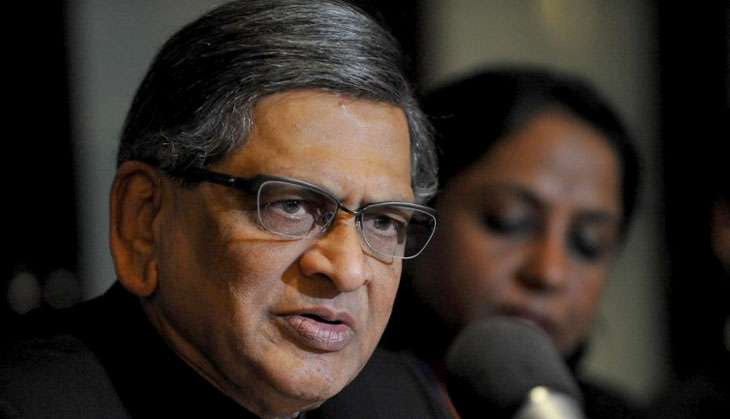 Somanahalli Mallaiah Krishna, or SM Krishna in short, undoubtedly the most 'decorated' Congress leader from Karnataka, appears to have quit the party after a long innings, in order to regain some political currency before the next Assembly elections in April 2018.
After a long and distinguished 46-year career in politics, Krishna was presumed to be gracefully fading out, considering that he would be 85 this May. It was assumed there nothing more he could aspire for in public life, having occupied the posts of Deputy Chief Minister, Chief Minister, Speaker of the Assembly, Governor of Maharashtra, a Union minister (twice, the last time being the Minister for External Affairs), several-times MLA and MP. Krishna was considered one of the luckiest politicians, who was in right place at the right time to grab the opportunities that came his way.
But, on Sunday, he surprised everyone by holding a long-winded press conference at his residence in Bengaluru, explaining his decision to resign from the Congress. Only his wife, Prema, was beside him.
Making his displeasure known at the party treating senior leaders like him as 'unwanted', Krishna accused the central leadership in Delhi of hurting his self-respect and dignity.
Krishna's grouse was that his 'disillusionment' with the Congress began after being dropped from the Union cabinet (in 2012), and being denied re-nomination to the Rajya Sabha (in 2014). He said the word 'retirement' did not exist in his dictionary, and so, he was quitting the Congress party.
But, why did it take so long for him to come into the open? He had no proper explanation except to say that he was like a "tube-light and not a flashlight".
Highs and lows that led to this point
Krishna has had the distinction of being in the cabinets of Indira Gandhi, Rajiv Gandhi and Manmohan Singh at the Centre. His appointment as External Affairs Minister in 2009 came as a huge surprise, as he had little experience in the field. With his impeccable dress sense and mannerisms, he carried himself with dignity, but embarrassed the country at a UN conference in 2011 by reading out from the Portuguese foreign minister's speech, which had been delivered just before his turn came. MEA officials came to his rescue several minutes after the faux pas had been committed.
Between 1999-2004, Krishna headed the Congress government in Karnataka, which came as a breath of fresh air after the chaotic Janata Dal regimes. He re-established Karnataka as an investment destination and IT companies flourished, making Bengaluru the Silicon Valley of India.
Krishna's government did not have a reputation for probity, and scams later tumbled out one after another. His mishandling of a severe drought proved to be his undoing, and his government lost power in 2004. But, the party still regarded him highly, and soon, he was appointed the Governor of Maharashtra.
Krishna served a term in the Rajya Sabha before he expressed his desire to return to state politics. In the 2013 Assembly election, the Congress was banking on Siddaramaiah, who had emerged as a leader of the backward classes, Dalits and minorities, and Krishna was asked to campaign for party candidates and denied a nomination, in order to avoid multiple power centres.
After Siddaramaiah became CM, he kept his own counsel, keeping senior leaders like Krishna, CK Jaffer Sharief and Janardhana Poojary at a distance. But, he did consult Krishna on occasion, especially on the Cauvery issue.
Krishna expected Siddaramaiah and the central leadership of the party to back his candidature for Rajya Sabha for a second term in 2014. But considering his indifferent health and old age, the party chose instead Dr Rajeev Gowda, a bright professor at IIM Bengaluru. Gowda, also a Vokkaliga and son of a former Assembly Speaker, seemed to be a good investment for the future, as he was also a national spokesman for the party.
Krishna believed that his seniority and merit deserved recognition, but he could never get along with Rahul Gandhi and there was total disconnect between them. Even when Rahul came to Bengaluru on party work, he never bothered to meet Krishna, which riled the latter.
His complaints against the Siddaramaiah government's 'style of functioning' also went unheeded. So, it was only a question of time before Krishna left the Congress, as he feels that he still has something to contribute to public life.
Will he join the BJP?
So, what will Krishna do next? He neither has the age nor stamina to strike out on his own and form a regional party. He cannot join the JD(S), as its supremo, HD Deve Gowda, is the unquestioned leader of the Vokkaligas, and Krishna would hardly have any role to play.
Krishna would fancy has chances in the BJP, as the saffron party has no Vokkaliga leader of standing. He would be the perfect foil for BS Yeddyurappa, who represents the Lingayats. Being an unexpected 'new' face in the BJP, he could be a valuable vote-catcher, who could tilt the balance in its favour.
But before that, Krishna's 'worth' will be counted after seeing whether his departure causes any damage to the Congress. Most of his loyalists are well-entrenched in the Siddaramaiah government, and except for making sympathetic noises, they are unlikely to follow him.
Siddaramaiah will further make sure that the legislators from the old Mysore belt, where Krishna carries some weight, get sufficient funds for development and have no incentive to leave the party. Still, closer to the elections, Krishna could become the rallying point for disgruntled elements in the Congress.
What can Krishna hope for by joining the BJP? He, too, will know that people of his age are considered 'margdarshaks' in the party and not given any active role.
Krishna may or may not get anything from the BJP, but his immediate objective will be to take 'revenge' on Congress for sidelining and humiliating him. If he succeeds in his effort, that itself will be reward enough for him.
Edited by Shreyas Sharma