Had BJP for breakfast, Lalu now asserting himself over Nitish?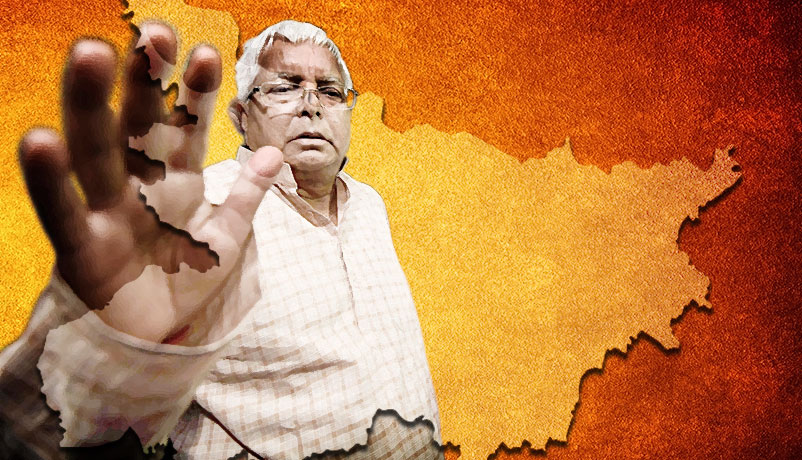 Lalu\'s role
Lalu Prasad is not in Bihar govt
He can\'t be as he is out on bail
But he still seems to be exercising a lot of power
More in the story
Is Nitish happy with his action?
What is the public perception?
He might be a convict out on bail, but Rashtriya Janata Dal (RJD) supremo Lalu Prasad is still a force to reckon with in Bihar.
Results of the November 2015 Assembly Elections were ample proof of his continuing dominance in state politics. Post polls, the former chief minister appears to be gradually not just regaining, but also exercising his clout.
Yadav gave the Nitish Kumar administration a little over a month to believe they had little to worry about him. And now he seems to have started signaling that its time for the government as well as the people of Bihar to know that Lalu Prasad Yadav is back.
The state woke up on 13 January with the news of a letter written by the civil surgeon of Darbhanga, Dr Sriram Singh, to the medical superintendent of Darbhanga Medical College and Hospital (DMCH). In the letter, Dr Singh reportedly asked for reinstatement of a few sacked health workers, on Yadav's direction.
The letter also said Dr Singh must be informed after the reinstatement of the workers so that he can, in turn, inform Lalu.
The RJD chief, who is now only known as the father of the deputy chief minister and the health minister of the state, has confirmed that he had indeed spoken to Dr Singh about the issue. He defended his action, saying people sought his help everyday and he couldn't refuse them.
If people still go to Lalu to seek help, it is a testimony of their belief in him. He might be constitutionally wrong in believing that he is entitled to direct government officials, but try telling that to the powerless citizens of the state who still seem to believe in him as an alternate system of grievance redressal.
If people still go to Lalu to seek help, it is a testimony of their belief in him
Throughout the last decade when Janata Dal (United) and Bharatiya Janata Party (BJP) kept Lalu out of power in Bihar, he never lost the conviction that he could still call the shots in the state. Now that his party is the bigger partner in the governing coalition and one of his sons is the deputy chief minister, he is itching to show off.
The inspection of a Patna hospital
On 3 January, Lalu visited the prestigious Indira Gandhi Institute of Medical Sciences in Patna. He toured the hospital, met patients and reportedly gave several directions to officials verbally. He believed he was on an inspection, but what is more important is that so did the hospital authorities.
The staff at the Institute as well as the doctors in Darbhanga know that they take their orders not from Lalu but his son, Health Minister Tej Pratap Yadav. Yet, they couldn't dare say no to the RJD chief.
Why? Could it be that the people of the state realise, just as Nitish might be beginning to, that Lalu is a power-centre unto himself?
Political observers in the state have been discussing that possibility for quite some time now. In fact some of them point out, as Catch has already reported, that indications of the existence of two power-centres in the state pulling in different directions may be the reason behind the perceived spurt in crime.
Indications of 2 power centres may be the reason behind the perceived spurt in crime
The law-and-order snub
The emergence of two poles of political power induces gaps in governance and these gaps embolden criminal elements. On 29 December Lalu called a press conference to express his concern at the law-and-order situation in the state.
"Some official postings Nitish's government ordered need to be looked into," Lalu said, adding that 'lunj-punj' (incapable) officers need to be removed. He also claimed that criminals were hand-in-gloves with some cops.
Referring to the sensational case of the murder of two engineers of a construction company in Darbhanga in December, Lalu said if there had been slackness in probing the case, Nitish should throw out those cops. He also announced that people should call him up if needed and that he would soon publicise a telephone number for this.
This press conference and Lalu's presentation of himself as a saviour distinct from the government machinery should have set the alarm bells ringing in Nitish Kumar's office. Even if it did, the JD(U) did not show it.
Even in the latest incident, involving the Darbhanga civil surgeon, JD (U) spokesperson Neeraj Kumar defended Lalu, saying there was nothing wrong in his intervention as BJP leaders too had done such things earlier.
The Opposition grabbed the opportunity to buttress its claims of the government increasingly functioning under Lalu's pressure. Senior BJP leader Nand Kishore Yadav said Lalu's action was that of a 'super chief minister'. He added that there were clearly two centres of power in Bihar and it was high time Nitish clarified his position.
He has the right to advise: JD(U)
The CM has been silent so far, but what the party officially wants to say can be gauged from the statement of JD (U) General Secretary and Rajya Sabha member KC Tyagi's statement. "This is a united government. Lalu ji is the chief of our ally party. He has also been a chief minister of the state. He has every right to give advice to the government," he told Catch.
"As public representatives we regularly speak to government officials after receiving complaints or grievances from people," said another JD(U) leader who did not wish to be named as he was not authorised to speak to the media.
When asked if Lalu could also order around government officials instead of requesting them to look into a matter, he said: "It will be better if you put this question to RJD leaders. It is our friendly party. If we end up saying something untoward then word will unnecessarily spread that there is a serious rift between our parties."
This statement indicates that the situation has turned somewhat uncomfortable for JD (U), but the party is quietly watching only because it feels it is still too early to act. "People must give us at least six months before judging us on any issue."
'People must give us at least six months before judging us on any issue'
If the media scrutiny and the Opposition's attacks are anything to go by, the honeymoon period that JD(U) is seeking could be full of barbs. If Lalu decides to assert himself more, the Opposition's attacks will turn nastier.
If Lalu decides to assert himself more, the Opposition's attacks will turn nastier
Nitish will have to be quick to judge when the ground starts becoming slippery.