AAP demonstrates how EVM can be hacked; EC still in denial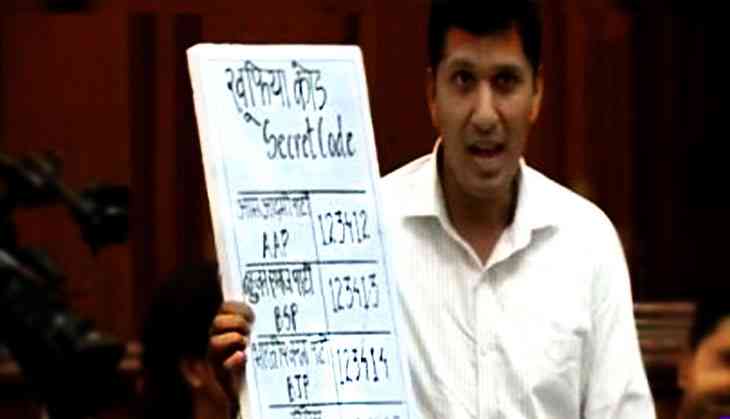 Having been embroiled in the bribery controversy over the last few days, Delhi Chief Minister Arvind Kejriwal finally had a laugh in the Delhi Assembly when Aam Aadmi Party (AAP) legislator Saurabh Bhardwaj demonstrated how Electronic Voting Machines (EVMs) can be hacked.
Bhardwaj, an engineer, lead the AAP charge against BJP of rigging EVMs. In a live demonstration, he displayed how secret codes can be used to hack these machines.
Bhardwaj first gave detailed account of the different parts that make up an EVM and later held a mock poll in the Delhi Assembly to display how EVMs can be hacked.
He, however, stressed that machine being used by him is similar to that of the Election Commission's and not an original one.
- For the first time in India
- LIVE Demo of EVM tampering
- See for yourself
- Share with everyone#WeChallengeEC pic.twitter.com/PxOYoqvV0D

— AAP (@AamAadmiParty) May 9, 2017
AAP's challenge
Interestingly, Bhardwaj challenged the BJP to let them give access to the EVMs in Gujarat for only three hours. "I promise that you won't win a single ward, forget about a single seat in Gujarat if you let us be with the machines for three hours only. You did this (hacking) in five years, we have done it in three months. I want to remind that there is no machine that can't be hacked or rigged. Countries that made EVMs themselves use paper ballots. All it takes is to change the motherboard which can be done in 90 seconds," he said.
He went on to compare the hacking with cricket match fixing and pointed that it is not necessary that every ball or match is fixed but some are. Bhardwaj said, "It is done so to ensure that no one raises any doubts."
The EC's response
Meanwhile, the EC dismissed these revelations and said that the officials would look into the matter and see whether the machine used is a genuine one or a look alike.
"Officials are finding out whether EVM is genuine or a look alike and that would determine our response," said a senior EC official.
Jagdeep Chokhar of Association for Democratic Rights too doubted AAP's version and said, "I don't believe that EVMs can't be hacked or tampered with. Earlier, a chap named Hariprasad had tried to do so and he failed miserably. Anyway, the EC has asked all political parties to have a session with them and prove whether these machines can be hacked. It will just clear the air over these allegations," said Chokhar.
A stormy session
The special one-day session of the Delhi Assembly began at 2 pm on 9 May and all eyes were on the Delhi CM, who has been facing considerable heat over the bribery charges levelled at him by his former minister Kapil Mishra. Meanwhile, Speaker Ram Nivas Goel called the meeting a historic one, which was much needed for the sake of the Indian democracy.
Thank @ArvindKejriwal for persisting on EVM issue till the point of proving it. Today's demonstration is good for democracy. #WeChallengeEC

— AAP (@AamAadmiParty) May 9, 2017
Soon after the assembly convened, BJP leader Vijender Gupta accused the Kejriwal government of being involved in the Rs 1,000 crore land scam and despite multiple reprimands by the speaker did not stop from making accusations. Thereafter, a livid Goel asked the marshals to remove Gupta from the house.
Gupta repeatedly disrupted AAP MLA Alka Lamba, who was talking about EVMs when the marshals took him away. Just before he was about to leave, Lamba said, "Take him away on the shoulders, it will make a good photograph." Lamba, during her long speech, cited several incidents where EVMs malfunctioned and even questioned the role of EC in ensuring a free and fair elections.
"Delhi needed 13,000 EVMs and the EC informed us that it already has somewhere around 15,000 machines. And still EC asked for 5,000 machines from Rajasthan. Earlier in Dholpur, 18 EVMs were found to be faulty and no matter what button one pressed, the vote went to BJP. Why were these machines used in Delhi," she said.
She also raised the issue of AAP approaching the EC for tampering row during the Delhi municipal elections and said, "We were told that the machines used during MCD polls were not the responsibility of the EC." She also questioned why the VVPAT machines are not being used to hold elections and lauded the efforts of the Delhi government in forcing the Centre to allot Rs 3,000 crore for buying these machines.
'Saving Indian democracy'
For its big expose, AAP also invited leaders of JD(U), TMC, RJD, Left, among others to witness how these machines can be tampered with. Later in the day, Delhi's deputy chief minister Manish Sisodia spoke about the risk being posed by the EVMs on democracy and said, "We have been waking up to the issue of EVMs for some time now, wishing we were wrong all along. Future generations will remember Saurabh Bhardwaj's contribution in saving Indian democracy at this crucial time."
The time of just speaking and discussing is over, the time has come to act. Today is an important day for democracy. -MS #WeChallengeEC

— AAP (@AamAadmiParty) May 9, 2017
He went on to add that legislators are here today because people still trust democracy and come out to vote.
"We must protect this faith of the people. Today, questions are rising against the fairness of electoral procedures. There are questions but no answers. We have always raised questions, this time regarding EVMs we were hoping we were wrong. Sadly, we were right. This is not the issue of a political party, but an issue of the nation. We will not let it die down or swept away," Sisodia said.