Close competition in Manipur: with no majority, who will form the govt?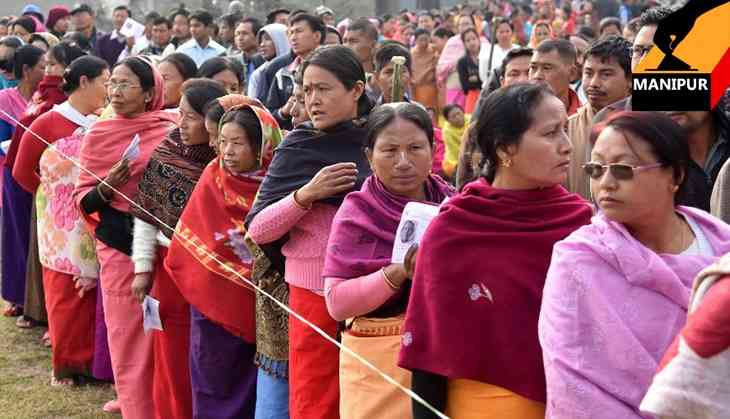 The result of the assembly election in Manipur was announced today and it seems the state is heading towards a hung assembly since neither Congress nor BJP have been able to obtain absolute majority.

With 28 seats, Congress emerged as the single largest party in the state but is still three short of the magic figure needed to form the government. In these circumstances, the party would be looking for allies who could help three time chief minister Okram Ibobi Singh return to power for yet another term.

Congress is hoping that All India Trinamool Congress (AITC), which won one seat, and an independent would extend support to the grand old party. But that still leaves Congress with 30 seats and it needs one more seat to stake its claim. Since rest of the seats have been won by BJP and its allies, Congress would have to do intense negotiations to convince some of them to switch sides.
An upbeat BJP
Meanwhile, BJP too is upbeat about forming its first ever government in Manipur and the numbers suggest that it has a slight edge over its arch rival in the state. In fact, Hemanta Biswa Sarma, who is considered to be the architect of BJP's stellar performance in the north-east tweeted, "Confident of forming a @BJP4India govt in #Manipur as of now to keep the saffron march on in the #NorthEast."

The saffron party with 21 seats is claiming to have support of Naga Peoples Front (NPF), National People's Party (NPP) and Lok Janshakti Party (LJP) taking its tally to 30. NPF and NPP, who are part of the BJP-backed North-East Democratic Alliance (NEDA), bagged four seats respectively while LJP won one seat. These three parties, who are allies of the NDA government, have extended their support to BJP that still needs one more seat to cross the half way mark.

Sources have informed that BJP strategists are reaching out to the independent candidate to ensure he is on their side when the party is asked to prove its majority. Moreover, efforts are also being made to poach the AITC winner to ensure BJP has the requisite numbers when asked to prove its majority.
At present, the likelihood of BJP forming its first ever government in the north-eastern state largely hinges on whether its strategists are able to convince one of two legislators to extend their support.

The term of the existing Congress led assembly ends on 18 March and the next few days are likely to witness intense political drama in the north-eastern state.

However, BJP's performance has surprised even its strategists who were not expecting such a performance. In fact, the party even failed to open its account in the last assembly election and witnessed a huge spike in its vote share which is higher than that of the Congress.
The final data of the Election Commission revealed that the party received 36.3% vote share as compared to 35.1% of the Congress.

It was also the first time that BJP fielded candidates on all 60 seats and was even successful in poaching some of Congress' top leaders in the run up to the elections. In fact, two of Congress' senior leaders, N Biren Singh and Laishram Radhakishore Singh, who joined the BJP last year, managed to win on a BJP ticket from their constituencies.
Anti-incumbency
With anti-incumbency at play against 15 year of Ibobi's rule, Congress lost 14 seats as compared to its last performance where it won 42 seats. In the run up to the polls, Congress was being considered to repeat its performance of 2012 largely because of the political turmoil in the state. His decision to create seven new districts from Naga dominated areas led to Nagas imposing economic blockade on the the two national highways that are the lifeline of the people living in the Imphal valley.

Congress, under Ibobi, was successful in convincing the dominant Maeteis of the plains that the BJP was hand in glove with Nagas and is a threat to the territorial integrity of Manipur because of the secrecy around the Naga Peace Accord. However, none of that seemed to have worked which helped BJP make significant inroads in the state.
Irom Sharmila's fate
In yet another significant development, human rights activist Irom Sharmila, who was contesting against Ibobi, got only 90 votes which was lesser than the number of people who opted for NOTA. An emotional Sharmila later said that she would never contest elections again.

Having been on fast for 16 years against the Armed Forces (Special Protection) Act, Sharmila ended the fast and said she would contest and win elections to ensure that the draconian law is repealed.

In fact, Sharmila will lose her deposit of Rs 10,000 and she told reporters that people of Manipur have let her down. Faced with severe fund crunch, Sharmila used crowd-sourcing to fund her political campaign and did a door-to-door campaign on a bicycle.

But that didn't happen and she lost out to Ibobi who received 18,649 votes and was a clear favourite from the Thobal constituency which he has been representing since 2007.