16 years of Uttrarakhand: 5 reasons why the state has failed to live up to people's aspirations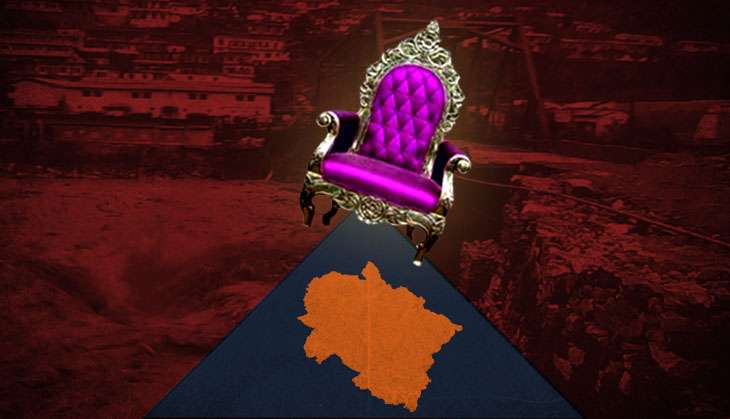 As it celebrates its statehood on 9 November, Uttarakhand has emerged as a state that has failed to address the aspirations of its people. It has also put a question mark on the line of thought that - smaller states are vehicles of more development for the masses.
Having started its journey from 9 November, 2000, here are five factors that have led to Uttarakhand's failure -
1.
The first among these factors is the political instability in the small state. While the successive Congress and BJP governments have completed their five-year terms, it is the infighting in these parties that have let the people down pushing development to the back seat. No wonder the state has seen a change of eight chief ministers in its 16-year-old journey.
It sordid tale began with RSS functionary Nityanand Swami taking over as the first chief minister. As he was taking oath, it was the BJP leaders Bhagat Singh Koshiyari and Ramesh Pokhariyal Nishank raising banners of revolt. Both of them took oaths as MLAs only after being chided by the then Prime Minister Atal Behari Vajpayee. But a few months down the line it was Koshiyari taking over from Swami.
The first polls saw ND Tewari-led Congress coming to power. This was an irony of sorts as old timers recalled how Tewari had opposed the creation of Uttarakhand during his political innings as one of the senior-most Congress leaders of Uttar Pradesh from which the state was carved out.
Although Tewari remains the only chief minister to have completed a full five years in office, his regime saw a lot of opposition coming from the present Chief Minister Harish Rawat.
Tewari's loss in 2007 paved the way for Major General (Retd) BC Khanduri of the BJP being elected to the office. This time it was Nishank who managed to replace him following the BJP's wipe out in the 2009 Lok Sabha polls.
But Nishank proved to be a disaster as the BJP just before the 2012 polls was facing the choice of being voted out or booted out by the masses. It chose the former and brought back Khanduri in 2011.
But despite his efforts, there was precious little he could do. But Khanduri ensured that the BJP put up a tough fight and it lost by a razor-thin margin to the Congress in 2012 that chose to make Vijay Bahuguna its chief minister.
But Rawat was constantly at work and got his opportunity after the Kedarnath disaster when he replaced Bahuguna.
Bahuguna along with eight others of course revolted and left the party for BJP earlier this year when there was an attempt by the Narendra Modi-led BJP government at the Centre to over throw Rawat regime unsuccessfully.
With so many changes at the helm, it was understood that people were bound to suffer and the result was that the situation in the hill districts already bereft of development, continues to go from bad to worse.
2.
The second issue that has taken it toll in Uttarakhand is that of the state still not having decided upon a permanent state capital. Till now it is Dehradun that continues to function as the interim capital.
Right from day one, this has been a burning issue with statehood agitators, particularly the Uttarakhand Kranti Dal (UKD) workers demanding a capital in the hills since Uttarakhand is primarily a hilly state, with only two districts, Haridwar and Udham Singh Nagar, completely in the plains. Their slogan has been "Jai Badri, Jai Kedar, Gairsain mein ho sarkar".
But there have been questions about feasibility of having a permanent capital at Gairsain based on issues like connectivity, basic infrastructure, water availability etc.
There are allegations that while being assured that Gairsain would be the new capital, some politicians had purchased large tracts of land in the area only to see their hopes of making quick money dashed.
The one member Justice Virender Dixit Commission set up to establish the capital of Uttarakhand had given its 250-page report in 2008. This report had dealt with the various aspects of having a permanent capital at Dehradun, Gairsain, Ramnagar-Kashipur belt and Rishikesh. The matter still remains unresolved.
To add to the chaos, Bahuguna and later Rawat, driven by their political compulsions, have held state cabinet meetings and assembly sessions at temporary structures in Gairsain since 2012.
The issue has come to a head once again as Rawat prepares to hold the last session at Gairsain later this month with the BJP challenging him to declare it as a permanent capital knowing that the Congress would try to cash it during the forthcoming polls.
3.
The third drawback for this tiny hill state has been the bureaucracy. Observers say that at the time of bifurcation, a large number of bureaucrats from Uttar Pradesh chose to adopt the Uttarakhand cadre eying early promotions and complete control.
It has been these bureaucrats who have been calling the shots since the inception of the state. Except for Tewari and Khanduri, nobody has been able to handle them.
Observers point out that the trend continues unabated with the present Chief Minister Rawat being reduced to a mere promise-making machine.
4.
The fourth issue that has led to the failure of Uttarakhand has been the failure of successive regimes to put it on the track of development. The hill areas continue to survive on money order economy.
People recall that except during Tewari's regime when industry came to the Terai and State Industrial Corporation of Uttarakhand Limited (SIDCUL) acquired land for the purpose mainly in Sela Qui, Rudrapur, Kashipur, and Haridwar, there has been no attempt to enhance employment opportunities.
Even this land acquisition is questioned on the aspect that what was the need to acquire rich agricultural tracts for setting up industry and why was industry not set up at places where there is wasteland available?
Social activist Anil Joshi of Himalayan Environmental Studies and Conservation Organization (HESCO) points out, "They have failed to see that our demography survives on land-based economy. The approach should have been to take off from local areas to the state level, but they chose to develop only cities which have backfired. I doubt whether this government even has a data base, but the truth is that the villages in the hills have witnessed 40% to 50% migration with several of them lying totally abandoned."
PC Tewari, a statehood agitator and who later formed Uttarakhand Parivartan Party, says, "The only department where there has been recruitment on a large scale has been the police force. This is just to harass the people. The state needs a delimitation on various fronts. For example the development, forest and administrative blocks need to be single so that people are not running around to get basic works done."
5.
The fifth aspect of Uttarakhand's failure has been its failure to take care of its ecology and environment. The state which has two third forest covers has been witnessing one natural disaster after the other with there being very little effort being taken to address the main concerns.
The debate between having large-scale power projects or smaller ones run by local communities continues to rage on amidst politicians extracting their pound of flesh at every opportunity.
"All the chief ministers that we have had have been villains. We keep on asking what has kept the state from giving political rights to the Van Panchayats. The communities have been deprived of the natural resources of the state. Unless they are made to feel a part of the system, why would they care for the environment? An example at hand is that previously people took care of forest fires while no one does so now," says Tewari.
Observers say that people had hopes from Harish Rawat but he has proved to be a big disappointment.
"It is difficult to decide how the state is being run and by whom. The bureaucracy is having a field day while Rawat has a daily feud with his state party president Kishore Upadhyay. This has resulted in the enhancement of regional strife between Kumaon and Garhwal as Rawat comes from former and Upadhyay from the latter. It has also resulted in caste conflict between Rajputs and Brahmins," said a senior media person at Dehradun.
It is being pointed that things have come to a pass that Rawat might not even contest the forthcoming polls from his Dharchula constituency from where he returned victorious in a by-poll after taking over as chief minister in 2014.
Observers say that despite his promises, the people feel that he has failed to deliver and this has resulted in him looking for a safer seat.
Edited by Jhinuk Sen