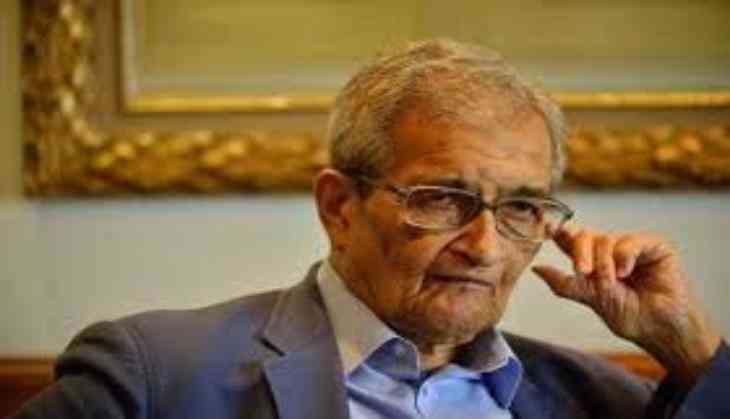 Academics, artists and cultural activists condemn the censorship of Amartya Sen film
We are shocked and angered by the recent Central Board of Film Certification (CBFC) demand that certain words be excised from a film based on the work of the Nobel laureate economist Amartya Sen. The movie is titled after Sen's 2005 work, *The Argumentative Indian*, which was widely acknowledged for its deep and authentic explorations of India's traditions of public debate.
The CBFC has reportedly demanded that certain words used by Sen and other scholars and public intellectuals interviewed in the film should be bleeped out if it is to be granted certification for public exhibition. These words include "cow", "Hindutva view of India", "Hindu India" and "Gujarat".
The CBFC's exertions under its current chair have long crossed the line from farce to tragedy. Occasional efforts to bring it to its senses, such as the stern judicial reprimand handed down in the *Udta Punjab *case, seem to have no more than transient effect. With its diktat on *The Argumentative Indian*, the CBFC shows yet again that its anxiety to protect the sensitivities of the political regime, overwhelm any manner of commitment
to the Constitution and the law. At risk in this plunge into absurdity, are our most valuable traditions of free speech and debate.
The Central Board of Film Certification (CBFC) has verbally communicated to a filmmaker to mute four words including 'cow' in his documentary on Amartya Sen, the director said.
The four words CBFC's regional office here wanted to be muted are 'Gujarat', 'Cow', 'Hindutva view of India' and 'Hindu India', Suman Ghosh, director of the documentary 'The Argumentative Indian', told PTI.
"After sitting for three hours at the Censor Board office in Kolkata, during which my documentary was screened and the members scrutinised every single shot, I was verbally told last night to mute four words 'Gujarat', 'Cow', 'Hindutva view of India' and 'Hindu India' for getting U/A certificate," Gosh said.
"I expressed my inability to them," he said.
Taking out certain words from the discussion between Sen and the interviewer, economist Kaushik Basu, would remove the soul of the documentary, Ghosh said.
"I am waiting for their written communication and whether they will send the film to review committee in Mumbai. In any situation my response will be the same," He said.
"These days films get online certification. So I hope the issue gets resolved quickly. But no question of taking out some words," he added.
Contacted, a member of the CBFC here said, "Nothing to comment to the media on what the director said.
In the documentary, Sen speaks of social choice theory, development economics, philosophy and the rise of right-wing nationalism across the world including India.
It has been made over a span of 15 years from 2002 and is structured as a conversation between Sen and his student economist Kaushik Basu.
-With Agency Inputs