Women in Hollywood are doing worse today than in 1998. Here's proof
50% of graduates in film studies are women. And yet, at the best of times, no more than 19% of behind-the-scenes roles in Hollywood cinema are filled by women.
That 19% was a 2001 figure. By 2014, it was down to 17%.
There isn't much to look forward to in terms of organic or spontaneous growth.
And now Freida Pinto, Queen Latifah, Jessica Chastain and Jodie Foster, among others, have combined forces to try and fix the problem.
Their solution? We Do It Together, a not-for-profit organisation that intends to raise capital to make films with women in roles at par with men.
It sounds like a great endeavour. But it also begs the question, how serious is this Hollywood disparity? Isn't it better to just wait till Hollywood, like all industries, welcomes more women into its fold of its own accord?
The answers, as it turns out, are Very Very. And No.
In 2015, for example, 33% of the 250 highest-grossing Hollywood films made employed 0 or 1 women in important behind-the-scenes roles. 1 in 3 films had close to no women behind the camera.
Read: Here's every Bollywood female protagonist from 1980-2015. It's depressing
In contrast, 1% of films employed 0 or 1 man in the same roles. 69% of films had 10 to 27 men in major behind-the-scenes roles.
In 2014, 38% of films employed 0 or 1 woman in important behind-the-scenes roles.
In contrast, 0% employed 0 or 1 man in them. All films had 2 or more men behind the camera.
Oh, and here's a statistic that made me laugh. 1% of films had a musical score by a female composer.
The worst bit is that nothing seems to have changed since the end of the last millennium. In light of this, We Do It Together becomes that much more critical because data shows that this is a problem that refuses to fix itself.
Here are seven graphs to answer every question you had about How-Bad-Is-Very-Bad when it comes to women behind-the-scenes in Hollywood.
Here's the percentage of women in behind-the-scenes roles, year on year.
With no real growth since 1998.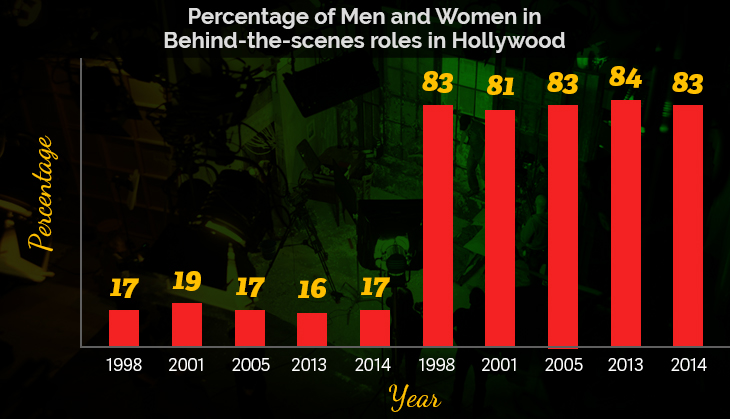 Also read: Maths, and why women end up more vulnerable to the Silly Mistake
Here's the percentage of female directors. One again, no growth since 1998.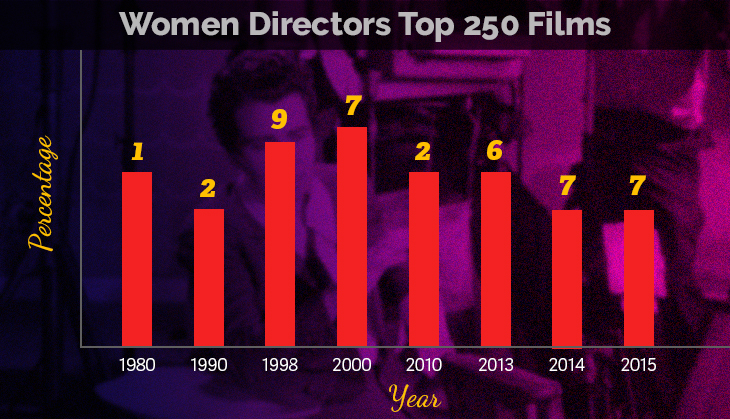 24% of editors were female in 2000. In 2013, that number had almost halved to 13%.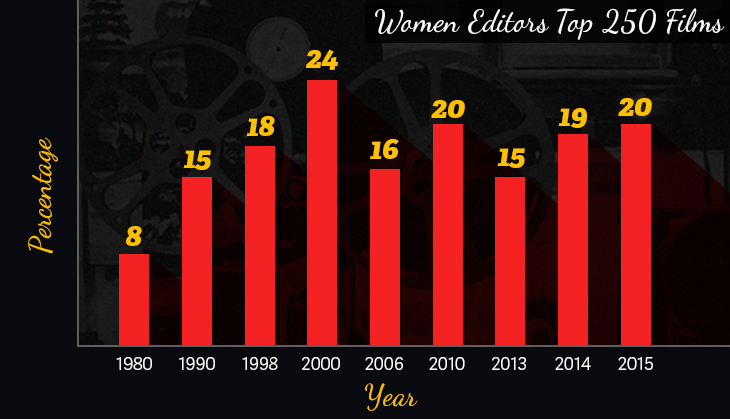 0% of cinematographers were women in 2010. 

Any improvement seems ad hoc, at best.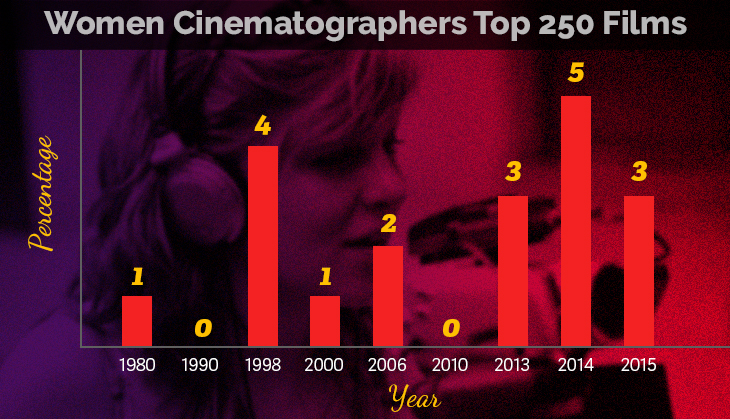 With women writers, we hit peak in 2000.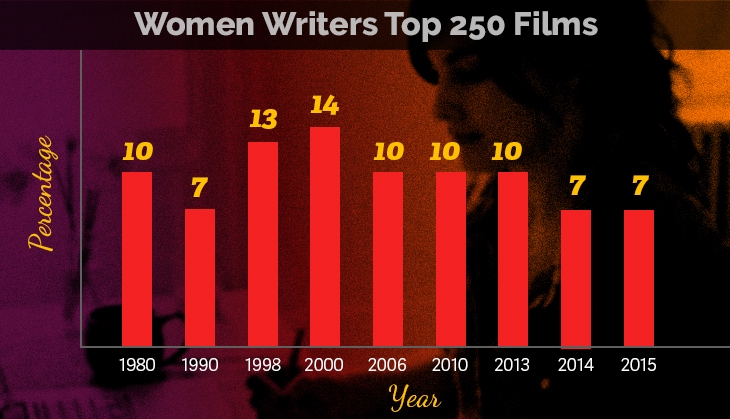 Women producers are doing worse now than in 1998.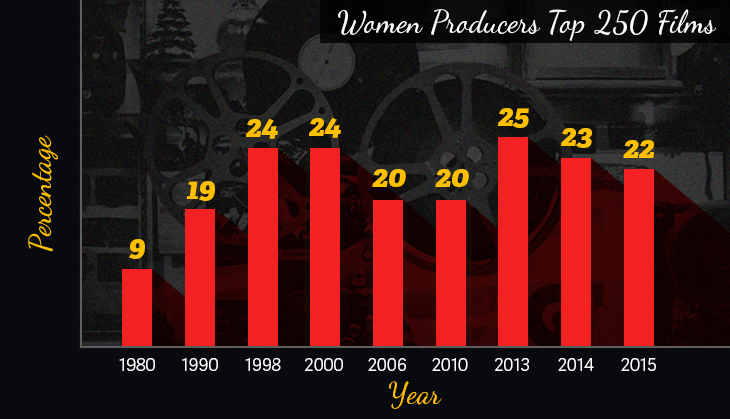 And as executive producers, women are at par with 1998 levels.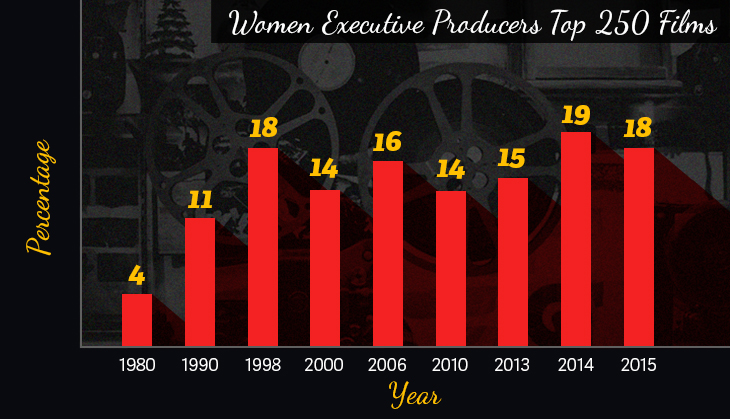 Most metrics indicate that women in Hollywood were better off in the years between 1998 and 2000, than they are now.
And this has reflected itself aplenty at the Oscars. When Forrest Gump was anointed Best Picture (1995), there were three male nominees for every female nominee. By 2014, there were four male nominees to every female nominee.
Read more: Forget salary, women make 20% less than men even when they sell on eBay
Particularly disheartening is the cinematography category - the best year so far was 2014, when 5% of all cinematographers were female. At the Academy Awards, no woman has ever been as much as nominated in the Cinematography category.
We Do It Together has a lot to accomplish.
Source: Celluloid Ceiling 2014, 2015.
More in Catch:
The bare truth: mass nude photographer set to expose Trump's politics
Referendum on Modi or Congress-mukt Bharat? What the poll results mean for India
India's shame: Bundelkhand woman eats mud for 12 years to survive
Fake lawyers: crooks in black coats face Supreme Court crackdown