With This Ring: the boxing film that took sweat, blood, tears, and 10 years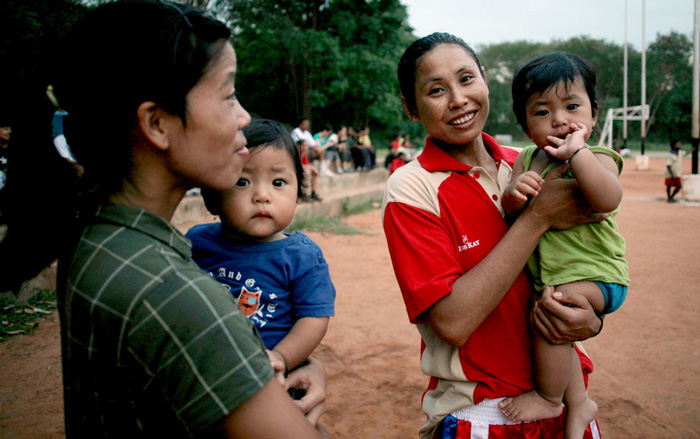 It hadn't occurred to Ameesha Joshi that Indian women could box. Never mind that they were winning World Championships. It was inconceivable and intriguing. So she travelled down to Vizag and Hisar to watch women train in boxing camps.
And she couldn't take her eyes off them. 40-50 girls shadow boxing. Moving in unison, breathing in sync. Some letting out spasms of "ahs" and "arghs". Some too tired to make a sound. With the sun setting on the sweating girls, this felt like some majestic reckoning with fate.
Joshi had made a decision. However long it took, she was going to make a film about them.
With This Ring: teaser from with this ring / anna & ameesha on Vimeo.
And it took very, very long
Joshi roped in Anna Sarkissian, a friend from film school, and the "best cinematographer" she had ever met. The two decided to travel to India to watch the Women's World Championship in Delhi in 2006.
That year, they watched Mary Kom win her third AIBA Women's Boxing Champion ship - she would win two more in the following years. Then they watched the Indian contingent sweep the championship, winning in eight out of thirteen categories.
One year, the women told themselves. One year following Indian women boxers and documenting their lives. A film like this would be well worth the time.
A year later, they'd captured a slew of wins. But there footage had almost no one-on-one interactions with the boxers. There was not enough material for a documentary - no narrative and no characters. So they gave it another year. And then another.
They went to Ningbo, China, to watch the Women's World Boxing Championship in 2008. In 2010, they followed the team to Barbados. And in 2012, they went back to China, for the world championship of 2012 and for the Olympic qualifiers.
By 2012, they had exhausted all funds and needed to look for alternative sources. They applied for art grants everywhere they could.
"The process of applying for grants was exhausting. That took two full years."
They received several grants, but it was nowhere near enough.
Art grants also require that you do not take money from executive producers or any other agencies (in order to ensure the artist retains creative control). With options running out, the women had no choice but to go public. They launched an Indiegogo campaign and raised $21,000. It was nowhere near enough, but for the moment, they were determined to make it work.
The protagonists
And over the course of those years, the two filmmakers started to develop a sense of who their subjects must be.
Mary Kom was an obvious one. She was a record-breaking boxer who emerged for a 2008 match with one year old twins - and won. She was a tigress. She had to be in the film.
And then there was Sarita Devi. Very shy and very soft-spoken. But in the ring, she was loud.
"Every time she punches she goes aaah!" Joshi tries to imitate the groan and then laughs at herself. "I guess the camera couldn't resist her. Her face was photogenic. Her voice was photogenic. Her mannerisms were photogenic. And she was by far the fittest and most hard-working woman on the team."
And finally, there was Chhoto Loura, the least-known but possibly most compelling of the three.
Loura is from Hisar, Haryana. She is the only woman in the known history of her village to live off her own earnings. If you think that's an incredible feat, wait for this:
In 2002, in an accident, Loura came under a truck. She was delivered a mangled,bloody mess to the doctors. The doctors did not believe that she would survive.
Four years later, Loura won the bronze at the 2006 world championships."
Live from Liverpool - Five Days from with this ring / anna & ameesha on Vimeo.
Sweat, sweat and tears
It wasn't enough just to track these women at the world championships every two years. If the directors wanted to explore the narratives of their three subjects, they had to be there when they trained. They had to follow them home on their holidays. They had to sweat it out with the girls, six days a week, three sessions a day, ten months a year.
And so they did.
Joshi describes it. "It's forty-five degrees in Hisar, we're tired just watching these girls at it, it's their third training session of the day, there's no air-conditioning, Anna is sweating all over her camera, but we don't dare complain."
"How could we? We could see how much easier we had it!"
And it's not just physical tenacity Joshi is talking about. All the girls had fought prejudice in order to claw their way into a ring. Mary Kom, for example, could not reveal to her family that she was boxing. She had scrimped on food and saved money to buy her first pair of gloves. And even those who had come out about it were persistently pressured into giving it up for marriage.
A crucial precursor to becoming a woman boxer is naturally a very, very, thick skin. And, once inside the ring, an ability to strategise when they're feeling physically threatened.
To follow the thread of this great resilience to its roots, Joshi and Sarkissian decided to travel with these girls to their hometowns.
"I saw Mary when she was boarding a bus. I hurriedly asked her if we could come to Manipur, and she invited us. That was it. We booked tickets, made arrangements, and packed our bags to leave."
Except what the directors did not realise is that foreigners (both Joshi and Sarkissian are Canadian) cannot freely enter Manipur. They needed a pass. So in the wee hours of every morning, they would get in line at the Tourism Ministry of Manipur to get it.
It took several weeks before they had one. And it was only valid for seven days.
The challenges didn't end there, either. Neither Joshi nor Sarkissian spoke any Indian languages
But they shot anyway, asking other people to translate their questions, and recorded with good faith that the answers were substantial. Only when they went home to Canada were they able to find people to translate their recordings.
"It was literally like shooting a documentary with our eyes blinded. We couldn't ask any follow-up questions, we had no idea what they were saying, and we didn't know if we had a narrative at all."
But it turns out they did have one.
And that emerged, in absolute completion, this January. Ten years after they started.
It is, ingeniously, titled With This Ring. It screens tomorrow, a week before Kom and Devi head to the Olympic qualifiers in China. This will be their last attempt at Olympic gold.
Rarely is the process of making a documentary worthy of its subjects. But the happiest part of this one - Mary Kom, Savitri Devi and Chhoto Loura found the filmmakers they deserved.