Twitter takes on TOI's epic-length headline. Hilarity ensues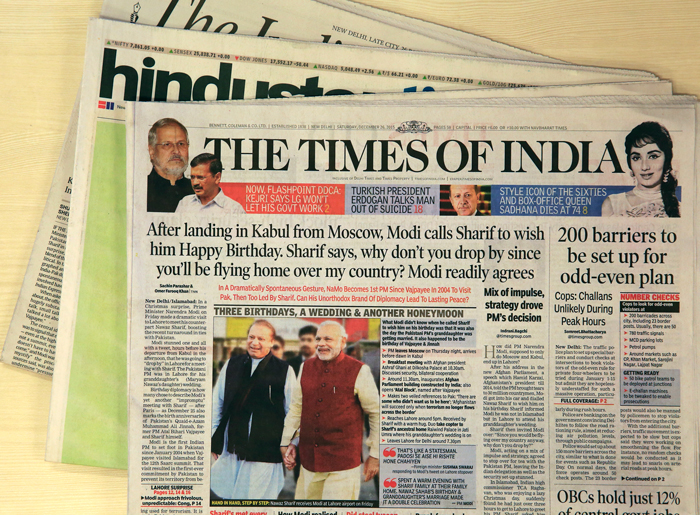 Indian Prime Minister Narendra Modi flying to Pakistan to surprise Nawaz Sharif for his birthday on Christmas day is one thing. Keeping Indian journalists in office on a double shift is another.
On Saturday morning, subscribers of the Times of India awoke to a headline that became its own news story.
It reads, "After arriving in Kabul from Moscow, Modi calls Sharif to wish him Happy Birthday. Pak PM says, why don't you drop by since you'll be flying home over my country? Modi readily agrees".
The headline-writer - clearly on a roll - didn't stop there. The kicker went on to fill in any gaps the headline may have left, in capitalised words. "In A Dramatically Spontaneous Gesture. NaMo Becomes First PM Since Vajpayee In 2004 To Visit Pak, Then Too Led By Sharif. Can His Unorthodox Brand Of Diplomacy Lead To Lasting Peace?"
Everyone at the TOI was away on Christmas day. This headline is proof
A quick Google search brings up this headline from the NY Post that - at 22 words - could possibly offer some competition. "Gospel singer suing McDonald's after she allegedly bit into piece of glass while eating chicken sandwich, which she claims ruined her voice."
Not quite, though - especially since most other papers managed to convey their surprise in far fewer words.
The Pioneer had, "PM TAKES INDIA, PAK BY STORM."
Indian Express, in a rather clever pun, said "India meets Pakistan, Af-way."
Mail Today went with, "FATHER OF ALL CHRISTMAS SURPRISES."
Hindustan Times said "Lahore's surprise guest makes history."
Economic Times had the clever, "Modi goes the Extra Mile in Search of Closer Ties."
Twitter - outraged at this headline that was clearly intended to be a tweet - had a thing or two to say about it, and they brought their A-game to the subject.
Who will make a list of all the tweets about that ToI headline, so we can give a prize to the funniest?

- PS (@rimeswithcya) December 26, 2015
So well, we did. Here are our favourite 10:
Finally - print digital integration. A seo friendly print headline in the ToI :) https://t.co/wPdREv9gJr

- Harini Calamur (@calamur) December 26, 2015
This TOI headline is an ad for #Maggi. Cook Maggi by the time you finish reading the headline@ARangarajan1972 pic.twitter.com/C9SmdmzRyv

- Jitendra Jain (@JitendraJain_) December 26, 2015
When you accidentally start writing your email in the subject field. pic.twitter.com/V4qT7etJ19

- k (@krazyfrog) December 26, 2015
Is that a TOI headline in your pocket or are you just glad to see me?

- Avinash Iyer (@IyerAvin) December 26, 2015
Bae: Come overTOI guy: Thinking of headline for front page storyBae: Parents aren't homeGuy: There in 5Next day: pic.twitter.com/ZmkvZrSE87

- Avinash Iyer (@IyerAvin) December 26, 2015
When Sooraj Barjatya was asked to write a ToI headline. pic.twitter.com/UoUfwHRooo

- Aisi Taisi Democracy (@AisiTaisiDemo) December 26, 2015
When you have dreams of winning the Man Booker Prize as a novelist but become ToI headline writer instead. pic.twitter.com/2zphVMAiDg

- Kabir Taneja (@KabirTaneja) December 26, 2015
Whoever wrote that TOI headline hasn't signed up for Twitter yet.

- Shakti Shetty (@Shakti_Shetty) December 26, 2015
'Abbe yaar, kuchh bhi ghusa do. Indian Express ke paas best headline anyway hoga.' pic.twitter.com/IWJg04imgw

- Shiv Aroor (@ShivAroor) December 26, 2015
When editor is enjoying holiday and intern writes the page1 headline, this has reminded me of my first-time page. pic.twitter.com/lKCN1Kbu1H

- Faizan Lakhani (@faizanlakhani) December 26, 2015