Today's dose of amazeballs: ISIS has a court poet. And she's female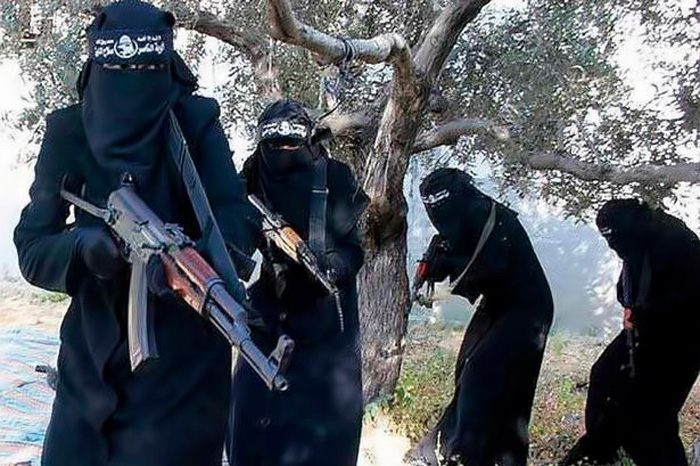 There's an unexpected job description at the ISIS, and it's one filled by an unusual person.
The position: court poet. The person who fills it: Ahlam al-Nasr, referred to as the "Poetess of the Islamic State".
It's not surprising that this is surprising.
Also read - Why Malala Yousafzai and Emma Watson embracing 'feminism' is a great move
With a gruelling schedule of beheadings and war, one doesn't imagine the fighters of the ISIS having time for the nuanced pleasures of poetry.
But if one were to acknowledge that jihad is essentially a romantic notion - with the illusion of adventure and redemption around the corner - the fact of an ISIS movement in poetry doesn't seem so farfetched. Even Bin Laden was an established connoisseur and composer of jihadi poetry.
But where al-Nasr's place in the ISIS truly is remarkable is in that she is a woman. And compared to the muted female militants of the Taliban and the Al Qaeda, al-Nasr has a voice.
Not to mention all of ISIS resources at hand for her to use it.
A Jihadi Joyce
On October 11, 2014, ISIS accounts on social media announced the marriage of Ahlam al-Nasr and Abu Usama al-Gharib.
The ISIS doesn't ordinarily take to making wedding announcements, but this one was special.
Al-Gharib is a jihadi from Vienna, considered very close to the ISIS leadership, and among the upper echelons of power in Raqqa. And al-Nasr, now his wife, is a poet from Syria who was already famous for her anti-Assad poetry.
On March 25 2011, in a YouTube video that has since been taken down, she wrote verse in response to the brutal attacks of the Syrian Army on Homs.
"Oh Homs, our pride and dignity, to you I send my salaam The city of courage and intrepid sacrifices
Bashar and his gang to be crushed,
Who gets away with their kufr and criminality?"
She's also written The Blaze of Truth, a collection of one hundred and seven poems in Arabic, some of which are elegies to the mujahideen, some laments for prisoners, yet others victory odes.
There are also some especially short poems that were originally tweets (the Arabic alphabet can squeeze more words into 140 characters than can be done in English).
Her poems are sung in YouTube videos by groups of a-cappella musicians. (Because the ISIS brand of Islam does not allow the use of musical instruments.)
Little is known about al-Nasr, pre revolution. No-one knows her real name - this is an assumed one. What can be ascertained however, is that she is from Damuscus, and is the granddaughter of an Assad sympathiser, an imam by the name of Shaykh Mustafa al-Bugha.
She left home to join the ISIS. Her mother swore allegiance to the Daesh soon after. And her poetry reflects her slow but certain radicalisation.
In 2012 she wrote a poem against the possibility of a diplomatic resolution (and in defence of a violent one).
We swear we will live free forever,
Is it when we have rebelled, you feel threatened
And so proposed reform?
No to dialogue between us, ever
We [Syrian people] are heroes
Get out you savages!
This is our free land
For which, we will sacrifice our souls.
When she arrived in Raqqa, where she is now a court poet and official propagandist for the ISIS, she was given a celebrity tour.
She wrote in lyrical prose about that visit - about the stalls full of fresh vegetables, men encouraging one another to stop smoking, and her pride in being able to cook for militants.
She was taken to a gun shop, where she learned to assemble and disassemble Russian and American-made rifles.
WATCH - Why we fight: 5 Muslim women tell their story
She documented all of this. She even wrote a 30-page essay defending the leadership's decision to burn the Jordanian pilot, Moaz al-Kasabeh. And another poem lamenting the death of Chechen jihadist leader Doku Umarove. She referred to him as a hero, calling him a "model for our generation".
In all this she persistently throws back to the Golden Age of Islam with tremendous flair and discipline. And, like her politics, with a rigid adherence to form. She writes: Islam has become a fortress again; firm and great The banner of God's Oneness is raised anew; it does not bend or deviate. (If you care for some lowbrow ISIS poetry about virgin breasts, here is some.)
The ISIS is not the Taliban
ISIS videos are intended for the audience outside the jihadi fold - to either intimidate or recruit. ISIS poetry, on the other hand, is the movement simply talking about itself.
It's a means to document the alleged romance in their adventures and the fantasy life that beckons them. It has an additional purpose - to document their battles, their losses, their victories, and to immortalise the militants they lose along the way. And in that, the fact that a woman is at the helm of the cultural propaganda of the ISIS is telling. No other jihadi organisation has embraced women to the extent that the ISIS has.
For the larger part, most of the propaganda directed at women is designed to inspire girls to renounce their unhappy homes, run away and marry into the ISIS.
But there's more to it. The degree of female involvement in Jihadi movements that the ISIS has achieved is unprecedented. In ISIS territory, for example, there exists a female morality police - known as the al-Khansa Brigade. With hefty rifles and burqas, these women are designated protectors of Islamic culture. Among other things, they ensure shopkeepers do not cheat customers, that no tobacco or alcohol is consumed and that no instance of adultery goes unpunished.
It's an intriguing facet of the organisation that has rapidly taken on the status of global enemy number one. And it's curiously progressive - if enlisting women into the task of jihad can be called so - given the uncomfortable fact that this is an organisation that believes medieval chivalry and heroism is relevant even today.
MORE AT CATCH - A crush on Federer. Anxiety about grades. A Nobel Peace Prize. Inside Malala's life