This Muslim blogger takes on trolls to defend India's composite culture
For years, someone has been quietly documenting episodes of communal harmony. Happy episodes that affirm our belief in the secular fabric of our country. Episodes that are timely reminders that, if we want, we can tide over our occasional differences and coexist peacefully with people from multiple faiths.
This someone, who has been writing, mostly anonymously, from the heart of India - Bhopal - has faced abuse, handled hate mail and been trolled. The recent silver in his hair may have made him a little cynical of the times we live in, but he is still running high on hope.
Meet Shams Ur Rehman Alavi, who has been blogging at anindianmuslim.com since 2005 - long before Facebook and Twitter became our online homes.
In a disclaimer, Alavi writes that "This blog stands for communal harmony, India's composite culture, Hindu-Muslim unity and humanism". The blog, now in its 12th year, has registered millions of hits.
Even if Alavi, in his humility, doesn't declare it upfront, the sprawling random advertisements thrust by Google are proof enough of the traffic. And, of the trolls that come with it.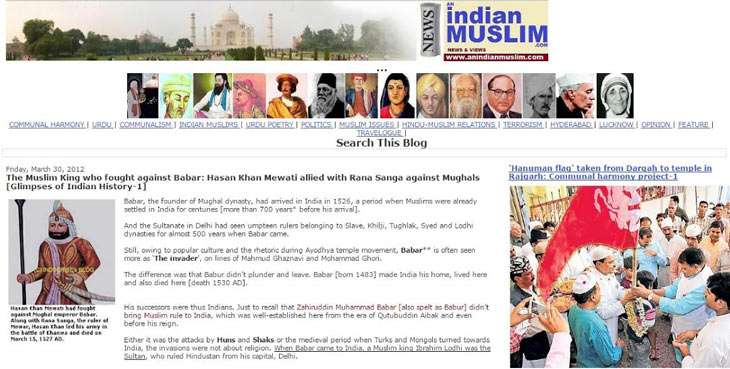 The face behind the blog
Shams Ur Rehman Alavi's heart beats for communal harmony in India and he recently launched a new section on his blog: The Communal Harmony Project.
His latest post on it is about how a bunch of Muslims performed the last rites of an elderly Hindu woman, whom they called Tai, at Malad in Mumbai. The woman was like a mother to these boys and the entire Muslim neighbourhood mourned her death. In her life, Sakhu Kiran Singh took part in Muslim festivities, and the boys reciprocated by helping her organise events leading up to major festivals.
There's another post about how a Kashmiri Muslim couple walked through the curfewed streets to give food to a Kashmiri Pandit family.
And yet another on Muslims donating family land and collecting money to build a Ram temple in Morena, Madhya Pradesh. Still another on Hindus donating land for a mosque in Haryana, with the local priest laying the foundation stone for it.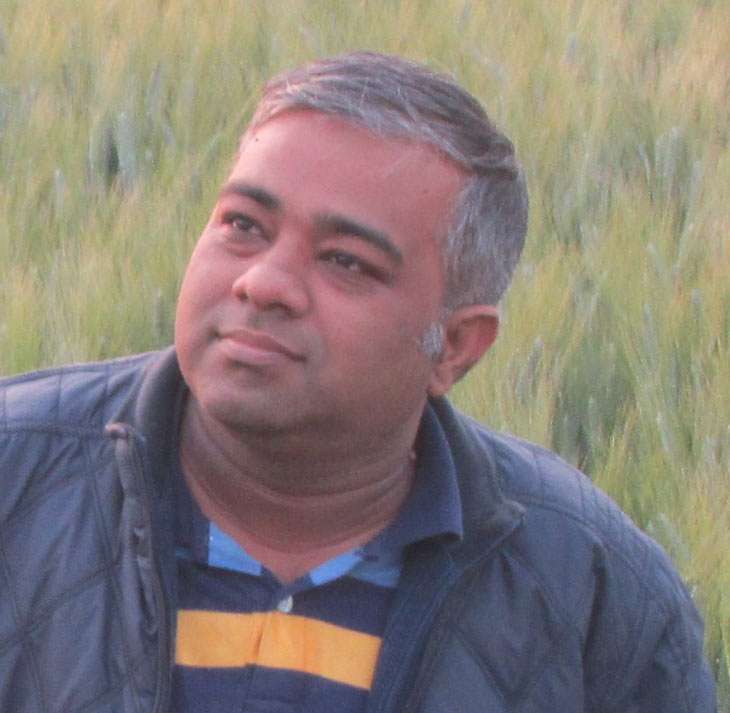 True, we've consumed most of these reports on TV, in newspapers or on social media already. But the important thing is someone is trying to keep a track of such incidents - which we can serve up as examples of communal harmony. Which we can serve up when communal temperatures are running high in our country and communal forces try to divide us.
"I started the blog in the pre-Facebook and Twitter era. The era when there was no outlet for alternative opinions other than blogs. So if a politician or an influential person said something obnoxious, there was little space to counter that. Your sharp rejoinder got lost in the heavily edited 'letters to editor', or went straight to the dustbin," Alavi tells Catch.
A blog made perfect sense. Especially a blog from an Indian Muslim.
"When I started out, this blog had a different name. I posted interesting information, mostly my opinions on a series of issues. I also posted Urdu poetry and related trivia. Within a year of blogging I realised that I should focus on contemporary issues and shift my opinions and poetry elsewhere. These eventually became home of another blog."
The Journey So Far
That was the time when Muslims were accused of not speaking up, not speaking out - against increasing acts of terror. There was a need to write about these aspects - from a Muslim perspective. More so, after fellow-blogger Mohib Ahmad, who ran a group blog, stopped writing.
Alavi started focussing on his blog more, reporting what had not been reported.
"There are irresponsible fatwas just as there are equally irresponsible khap diktats. But it is wrong to put an entire community in the dock or expect everyone to come forward and explain away every incident. I agree that if social evils are prevalent in society, they must be discussed, condemned and curbed, but an ordinary Muslim, just like an ordinary Hindu, Sikh or Christian is busy eking out a living and does not have the time or the means to organise a smart protest," says Alavi.
"Ironically, when the Muslims did take out rallies or hold demonstrations they were not given any media coverage, and they continued being lampooned for not doing enough."
Alavi cites the example when controversial artist MF Husain's paintings of Hindu goddesses were denounced by Muslims. Many held demonstrations and condemned the artist, but this never got any coverage in the media."
Or when Chamman Miyan, a Delhiite,staged a protest against the increasing attacks of terror in the heart of the capital, it was ignored. These pictures were posted on my blog."
What irked Alavi was that Muslims are seen as a "perfect monolith - robots who think and act alike". This also stirred him into action. He started chronicling all such events: Muslims denying a place to bury terrorists following the November 27, 2008 terror attacks in Mumbai or when Muslims sent a "bud-dua" - a curse - to terrorists, or the many fatwas against terrorists.
"People started taking note of my blog. It became popular. People started quoting it in newspapers and dissertations. I also bagged a Brass Crescent Award for the blog."
Between devil & deep sea
Alavi may have spent a large part of his waking life, in the past decade or so, being the voice of a sane Muslim, unfortunately the journey has been anything but smooth.

"The pressure to speak up as a Muslim is immense. And when you do speak up, you are criticised for not being able to shed your Muslim identity. Often I am asked why do I speak as an Indian Muslim, why not just an Indian or a just another human being? That's the catch," he chuckles.

Of course, Alavi's largely taken a backseat of late with the proliferation of alternative media.

There's Facebook and Twitter to air opinions. Or counter opinions. There are even dedicated portals which quote the Muslim voice.

Besides, the new digital media has broken the monopoly of the mainstream media - and nobody is at the mercy of an editor who crunches a 1000-word rejoinder to a 50-word letter to the editor.

So Alavi has shifted his focus to his pet projects: communal harmony and human rights. Issues that hurt the socially and economically backward communities, police atrocities, fake encounters and what have you. There's also the offbeat section for interesting news and trivia.

Alavi has had to deal with a lot of hate and now he is running low on patience.

"For years, I had welcomed comments on my blog and patiently replied to each and every comment. The idea was to politely dispel myths and misconceptions and engage. But I found that there were many people whose sole intention was not to talk or listen but to argue, accuse and abuse. This exercise drained me and I started moderating the comments," he says.His plan for the next few years is clear: continue to showcase the goodness of India through his Communal Harmony Project series. We could surely do with a few more good men like Alavi.

What is happening in Bangladesh? Niloy Neel, fourth secular blogger murdered