Biggest takeaway from Oscar nominations? Black people must have no talent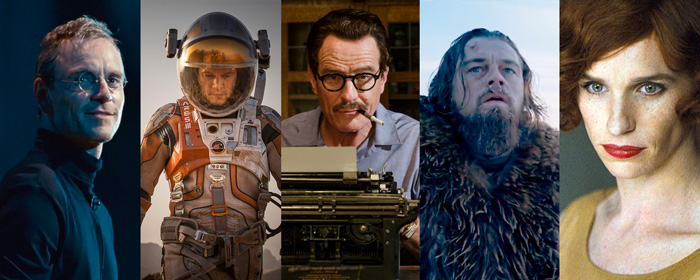 Another year, another list of Oscar nominations - which means, naturally, another round of social media trends based on whatever is the dominant outrage of the day.
Last year, that was the #OscarsSoWhite hashtag which became a top trend, and a rallying cry for diversity. It marked the first time since 1997 where every acting category had an all-white nominee list.
The Academy seems to have been gunning for a rerun of infamy, though, because this is the second year in a row where not one nominee in the four major acting categories is a person of colour. And people of colour are largely missing from other categories too, with stray exceptions.
Which, naturally, signaled version 2.0 of the hashtag - this time, #OscarsStillSoWhite was the call of the day.
All major websites found themselves in almost surreal agreement.
CNN's story read, "Once again, #OscarsSoWhite".
"The Oscars are so white, yet again" reads Quartz.
"Oscars 2016: Nominations are #OscarsSoWhite all over again" said Mashable
"Oscar Nominees Include Zero Nonwhite Actors" the Hollywood Reporter website said.
"Oscars May Have Black Host, But All White Nominees in Top Categories" said NBC News.
It's clear that Spike Lee wasn't overstating things back in November when, after accepting an honorary Oscar at the Governor's Awards, he said it was "easier to be president of the United States as a black man than be the head of a studio".
Last night on Twitter, that sentiment was dominant.
No black acting nominees two years in a row is the first time that's happened since 1997-98--so more a dip than a longstanding pattern.

- Mark Harris (@MarkHarrisNYC) January 14, 2016
#OscarsStillSoWhite they can put mayonnaise on stuff while hailing a cab & saying 'okie-dokie'

- John Fugelsang (@JohnFugelsang) January 14, 2016
If it's at all possible, in fact, this year is worse than the last: 2015 had Selma nominated for Best Picture, while in the 2016 nominations, not a single movie nominated for Best Picture has a person of colour as the protagonist.
It's actually worse than last year. Best Documentary and Best Original Screenplay. That's it. #OscarsSoWhite

- April (@ReignOfApril) January 14, 2016
The composition of the Academy is one of the core issues - nominees are overwhelmingly white, overwhelmingly older, overwhelmingly male - and clearly underwhelmingly fair.
According to a Los Angeles Times report from 2013, the Academy's membership is 93% white and 76% male with the average age in the early 60s.
In fact, people of colour make up 1/2 of all movie tickets but only 1/4 of roles onscreen.
Straight Outta Compton, a film directed by a black person, was nominated for Best Original Screenplay. Should we be celebrating this diversity? No. Because that very screenplay was written by three white men - and was snubbed for Best Picture.
Just in case you thought well maybe there just weren't any great "performances by black actors in 2015", well here's a Washington Post story that lists eight of them.
The Academy may just not care, but in the real world, it's clear people do:
#OscarsSoWhite Once again no Chinese dwarfs nominated - what, dwarfs don't go to the movies? Shame on you. pic.twitter.com/lnkkB696J2

- Duncan Whitehead (@DuncanWhitehead) January 14, 2016
#OscarsSoWhite that the bear in Revenant would have snagged a nomination if she were polar.

- Marlon James (@MarlonJames5) January 14, 2016
Hanging on Sunset Blvd across from a Taco Truck. #SaenzSigns #OscarsSoWhite pic.twitter.com/UUgv7vi28R

- Jason Carlos Saenz (@jasonsaenz) January 14, 2016
#OscarsSoWhite the show might as well be a @realDonaldTrump campaign rally.

- ARG (@ARGH86) January 14, 2016
Looking for a name of a person of color in these #OscarNoms like pic.twitter.com/s1tICWjq0K

- Matthew A. Cherry (@MatthewACherry) January 14, 2016
#OscarsSoWhite that Rocky got nominated in a movie about Apollo Creed's son.

- Hari Kondabolu (@harikondabolu) January 14, 2016
It's telling in a film directed by a black dude with five black dudes in leads, they nominate two white scriptwriters #StraightOuttaCompton

- trey taylor (@treytylor) January 14, 2016
Maybe they're doing #OscarsSoWhite again because Hollywood loves sequels

- Jessica Goldstein (@jessicagolds) January 14, 2016
The Academy must think 12 Years A Slave bought them 12 years to be white. #OscarsSoWhite

- HoustonPA (@H0ustonPa) January 14, 2016
Apparently black, brown, and Asian people did nothing this year acting wise, so, cool. #OscarsSoWhite

- Jen (@jdwattley) January 14, 2016
&don't get me started on women of color: 1 black woman & zero Asian or Latina women have ever won Best Actress. In 87 years. #OscarsSoWhite

- clara mae (@ubeempress) January 13, 2016
Basically. Image credit: @ajmaclean #OscarsSoWhite pic.twitter.com/CVgnobr6xT

- Matthew A. Cherry (@MatthewACherry) January 14, 2016
Here's what #OscarNominations for best leading actor and actress look like: pic.twitter.com/VSKRJhSio4

- Anup Kaphle (@AnupKaphle) January 14, 2016
Some of those notable roles include "rape victim," "dead wife," "wife on phone call," and "woman in bubble bath"

- Kyle Buchanan (@kylebuchanan) January 12, 2016
oscars: the feast of white old dusty men who think women in cinema r not "skilled enough" and actors of color "not talented enough"

- georgina (@monetgrrl) January 15, 2016
There was just enough room left over in Outrage Central for one more thing - the Academy also snubbed the critically-acclaimed Carol for Best Picture, and enough people are willing to bet it may be because this is a lesbian movie.
#CarolMovie If #Carol had explosives or a revenge killing by Harge, or a double suicide in the end, Hollywood would've been pleased.

- Thomas Cass (@ThomasCass9) January 14, 2016
#Carol would have been 1st queer film w/o a tragic ending to be nominated for best pic #Oscar if the @TheAcademy weren't broken. It's a BFD

- Tracy E. Gilchrist (@TracyEGilchrist) January 14, 2016
4 female screenwriter noms; 6 noms overall for Carol... let's celebrate that, please. Progress always comes in fits and starts.

- Phyllis Nagy (@PhyllisNagy) January 14, 2016
The Revenant, but it's me surviving the wilderness to get my revenge on the boys who didn't nominate Carol for Best Director.

- Teo Bugbee (@tmibugbee) January 14, 2016
THE BIG SHORT being nominated for Director/Picture and CAROL not feels like a personal attack on who I am as a human.

- John Oursler (@JMOursler) January 14, 2016
Last lesbian movie nominated was "The Kids Are Alright" abt two Moms working on a relationship around a man. "Carol" has 0 focus on men. Hmm

- Gregory Brown (@Whalewatchmeplz) January 15, 2016