Spending a cashless New Year? Don't worry, here are 10 things you can do for free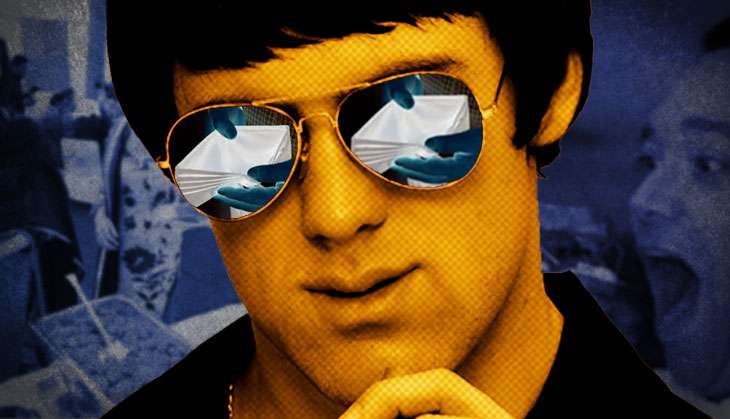 With Prime Minister Narendra Modi throwing a curve ball at Indians on 8 November, the citizens have been left in a lurch with respect to New Year\'s plans.
Modi announced his \'overshadow Trump\' demonetisation scheme in which Rs 500 and Rs 1000 notes would be banned. With the end of 2016 approaching faster than we thought, coming up with a cashless way of bringing in the New Year is an extremely difficult task.
To that end, here are some ways in which one can truly spend a cashless New Year\'s eve:
01
Host a dinner with leftovers
If you want to spend time with your friends on New Year's but aren't willing to leave the house, owing to any number of reasons, well, just invite them over for a dinner made of leftovers.
Open your fridge and you may find any of the following; lettuce, tomatoes, cheese, bread, jam, paneer, fruit, ice, ketchup, green chillis, lemon, bell peppers, some ice-cream spaghetti and a few random cold cuts. Now, throw them together and I'm sure you can come up with something worthy of being eaten by your friends that are coming over.
A few glasses of alcohol - wine, beer, whiskey, scotch - to bring in the New Year and it's the perfect evening. You can grab some cards, play some games and enjoy the end of 2016.
Repeat the above scenario but instead of struggling to make something of leftovers, just tell your friends, "If you want entry into my 'party of the year' then bring a dish as entry fee."
You run out of ideas of where to go out and you want to just sit back and relax and not have to worry. Call a friend or two over, put on Netflix (that's a subscription you've already paid for) and make some microwave popcorn or maggi (surely you have some lying around).
Pair that up with whatever booze you can scrounge around for and you're golden. There ain't no better way to bring in 2017 (A year that will most definitely top the shitstorm that was 2016) than with some Snakes on a Plane. You just can't say no to that.
Get a crew together, dress up, take your car out of your garage and drive through the streets of Delhi.
Eventually, you'll find yourself passing by a wedding or two. Stop your car, somewhere not too close to the venue. Casually get out, walk smartly towards the entrance and march inside.
Say hello to the bride and groom (the closer to midnight, the better) and move on to focusing upon the food and booze. You know that's the most important part of the night. Have two people's worth of it, ring in the New Year and march right back out towards the car.
Use your talent to get your way in to the 'party of the year'. Well, not really party of the year, but something better than what you're doing.
Go, roam the streets. Sing, dance, juggle, do what you can. People will invariably stop. Some might take videos, some might even stop to have a conversation to you.
Maybe, if it's your lucky night, someone might take pity on you and invite you to join them on their long and seemingly unending night. Since they've been kind enough, it's going to be a little bit hard to escape, but as they say, beggars can't be choosers.
The Oxford Dictionary of Langar is, "(among Sikhs) a communal free kitchen". There is a fabulous one in the heart of Delhi. It's called Gurudwara Bangla Sahib and it's one of the most prominent gurudwaras in Delhi.
The Sikh temple serves meals to around 10,000 people every single day. It's not chaotic and it's wonderful in the winters. In case you don't want to go to that gurudwara, there are some others, like Gurudwara Moti Bagh Sahib and Gurudwara Shri Bala Sahib, in Delhi.
07
Marine Drive, Marina Beach, India Gate and Connaught Place
Just want a place to congregate free of charge? You've got India Gate in New Delhi, Marina Beach in Chennai, Gateway of India in Mumbai and Bara Imambara in Lucknow.
Those places are good to go with a few friends and make friends out of strangers. Just a warning though: If you don't like hugs, then you may want to hide in a quiet corner. Anupam Complex in Saket and Connaught Place are prime places. Let the clock strike midnight and strangers turn into friends.
08
Visit Prachin Bhairon Mandir in New Delhi
Prachin Bhairon Mandir is the most famous Bhairav temple in Delhi. There is a unique feature to this temple that isn't found elsewhere. Liquor is given to the deity as a holy offering.
All types of alcohol - domestic, foreign, brandy, scotch - are offered to Lord Bhairav. Usually half bottles. Then, the rest is distributed to devotees outside the temple just as prasad. You can hang around outside and wait patiently as the alcohol arrives for you to consume.
09
Get on a train without a ticket
One of the most exciting things to do is travel to an unknown destination. What's better than to do that without even buying a ticket.
Just enter any railway station, find a train that is leaving not too far in the distance and get on and sit next to a stranger. Make sure the train isn't full though, because then, the chances of being caught are higher.
In case you are caught, you can just get off at the next station and repeat the process. This can be done with a bus also, but with lesser people, it's harder to travel free of ticket.
Regardless, no matter what city you end up in, it will be a once in a lifetime experience.
10
Drop by at a friend's party and don't BYOB
Entertain yourself at home till about 10 o'clock in the night. Pretend like you're at a party. Make it look like you haven't just gotten dressed and left the house.
Drive over to a friend's house who is having a 'rocking' party that you may or may not have been invited to. Ring the bell, enter the house and act drunk enough using that as an excuse to have not brought any booze.
Proceed to enjoy the party, the night, and many people whom you've probably never met before.
Whether or not you voluntarily spend a cashless New Year's eve, it's pretty certain that Modi's demonetisation has almost forced you to go cashless.
Try it this year, who knows, maybe you might be inspired to do the same next year.