Protecting the third gender: did South India just get transgender-friendly?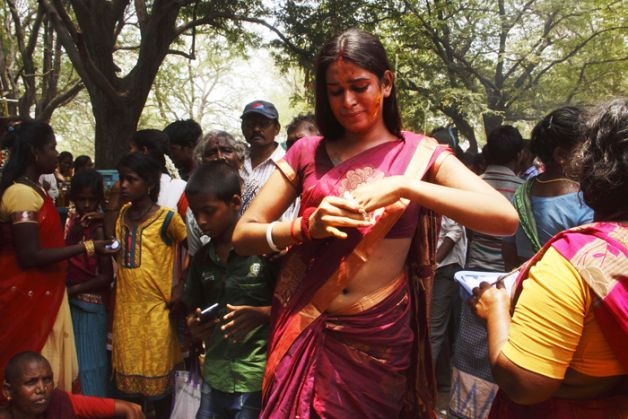 The policy
Kerala govt has come out with a state policy for TGs
Department of Social Justice has set out an action plan to safeguard rights for TGs
An evaluation of the policy is expected in 2018
Reason for change
25,000 TGs in the state and many more who are still afraid to admit their identity
TGs haves been oppressed and ridiculed for years, not just in Kerala
The SC in 2014 passed a judgment giving legal recognition to the third gender
More in the story
Is the policy just for show?
Appalling stats from the report
Transgenders in Kerala just got a boost of support from the state government in the form of a new policy, that essentially seeks to mainstream the otherwise marginalised community.
Taking a cue from a Supreme Court judgment dated 15 April 2014, the Department of Social Justice released its "State Policy For Transgenders In Kerala, 2015".
Of course, it took the government over a year and a half after the SC order, to come up with this policy. However it is an important step, given the appalling way transgenders have been treated in Kerala for long.
A report from February 2013 in The Hindu, quoted an unnamed social welfare officer who said that, "there are no transgenders in Kerala". What he meant, according to the article, was that TGs have been oppressed to the point of invisibility because "...society simply does not accept transgenders".
Unable to bear the social ridicule and isolation in Kerala, TGs have often migrated to cities like Hyderabad, Bangalore and Delhi. But that doesn't mean life has been any easier for them over there. Nor is it any better for transgenders originally from those cities.
The trauma for TGs is the same across the country. The main reason for this is that the rest of society is still unable to wrap their heads around the idea of a third gender.
Credit must be given where it is due
Over the years, many NGOs have sprung up across India, advocating rights for LGBTs and have created a space for them to either confide or come out openly.
READ: Karnataka govt awards transgender activist second highest civilian honour
The Supreme Court judgment of 2014 giving legal recognition of the third gender was an important milestone.
In April this year, a private member's Bill was passed by the Rajya Sabha (something that hadn't happened in the past 45 years). The Bill sought to safeguard the rights of transgenders and provide reservation in jobs and educational institutions.
Just last week, the Madras High Court (referring to the SC judgment) directed the Tamil Nadu Uniformed Services Recruitment Board, to henceforth include a "third category". The result: K Prithika Yashini will be India's first transgender sub-inspector of the police.
Tamil Nadu has actually seen a lot of activity to empower transgenders much before the Supreme Court stepped in. The Tamil Nadu Aravanigal Welfare Board was set up in 2008 by the government. In 2012 UNDP- India commissioned a study, to highlight how the Welfare Board could be a model for other states to introduce protection for TGs.
So there seems to be a strong movement in the south to support and mainstream people who are transgenders.
A good thing too, since Tamil Nadu accounts for a large number of transgenders. The 2014 census indicated 4.9 lakh TGs in India. But activist believe that the numbers are much higher. It's tough to get a more accurate number because many still aren't confident of identifying as transgender.
West Bengal is the other state that has instituted a Welfare board, but the overall sentiment is that a national welfare board for transgenders must be created.
Back to the new policy by the Kerala government
The policy recognises that the problems transgenders face, stem from the "stigma and discrimination they face in the society, resulting in their exclusion from socio-economic and political spectrum". It goes on to say that this "minority community" has been forced to "live as second-class citizens in their own countries".
The architects of this policy have been careful to say that it covers "all categories of TGs, including but limited to Female to Male TGs, Male to Female TGs and Inter sex people".
So this ideally helps broaden the scope and allows for even transvestites and transsexuals.
Before we go further let's clear up the difference between the various 'categories':
Transgender: an umbrella term used to cover all others
Transvestite: cross dressers

Transsexual: the body is of one sex but the mind associates with the opposite gender

Trans-sex people:both male and female organs are housed in the same body from birth
Now according to the state government, there are about 25,000 transgenders in Kerala.
The policy paper throws up some depressing facts
Here are a few :
58% of TG students drop out before completing 10th grade (reasons being harassment, poverty, negative home environment).
100% of them have had at least one experience of being denied a job due to their gender identity.

28% have been sexually harassed or raped by partners within one year.

52% of TGs have faced harassment from the police.

51% hide their gender identity from their families.

44% have a sense of shame about the dissonance between their body and gender identity.
[If you'd like to read the entire policy, follow the link at the end of the article.]
What is the Kerala govt's game plan?
They've basically broken down the policy into constitutional rights that must be achieved for transgenders. Under each right, there are a proposed set of actions and a corresponding authority who will be responsible for those actions. Here is a sample of what that means:
Right to Equality
Proposed Action: Ensure equal access to all services by including TG as a third gender on all application forms.
Responsibility: Each service or benefit provider.
Right to Freedom of Expression
Proposed Action: Take steps to prevent TGs from being punished or harassed for cross-dressing and for their gender-specific behaviour.
Responsibility: Department of Culture, Law Department, Police
The Right to Dignity & a Life without Violence
Proposed Action: Take action against parents who desert or abuse their gender non-conforming children and against doctors who undertake any unethical conversion therapy.
Responsibility: Department of Home, Law Department and TG Justice Board, Director-General of Police.
The diagram below, extracted from the policy paper, shows the results framework as projected by the government's TG policy.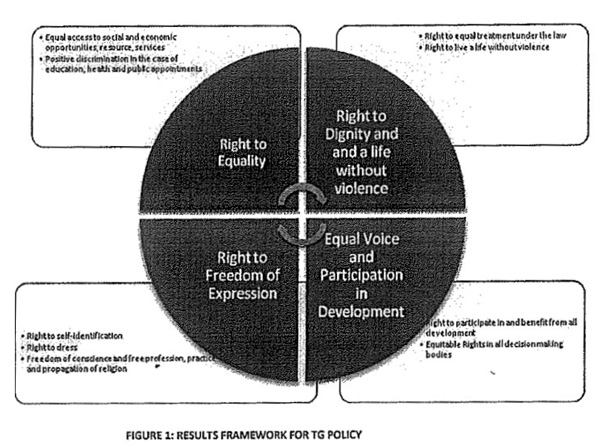 The Department of Social Justice is expected to conduct a mid-term evaluation of the policy and its possible impact in 2018. Apart from that an annual report is supposed to be filed by every department that's involved with the steps they have implemented, budget expenditure and the results achieved.
But where are the funds?
It is strange that the paper doesn't provide any information on the funds that have been allocated for implementing the policy.
The 20 page document, which is otherwise extremely comprehensive, doesn't mention the cost even once.
ALSO READ: First transgender passport issued in Nepal
The paper proposes setting up a State TG Justice Board, district TG Justice committees, counselling centres, allocating funds in government hospitals for Sex Reassignment Surgery and what not. All of which begs for some form of expenditure and capacity building.
The absence of a budget does raise concerns over the government's seriousness in working with TGs to achieve their stated goals.
*Fingers crossed.
While we're waiting...
Let's not leave it all up to the government shall we?
You can be a pessimist or an optimist or chilling on the fence, when it comes to notions about changing mindsets and society. But hey, can't hurt to try right?
I remember when I was in school, we made a class trip to Chennai. The train ride was met with eunuchs; all eager to bless or curse- earn money either way. The boys in our class were all hiding behind the girls, petrified of the TGs.
Years later during my college days in Delhi, a similar scene played out at Connaught Place. A eunuch kept pestering and following my friend and me. But we refused to give money. The curses didn't mean anything to us. If we didn't believe in it, it had no power over us. Simple.
So here is the other obstacle that society faces when it comes to TGs. At some point in history, we associated them with the supernatural, religious, scared or superstitious elements. Clearly, this stemmed from our inability to understand the third gender. Perfectly fine for those that believe in it. But there was an other-ing of the entire TG community that took place.
As they didn't have any other employment opportunities, it caused TGs to use this as a means to earn their daily bread. This and prostitution. Hierarchies were created within TGs, internal abuse is rampant and a vicious cycle set in.
Now any policy that proposes to integrate TGs with the rest of society needs to consider how the above issue will be tackled, amongst so many others. Also, at what point do they stop being called transgender? Is that something TGs would like?
You'll probably remember this video that came out two years back. It was all over social media. An emergency app VithU decided to create awareness about using seat belts. They sought the help of transgenders and the result was epic.
The video drew from that same scared point of association. The one that separated them from society to begin with. But the video also managed to show us that the third gender is as beautiful and capable and not very different from being male or female.
Let's not allow our limitations as a society to understand them, further complicate a fairly simple equation. Education and spreading awareness is needed. But our humanity needs to extend beyond that.
The Kerala government's policy is a good beginning.
[Read the full Kerala Policy for Transgenders here]