Poor little rich girl: what Priyanka Gandhi's rent money can't buy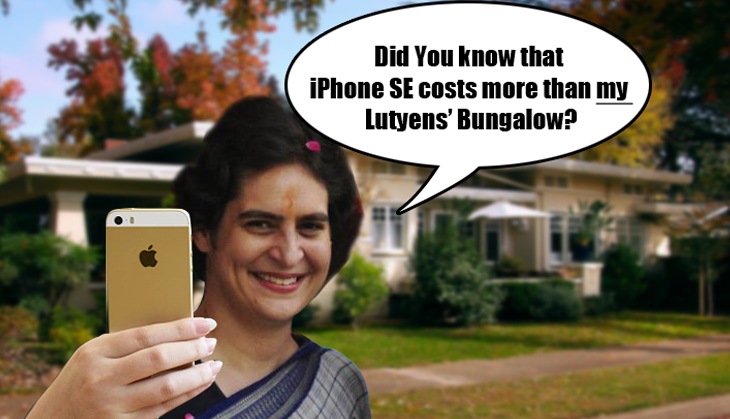 14 years ago, Priyanka Gandhi Vadra gave us our first inkling that she was a canny politician, even if she wasn\'t an official one. The daughter of late PM Rajiv Gandhi and Congress president Sonia Gandhi got the then Vajpayee government to reduce her monthly rent to a \'sasta\' Rs 8,888 per month. Her excuse was that it was "beyond her capacity to pay the high amount".
Fast forward to present day and the rent paid for the house at 35, Lodhi Estate is just Rs 31,300.
Ms Vadra, along with three other \'private citizens\' - including former Punjab DPG KPS Gill, All India Anti-Terrorist Front chief M S Bitta and Punjab Kesari editor Ashwani Kumar - have got government accommodation on security grounds.
Back in May of 2002, Priyanka had written to the government saying the amount of Rs 53,421 was "too high" and implied that it was beyond her means. Another reason offered: she was "occupying the bungalow at the request of the SPG and that a large part of the bungalow was occupied by SPG itself".
That the daughter of the current Congress president and former Prime Minister - as well as granddaughter and great grand-daughter of two iconic Prime Ministers - should claim her ability to pay is limited to this amount is a ridiculousness on almost unparalleled scale.
The house itself? 2,765.18 square meters of some of the most prime real estate anywhere in the world, in Lutyens Delhi.
In an era when Apple\'s new \'budget\' darling, the iPhone SE, costs 20% more than Ms Vadra\'s rent, affordability has become a loaded discussion. Is Rs 31,300 a lot of money? Well, depends who you ask. We rooted about for what that amount can buy - and what it can\'t.
What she can buy with the rent money:
Specifically, the country's most expensive pizza that costs Rs 10,000 and is on the menu of Qube, the all-day diner at The Leela Palace in New Delhi.
Don't let the words all day dining fool you - prices are in the once-in-a-lifetime league rather than all-day. But the signatures sure sound worth splashing out on, including the red snapper with spicy mango sauce, Maryland crab cakes and wood-oven-baked black cod.
But the champion of the menu is the pricey pizza at Rs 9,999 (oh, taxes are extra), which means for Ms Vadra's rent you can order three of these beauties and have some cab fare left over. Will it be worth it though? It might depend on how hungry you are.
There was huge controversy in the tech world back in mid-February when a company called Ringing Bells launched an unbelievably cheap Android smartphone. Priced at Rs 251 (about the price of a pack of cigarettes), this smartphone aimed to revolutionise the market is ways previously unimagined. Well, armed with Rs 31,300, you can buy 124 Freedom phones and again, have some loose change left over.
It's another matter that the phone was a disaster from the get go.
Chetan Bhagat's latest accomplishment, Half Girlfriend (a movie deal was signed before the book was even published) is available at a steal of Rs 88 on Amazon India with free delivery thrown in for the paperback edition. At this price, it might even be worth it - though we're not certain anyone wants or needs the 355 copies of this you can score should Ms Vadra default on her rent this month. Distribute it to budding learners of the English language and then take the loose change left over to buy yourself a samosa and feel good about what you've just done.
And what she can't 'afford':
Priced at a whopping Rs 39,900, this newest iPhone, that combined the guts of an iPhone 6S and the form factor of an iPhone 5S is just Rs 7,700 more than you have to spend. Your choices? Beg, borrow, sell a kidney or get a job - all options that Ms Vadra seems to have discarded in favour of appealing to the govt.
05
Vacation to Istanbul, Turkey
Want to just get away from the soaring heat? Well, if Istanbul, Turkey is your destination, then you're again, sadly out of luck. The cheapest ticket that can be found for a round-trip from May-2-9 is Rs 32,338. A mere Rs 1,038 out of reach - provided, of course, you can find a way to raise the money needed for food, local transport and stay.
06
Luke Skywalker Blue Ultimate FX Light-up Lightsaber Disney Star Wars
An official Hasbro item, this. What's the cost you ask? An utterly ridiculous Rs 46,687 on Amazon - and with just two left in stock, you better hurry. Apart from the rent money, you still need Rs 15,387 to tide you over.
Let that sink in.
Ms Vadra pays less than the cost of an (admittedly ridiculously priced) light saber for renting a mini township in one of Asia's most exclusive stretches of real estate.
We've got to give it to the lady. She's got nerve.