Pokemon Go eggs can offend Hindu templegoers. Or so this PIL suggests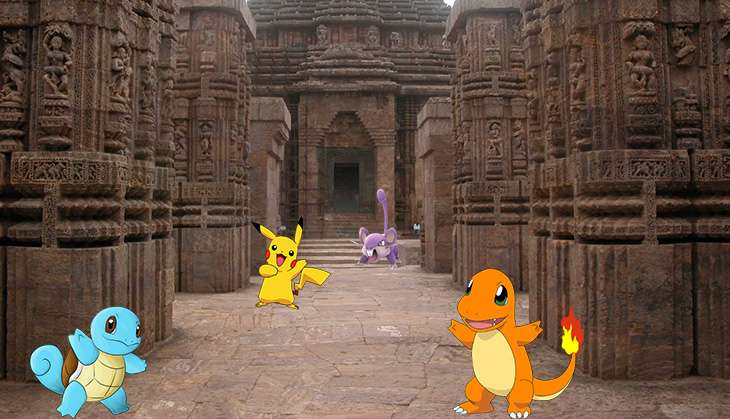 Eggs. That's what has got the Gujarat High Court worked up today. In what seems to be a welcome break from beef and alcoholphobia, the HC has issued notices to the Centre, state government and the developers of... Pokemon Go, Niantic Inc. for placing eggs in places of worship.
Yes, augmented reality eggs apparently offend the Hindu and Jain communities of Gujarat. And in specific, offend the petitioner Alay Anil Dave - a man who will forever be remembered as 'that guy who filed a PIL against Pokemon Go over virtual eggs.' You sir, deserve a meme.
Also read - India's first Pokémon Go-related accident has finally happened
Unless you have an insane aversion to smartphones or hate the news, you would know that Pokemon Go requires players to seek Pokemon as they walk around. Sometimes this takes them into temples, to the relief of religious parents and the ire of religious loonies.
While Jainism is principally opposed to non-vegetarianism, including eggs, Dave's assumption that all Hindus are averse to the "Sunday ho ya Monday, roz khao andey" routine is to say that all Hindus are brahmanical purists. Or worse, to say that, in this day and age, Hindu temples only cater to brahmanical purists.
"To find eggs in temples of Hindus and Jains is blasphemous, and therefore my client has sought ban on the game from the country," Dave's lawyer told PTI, completely missing how blasphemous his client's claim is.
What's worse is that the petition, in an effort to be taken seriously, has pointed out that the game is a threat to life of the players. Which might be true because, as we all know, religious fanatics are the greatest threat to life in India.
Also read - Pokemon GO gets people out and about, and that's a good thing
The other "valid" point the PIL makes is that the game can be used for surveillance. But as if quickly remembering the general tone of absurdity, the the petition then cites the example of Missouri police cracking down on a robber through Pokemon Go geo-location. Slow clap.

Poke religion
If Dave's PIL was not hilarious enough, it turns out us Indians aren't the only ones hating on Pokemon Go for religious reasons.
Religions around the world have hinted at Pokemon Go signalling the end of the world. While common sense would say otherwise, religion being religion, has been completely absurd about its crusade against the game.
In July, Time reported that Saudi clerics brought up a pre-existing fatwa against Pokemon. The 2001 fatwa against Pokemon said that it violated Islamic law due to its use of religious symbolism. It apparently breaks Islamic law as it subscribes to the notion of evolution and uses "the symbols and logos of devious religions and organizations" and other "forbidden images."
Kuwait too warned its smartphone gaming population against Pokemon hunting in mosques, malls and oil installations. That's religion of three kinds right there.
Church to prison?
That's right. A Russian YouTuber who got a sweet 1,151,849 views on his video of protest, could now be facing jail for trying to prove a point.
Ruslan Sokolovsky's video was shot in Church of All Saints in Yekaterinburg in defiance against the Russian law that can fine a person playing Pokemon 500,000 rubles (about $8000) or sentence them to 3 years of imprisonment.
Shot in August, at the peak of the Pokemon Go craze, Sokolovsky can be seen talking about how absurd the law is in the video before proceeding to play the game.
According to a statement released on 3 September, the 21-year-old has been charged with "inciting hatred and offending religious sensibilities and detained for two months." It also says that he could face up to 5 years in jail.
Interestingly, as The Guardian notes, this is the same clause that put the Pussy Riot protesters behind bars for two years back in 2012.
2 criminal articles & up to 5 years in jail

for catching fucking pokemons in a church#FreeSokolovsky pic.twitter.com/enTl2UnNRL

— Pussy Riot (@pussyrrriot) September 3, 2016
After social media reactions, Russian Orthodox Church spokesperson Vladimir Legoyda took to Facebook to say that this was not for catching Pokemon and, instead, accused "well-known" blogger Sokolovsky of working "in the style of Charlie Hebdo", which is a soft way of saying he isn't a fan of the church.
Also read - Pokemon Go is here. And suddenly, everyone's a child again
Be it Russia or India though, the problem here is the same. Yes, Pokemon Go can be a nuisance but public places should not be allowed to dictate how a person wishes to follow religion. If they follow Pokemon and find religion, that should be their call.
Besides, eggs are rich in protein.