One man wants DiCaprio to win an Oscar so bad, he designed a game for it
Asad Ali
| Updated on: 14 February 2017, 5:42 IST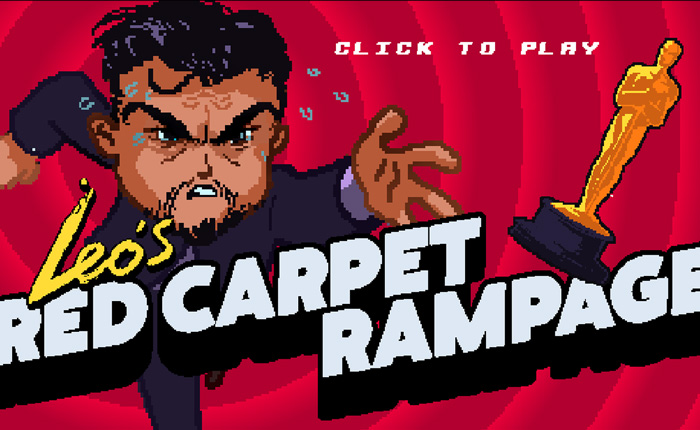 When was the last time you saw Leonardo DiCaprio with outstretched arms and a come-hither expression in his eyes?
No, not Titanic. It's at the Oscars, every time, for a really long time.
DiCaprio has survived a slew of bad jokes, tea-party sniggers and most recently, freezing temperatures for The Revenant. Yet, the Oscar has eluded him. For the man who pretty much has it all, a gold-plated piece of plastic, 13-inches tall and weighing 8 pounds is the one thing that refuses to come to him.
Also read - Why does 'awards season' always disappoint? A TV junkie's rant
But now you can help change all that.
How? By playing Red Carpet Rampage, a free browser game designed by a chap called Bjorn-Erik Aschim.
It's one of those old-school arcade-style games where you use just a couple of keys for gameplay. Jump over and outrun obstacles and opponents that range from an iceberg to Lady Gaga and Michael Fassbender's Steve Jobs. Identify a black nominee from a crowd of white people and avoid the paparazzi and Matt Damon.
There's also a round where you can score points by helping Leo "act harder." Finally, there's also a round where you can help Leo write an acceptance speech. Considering the fact that he's been getting nominated since 1994 (for What's Eating Gilbert Grape), perhaps he already knows what he wants to say. But then again, with so many years between nominations and wins, he might need to update his speech!
The unfortunate reality: Leo can't actually win
At least in the game, that is. After the first eight or nine rounds are over, the game starts all over again. If that isn't a cruel inside joke, then nothing is!
Irrespective of what the game designers have in mind, the force seems strong with Leo this time. In the run up to the Oscars, he's already picked up a BAFTA (The Revenant won five of those) for Best Actor. Even the bookies have placed the odds heavily in his favour. According to oddschecker.com, Leo leads the odds for Best Actor at the Academy Awards with a 1/33 rating.
So go ahead and start playing. And even though Aschim, the designer, described the game as "basically a joke that went way too far," if it helps Leo win an Oscar, you wouldn't mind, would you?
More in Catch - The Oscars Best Foreign Films shortlist doesn't have Court - but it's still a winner