Models as mannequins: Steve Madden's Delhi store reeks of objectification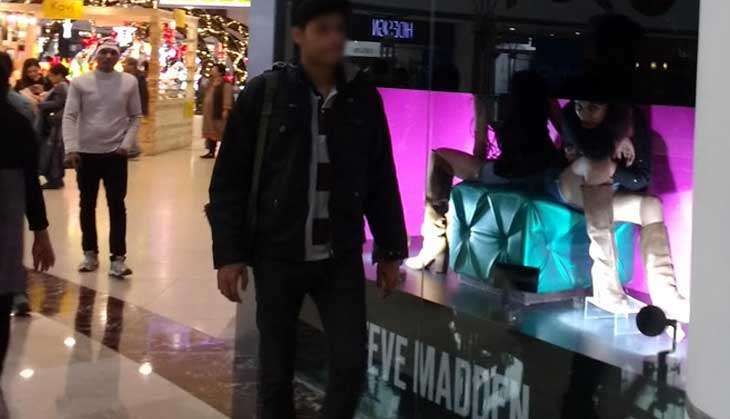 "Look!" my friend gasped. "What the hell just happened?"
Utterly confused at his distress, I looked in the direction he was pointing. At first, I saw tan-coloured, thigh-high boots on mannequins. Unimpressed, I started to turn away when I saw it - the 'mannequins' moved.
Seated inside a brightly lit purple box designated for mannequins, the 'live mannequins' at Steve Madden's Select Citywalk store in Delhi on December 10-11, were covered with blackened glass from the waist up.
The models, seated when I approached them, bent down to look at the curious crowd collecting outside. Each time someone whipped out a camera to point and shoot, they would turn their faces away.
"Yeah, we turn our faces away when we see people taking pictures," one of the two female models present inside the box told Catch .
Stretching out her legs, she said, "We are just relieved that we finally got to sit, as we've been standing all day."
But while the couch helps with physical discomfort, it doesn't do much for the discomfort caused by voyeurs staring at them.
Tired, the models rest for a bit. (Photo: Durga M Sengupta/Catch News)
Mannequin challenged
According to Steve Madden India's official Facebook page and their marketing representative, the two female models were accompanied by a male model. However, we saw no evidence of this.
On being asked about being pointed at like animals in a zoo, one of the girls replied, "It's uncomfortable, but because there's glass, we can't hear what they're saying. So it's okay, I guess."
The other girl chimed in, "Also, we're getting paid Rs 7,000. Basically Rs 3,500 per day."
While it's great that they're satisfied with the amount they get paid for the gig, it's rather troubling to learn that the glass wall saves them from hearing what they know are nasty, lecherous comments.
Besides, the image invoked here isn't one of high-end luxury, but of Amsterdam's Red Light District, where prostitutes pose and dance in store displays to solicit customers. Their bodies are what they market themselves through, often setting their own terms, as opposed to the models in Steve Madden's glass box.
An argument here would be that the models are free agents and have signed up for this on their own terms. While that's accurate, the problem lies in the premise itself.
For Steve Madden to consider the legs of real people salable, for them to be put up on display inside a glass box in a mall, and most importantly, for their upper bodies to be covered, thereby disallowing them any semblance of human agency, isn't what good marketing gimmicks are made of. It is, however, a disturbing level of objectification.
Speaking of marketing
Catch contacted the Steve Madden marketing team responsible for the campaign. Our point of contact, who admitted to conceptualising the 'live mannequins' display, didn't wish to be named.
On being asked what made Steve Madden put up such a display, she called the models a "dynamic and unexpected experience," saying, "we constantly ideate on such things to build a lasting memory for customers."
That the gimmick left a lasting memory cannot be disputed, but one shudders to think what this 'constant ideation' will result in next.
All three models (male model in the centre) as clicked by Steve Madden. (Photo: facebook.com/SteveMaddenIndia)
Our source explains that since "mannequins are designed to reflect how a real person looks", the "live mannequins were an extension of that thought." Never mind that the entire point of having mannequins is to ensure that human beings are not paraded as objects. A point this campaign, and those behind it, entirely misses out on.
"The concept of a live mannequin," she says, "not only helped us in creating a personal and memorable experience for the customer, but also helped them to relate to the product." Because obviously, Steve Madden thinks their customers relate better to being objectified.