Meet Hatsune Miku, Japan's singing icon who's a virtual projection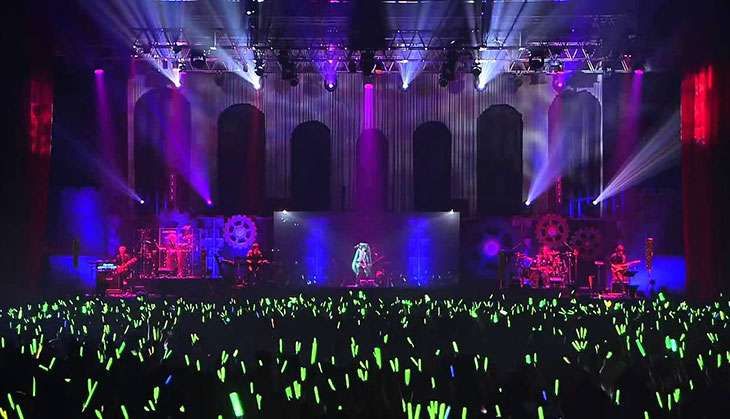 High profile music concerts have a lot to deal with - security (or the lack of it), accommodation (not seeped in luxury enough), or the general temperament of the performer in question can often be a deal breaker. But what if the performers were not real but virtual?
Japan - that bouquet of all things bizarre, has been steadily revolutionising the music landscape in a way that's uniquely Japan. It has developed a virtual Japanese anime pop star called Hatsune Miku. That's correct. A singer that's - virtually - a holographic figure, called Hatsune Miku. At about 5-foot-2 Miku, whose name translates to "the first sound of the future," has been performing at a number of venues across North America. Just a couple of months back, in May, Miku headlined two shows at New York's Hammerstein Ballroom as part of a 10-city tour - Miku's most extensive North American tour yet. The price to see this projection perform? Anywhere between $60 and $150.
Also Read - Tomoko Kikuchi's translations: From Japan with (lots of) love for India


Technically speaking, Miku is a synthesised vocal application developed in 2007 by Crypton Future Media, a media company headquartered in Sapporo, Japan. This kind of projection, called vocaloids has a big advantage - the processed human voice can be used by any fan or producer to create music. Any user can download the Miku program and begin creating songs. Once the song/s are developed, the user can upload the track to a social media platform where it can be shared with other fans around the world.
Almost Miku's entire repertoire is crowdsourced: fans develop songs for her using Crypton Future Media's Piapro software. If any song becomes popular enough among Miku's fanbase online, it can become part of Miku's onstage act. Pretty 'open source' and democratic. Except, the gnawing sense of realisation that Miku isn't actually a real person.

"I like the idea that it's a hologram, and a lot of people judge you for the fact that it's not a real person - but I feel like that's the coolest part," Eunice, an 18-year-old fan who was at the Hammerstein, told Women's Wear Daily. http://wwd.com/eye/people/japan-hologram-hatsune-miku-new-york-10439588/ "I'm a tech fan so I feel like I'm seeing what's going to be new for the future."
"All the songs playing are made by normal people who bought the software and got famous online because they're talented. For the most part you don't know what they look like or who they are - anyone can do it. [Miku] is the manifestation of a whole community rather than just one person's work."
But one person who can definitely claim some credit is Manga artist Kei who designed Miku, following pretty basic anime principles. Her body type fits into the usual slots of most anime characters - simple lines form the facial structure, long arms and legs, large eyes et al.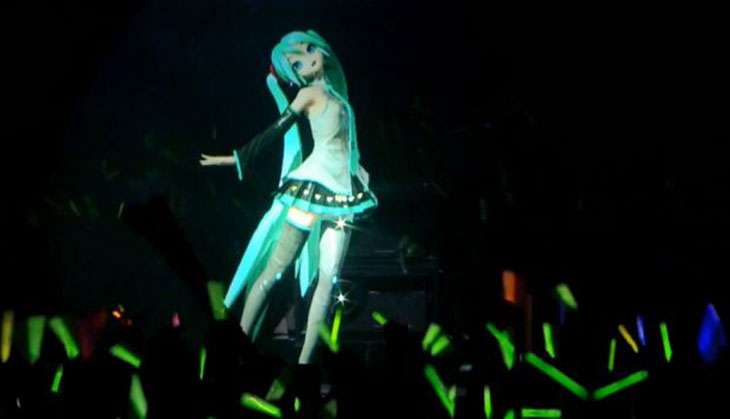 File photo
The defining characteristic of Miku, perhaps are her turquoise pigtails. Crypton began marketing Miku to the U.S. in 2011 and there was an official English release in 2013. Roland Kelts, author of Japanamerica told International Business Times, "That's what fans of anime and manga like, this over-the-top use of the medium of illustration to create an idealized, dream-world character."
Also Read -What Japan needs most: more Japanese people
Miku's performances and songs were first shared on Nico Nico Douga - the Japanese equivalent of YouTube, and it wasn't long before Miku's talents got a bigger stage. But beyond the impressive science and performance quotient, what a lot of commentators feel is a bigger achievement, is how the crowdsourcing of fan wisdom has led to something constructive.
A cultural anthropologist at MIT, Ian Condry told International Business Times, "Here's a completely fan-made artifact where some of the top producers in the Miku world can see their work on stage. But it also shows that their fan creativity has led to something."