Match over: Hugh Hefner dies at his Playboy Mansion
Catch Team
| Updated on: 28 September 2017, 14:07 IST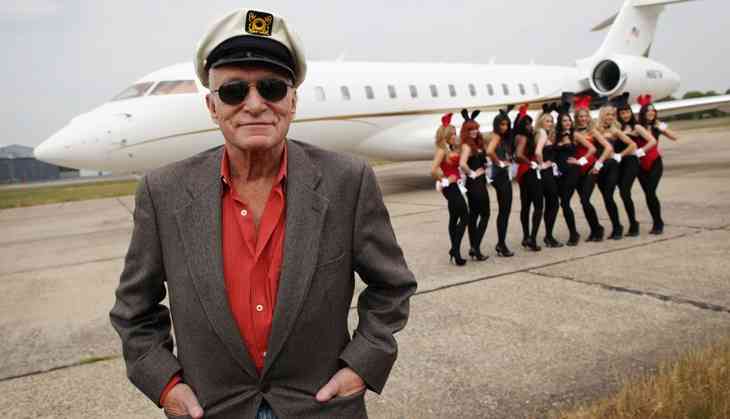 (Dan Kitwood/Getty Images)
Hugh Hefner lived until the age of 91. He lived his life to the very definition of 'fun'. The iconic founder of Playboy magazine died of natural causes at the Playboy Mansion in Los Angeles. Playboy Enterprises confirmed his death in a statement on Wednesday, 27 September.
Over 60 years ago in 1953, Playboy (original title proposed was Stag Party) was founded as a niche upscale men's magazine. The men's magazines of that era combined nude women with a couple of in-depth articles, interviews and even some fiction.
American Icon and Playboy Founder, Hugh M. Hefner passed away today. He was 91. #RIPHef pic.twitter.com/tCLa2iNXa4

— Playboy (@Playboy) September 28, 2017
To get the magazine off the ground, Hefner reportedly borrowed $1,000 from his mother, another $2,000 from friends, and put in another $600 of his own. For the first issue's centrefold - that soon became an iconic part of Playboy - Marilyn Monroe was chosen. No better way to launch a magazine than with someone as iconic as her. The centrefold began with a two-page spread in 1955 with arousing photos of the women chosen.
"We enjoy mixing up cocktails and an hors-d'oeuvre or two, putting a little mood music on the phonograph, and inviting in a female acquaintance for a quiet discussion on Picasso, Nietzsche, jazz, sex," Hefner wrote in the inaugural issue.
It was an era where the video was black-and-white and no one had mobile phones or easy and free access to pornography. Playboy thrived. In 1962, "Playboy interview" was launched.
During the 70s, Playboy was at its peak with a circulation of 7 million. It was an empire. It included TV shows, Playboy Clubs - with waitresses wearing bunny ears - all across the USA and even a jazz festival. As of 2017, Playboy remains one of the largest magazines around the world. It has over 20 licensed international editions.
In the early 1970s, Hefner bought what is now know as the Playboy Mansion in Los Angeles. It became a home for Hefner as well as a setting for lavish all-night parties with many celebrities in attendance.
Early life
Hugh Hefner was born in Chicago, Illinois on 9 April 1926. His parents, both from Nebraska, were teachers. Hefner's mother was of Swedish descent while his father had English and German ancestry. At just the age of 8, Hefner started a school newspaper and called it The Pepper. One of his teachers sent out a warning, "if he continues to waste time on this, he will never amount to anything."
His early passions were cartooning and movies. As a teenager, he had started a magazine called Shrudder. He also started a cartoon autobiography called "School Daze," which went on for a while.
During World War II, Hefner served in the military a journalist. He worked for a military newspaper from 1944 to 1946. He graduated from the University of Illinois at Urbana Champaign in 1949. He completed a bachelor of arts in psychology and a double minor in creative writing.
Hefner's swinging lifestyle that came about the time he started Playboy magazine was a direct reaction to growing up in a repressed family. In his family, forget to kiss, even hugging was rarely exhibited.
Professional career
Hefner started his professional career as a promotion copywriter for Esquire magazine in Chicago.The publication's decision to move to New York got Hefner thinking. He asked for a $5 hike to his $60 a week salary. Once it was denied, Hefner quit the job. He stayed back in Chicago and started his own magazine.
By the time he launched his magazine, Hefner was a husband - his first of three marriages - and a father. His first wife was his high school sweetheart, Mildred Williams. They had a baby daughter named Christie, who was born in 1952.
Originally, Hefner wanted to start a Chicago city magazine. Quickly though, he realised he could rent a $200 naked picture of Marilyn Monroe. That's when he pivoted. The first issue was a trial but as all 70,000 photos sold out in just two weeks - courtesy of Marilyn Monroe - he had to do a second. And so Playboy magazine started.
For the men who claimed they bought Playboy magazine for the writing, Hefner brought out the topmost writers. He featured the writings of Kurt Vonnegut, Joyce Carol Oates, Vladimir Nabokov, James Baldwin and Alex Haley. There was also in-depth interviews with iconic figures such as Fidel Castro, Martin Luther King Jr., Malcolm X and John Lennon.
"I've never thought of Playboy quite frankly as a sex magazine," Hefner told CNN in 2002. "I always thought of it as a lifestyle magazine in which sex was one important ingredient."
By the early 2000s, the magazine declined. Thanks to an E! reality TV series called The Girls Next Door, that went on for five years from 2005 to 2010, his popularity remained high. THe show involved him and his live-in girlfriends. With the March 2016 issue, Playboy magazine did away with full frontal nudity. But then retracted and reintroduced it a couple of issues later.
Hefner was married three times. Each time, as he got older, the bride stayed twentysomething. The last marriage took place in 2012 when at the age of 86, Hefner married Crystal Harris, who was 60 years younger than him and settled down.
Apart from this, Hefner was involved in a lot during the 50s and 60s. He funded court cases that challenged states where birth control was outlawed. He produced Monty Python's Flying Circus' first feature film. He also helped sponsor lower-court cases leading to Roe v. Wade.
In August of 2016, the Playboy Mansion was sold for $100 million, less than half the asking price, but still a record. Daren Metropoulis, co-owner of Hostess, bought the property. The only stipulation was that Hefner was allowed to live in the mansion until death.
Hefner holds the Guinness World Record for the largest collection of personal scrapbooks with 2,643 and also as longest-serving editor-in-chief of the same magazine.
"I'm never going to grow up," Hefner said in an interview with CNN at the age of 82. "Staying young is what it is all about for me. Holding on to the boy and long ago I decided that age really didn't matter and as long as the ladies ... feel the same way, that's fine with me."
Hugh Hefner will be buried in LA cemetery plot next to Marilyn Monroe. He bought it for $75,000 in 1992.