If our society could invent plastic surgery, why not a sanitary napkin?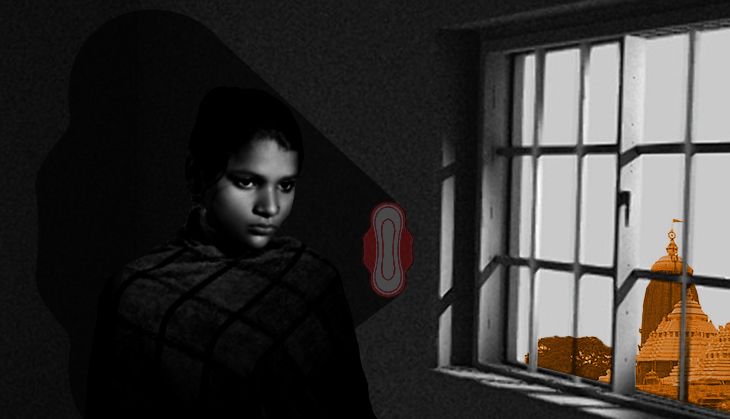 The controversy
Recently, there have been many calls to allow women\'s entry into temples
For millennia, women between the ages of 10 and 50 have been forbidden from temples, because menstruation is considered \'impure\'
The question
Hindutva forces insist that this society invented the aircraft (Pushpak Vimana) and plastic surgery thousands of years ago
If society was so technologically advanced, why didn\'t it invent a simple sanitary napkin for women?
If you want to understand the recent controversy about the entry of women to temples, you need to first understand another thing. That is, conservative elements' attempts to prevent the production of modern means to ease the problems of socially and economically-disadvantaged people.
This is a society that, thousands of years ago, claims to have invented the 'Pushpak Vimana', relayed the Mahabharat war as if on television, and given life to Hindu deity Ganesha by using plastic surgery. But how is it that this society never thought of inventing sanitary napkins for women, who make up half the total population?
It is interesting to note that the fantasies of Hindu mythology, which are usually termed as 'inventions', are restricted to the privileged classes.
Why did a society which had the potential for such modern inventions, never design a machine that could wash clothes, instead of assigning the burden to a dhobi?
The proponents of Hindutva can't point to a single 'invention' in mythology which was meant for the downtrodden. Instead, we have an example of a guru getting his Dalit pupil to cut off his thumb, just because he tried to earn knowledge.
Also read: Shani Shingnapur irony: Village without doors locks out women from temple
The 'impure' woman
Dalits have been barred from entering temples for millennia, because they were engaged in 'dirty' work, and the 'sanctity' of the temple sanctorum needed to be protected. But then why extend the ban to women, many of whom belonged to 'civilised' families?
Menstruation is a natural physiological phenomenon, and essential for women's health. But this was cited as the reason to disallow them from entering temples. Age was made the basis for this ban - women between the ages of 10 and 50 couldn't enter temples.
Hindutva ideology doesn't consider this age range as 'holy' and 'auspicious'. It considers a woman's body during this age so impure that it doesn't even allow her to get married. This is why a girl was married off before the age of 10, till, in 1888, the British intervened to make 12 years the age of consent for marriage.
Noted Bangla writer Sarat Chandra Chattopadhyay, who advocated a humanitarian approach towards women, supported this decision. For this, he was presented shoes during a public meeting.
Both Dr Raja Ram Mohan Roy, an ardent supporter of imperialist education, and Ishwar Chandra Vidyasagar, who worked tirelessly to spread education, were insulted by conservatives.
The practice of child marriage still continues in India thanks to patronage from Hindutva rules and traditions.
Also read: 'Hope SC is culturally sensitive while deciding on women's entry in Sabarimala
The 'utilisation' of women
It is not so easy to understand the caste system in the Indian social structure. Rulers adopted various complex ways to remain at the top of social stratification. Their aim was to divert all potential adversaries, who could destabilise their hegemony, to obscure, dark lanes.
They made maximum use of women for this purpose, as this was the only way to protect the caste system from all kinds of onslaught. Women were not declared as 'completely impure' as Dalits. The reason? They were to be utilised at different levels by the powerful ruling class.
But a feeling of 'impurity' was imposed upon them through various tactics. Several stories, which were meant to eulogise Hindutva as a rule of life, were prepared and narrated through male priests, so that women would always feel an inferiority complex.
Stories about menstruation in the market
Plenty of books based on Hindutva stories, prepared in various old localities of Delhi, are available in the market. They have entered the mind of the common man, not just in Haridwar or Varanasi, but in the remote areas of the country.
I came across many shocking facts and stories while doing a research for a documentary film on the plight of menstruating women in 1990.
During my childhood, my family members used to face a problem every month. We had to alter our eating habits as my mother couldn't enter the kitchen for three to four days. She used to sit on a mat in a secluded corner of the house. She could resume her worship and other religious activities only after seven days. But she never resented this pain and isolation. Instead, she used to compel all family members to follow the 'rules' that were 'prescribed' for this situation.
During that period, she used to convince me to perform the evening 'aarti' after taking a bath, even in winter. I felt her agony and pain on several occasions.
There are numerous traditions related to the menstruation period. They all vary according to the region, caste and class.
Books published on them cater to a certain kind of social and commercial market. One of them is 'Rishi Panchami Katha', which depicts how a woman's body gets infected by harmful worms if she touches anything during her menstruation.
This particular book, printed on newspaper print, is silently active in Indian households, as women are prohibited from talking openly about it. This topic is just confined to mothers and daughters as a common issue between them.
Adopting a plant and marrying her off
I found many stories on this topic. One of them was written by Ambai, a Tamil writer. Another appeared in Jansatta, a Hindi daily.
Krishna Agrawal, 53, a resident of Ghaziabad, adopted a Tulsi plant as his daughter, and performed her marriage with Saligram, a Hindu deity. In the process, he made Bhudev Goswami, the priest of Banke Bihari Mandir in Vrindavan, his samdhi (groom's father).
The marriage was solemnised before two dozen people who came from Vrindavan as 'baratis'.
Agrawal had vowed that he would perform a 'dharmik kanyadan' during his life. In 'dharmik kanyadan', a person has to marry his daughter before she attains puberty. Agrawal had two daughters, but as per legal provisions, he couldn't marry them before the age of 18. Therefore, he found this way after his daughters' marriage.
Living in the past
In a majority of Indian households, menstruation is not treated as a natural physiological phenomenon. On the contrary, it's a matter of 'impurity', which segregates women from the rest of the society, like Dalits. Dr BR Ambedkar was successful in securing entry into temples for Dalits, but menstruation-related segregation is very deep for women.
Hindutva is such an orthodox ideology that it never accepts the reality of the day. It always lives in the past. That's why, it either behaves like Krishna Agrawal, or gets aggressive like sadhvis and yogis.
There are statistics which confirm that women are attaining menopause at the age of just 30 years nowadays! This means modern lifestyle has severely altered natural cycles.
But the proponents of the orthodox ideology are still in the age of Ramayana and Mahabharata, and narrating the stories of 'Pushpak Vimana'. In every woman, they try to trace a Draupadi, who was an ardent follower of the 'rules' and 'restrictions' of menstruation.
Also read: Women devotees at Nashik temple assaulted while entering inner sanctum
How a napkin can deconstruct hegemony
Menstruation is known more for social suppression than the physiological problems. Many instances can be found in Indian society where women don't have clean and hygienic clothes during menstruation. Thus, one can easily imagine the plight of poor women.
In rural areas, women from socially and economically privileged families die of several diseases. Some of these diseases are nothing but an outcome of social hegemony and its 'rules'. For example, women are allowed to go out to attend nature's call only before sunrise or after sunset. If, for some reason, a woman can't attend nature's call at these times, she is forced to remain in that condition.
Social structure has been designed in such a way that the economic interests of the socially-privileged class are fully catered to. That's the reason why technological development and innovation have never been encouraged here.
A simple sanitary napkin couldn't be developed for women, because such an invention can jolt the existing social and economic structure, which is based on hegemony. This can erase the feelings of personal and social 'impurity' from the minds of women.
A structure of rituals can be broken through it. Rules and regulations of hegemony get weakened. It also liberates people of the dhobi community from slavery.
A simple napkin can neutralise the logic of the ban on temple entry.
Edited by Shreyas Sharma
Also read: Women have the right to enter Shani Shingnapur temple's inner shrine, says Mahant Narendra Giri