Guinness Book Record: The Little Wonder of the Write World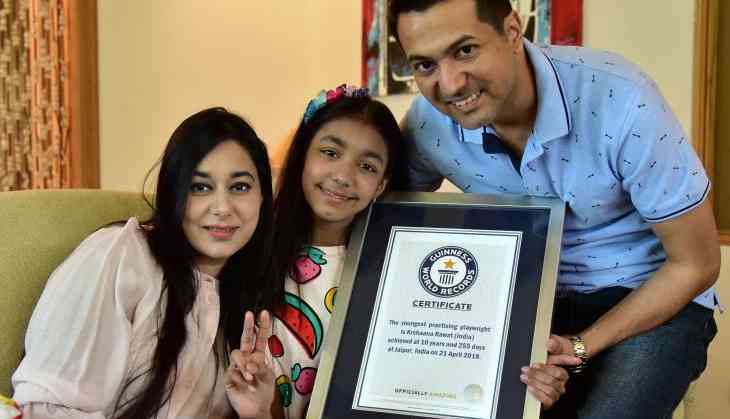 " ...Help me help me she shouted, the great goddess Riddulus, as she was pulled through the magical portal to a new evil land in the hand of another evil..."
Wondering what these lines are about? Well! These lines are from a yet to be written story, the story of the lost key, or should we say, the sequel of "The Lost Key"? Meet Krshaana Rawat, the little wonder who recently won the prestigious Guinness World Record for the youngest practicing playwright. The 10-year-old has written a play titled, "The Lost Key". Krshaana is an avid reader and she has been reading books since she was four years old and started writing when she was eight. Daughter of Shreya and Alpesh Rawat, Krshaana says her parents injected the reading habit in her at an early age. " My parents, mainly my mom, got me into the reading habit at an early age. And I have always had books by my side ever since I was four years old." said Krshaana.
Weaving a story
I feel, to dole out a good story one needs to have a very strong storyline. A story that can interest the readers/viewers, educate them about something, and also keep them entertained. When I write a
story I focus on the storyline first, then the characters, and finally I decide the title. Apart from an enticing beginning it should have an interesting plot and an impressive climax.
Off to another world
Books transport me into another world. I don't need to move myself to travel across the globe or beyond this world, all I need to do is pick a book, find myself a shell, and read. My imagination and the words in the book blend together perfectly to take me on a new trajectory every time I read. Besides, books also ensure that I do not get bored. Bored is a word that I barely use, for I am never alone when I am with my books. How beautiful it is to travel across various worlds, those that do not even exist, and enhance your knowledge about the world that we live in. In fact, my first story was about a different world. A world that emerged from my imagination.
A land of my own
I had earlier written a story titled, "Pinky and the monster." It was about trotting in an imaginary land. It was fun creating the story as I could put all my imagination to use. The same story I turned into a play and titled it, "The Lost Key".
Fiction & Fantasy
While I read several books and explore different genre, fiction and fantasy are among my favourite reads. Like I mentioned, travelling amid fancy worlds that probably don't exist, take my fancy. My favourite authors are Stephen William Hawking and J.K.Rowling.
Passion cannot be arrested
I am often asked how I juggle between school books and other books. In fact, many ask me how I find time to read so many books on fiction. I wish to tell that at school I do what I am supposed to do i.e concentrate on my studies and activites. When at home I first finish my school work and later settle with my favourite book. I feel that if we are passionate about something we can always find time to do that.