As Hotmail turns 20, here's a nod to your most embarrassing email ID
Remember your first email ID? Yeah, that one you wouldn't be caught dead sharing with anyone now. Because, unlike our naked pictures from childhood (why, dad, why?) here's an embarrassment we caused our future selves. And like everything on the internet, it just can't be reversed.
After a brief recce at work, for instance, I learned that my colleagues who absolutely cannot be named, have had IDs ranging from the innocent gryffindorboy89; to the self-aware kewlfunattic, slimcool.viks, sahthegreat and SexyGal; to the patriotic *insert name*_India; to the completely absurd prince_sweetguy and vamyvampire; to the fanatic StoneColdSteveAustin and HailtheLord; and finally, the pretentious heatofice and silverspotdorcas.
My first ID, which was used extensively to troll people on MSN chat rooms, was duismad. A gender neutral alter-ego I found rather clever at the time. I repeat, at the time.
Interestingly though, like duismad, most of the above mentioned IDs were on Hotmail - a service we've all gone through and ungraciously abandoned. Well, most of us. And abandoned for what? The easy-to-use, Google-driven Gmail, which swept the market clean.
Hotmail was launched 20 years ago 🎉
My first email address was [email protected] 😎 pic.twitter.com/hh0PVXTpqL

— Hannes Johnson 😄👍 (@HannesJohnson) July 4, 2016
Google goggles
With Gmail came the need for us to be recognised by our names. This, I suspect, was because Gmail was initially invite based and therefore prestigious. And it's always good to have our names on something niche and prestigious, right? Except it became the norm. The sophisticated dots replaced the high-school underscores. Full names replaced alter-egos. Imaginations died for professional identities to be born. The email had evolved into a necessity, a legitimate identity, and, above all, a serious private space.
While the invite-only Gmail began in April 2004, it was opened to the public only three years later in February 2007. By then, most people had either invited their friends, completely migrated, or were dying to get that coveted Gmail ID. The year 2007 opened the floodgates for Gmail, with its almost unimaginable 1 GB of mail storage space, no one needed an alternate ID anymore. Discounting sex chat, of course.
But it would be a little unfair to go on and on about Gmail today because what makes today the day for the evolution of email is that it's when Gmail's predecessor, Hotmail was born. The emailing service was launched on 4 July, 1996. Yes, we've just hit 20 years of Hotmail, and that makes this a good time to remember your first email ID.
Hotmail was founded by Jack Smith and Sabeer Bhatia back in 1996. Within a year, they had Microsoft convinced in their product. The tech giant bought Hotmail for a whopping $400 million - a huge sum for the product at the time - in December 1997.
Initially stylised as HoTMaiL - foreshadowing the sort of terrible grammar we would use through the '90s - it became MSN Hotmail after being bought by Microsoft. Remember the green-blue MSN messenger men who one day upgraded to Live? This was Hotmail's rebirth as Windows Live Hotmail.
Currently functioning as Microsoft Outlook, the emailing service lives on, albeit mostly in offices. There are some exceptions though.
Out of general curiosity (and research for this piece) I looked through my mailing lists to see who among my friends was still a dedicated Hotmail user. There was just one.
When I asked him what makes him stay on the mailing service, Laurence Webb or lozwebb555 said, "This is the first email account I ever opened. Maybe in 1999. Talk about brand commitment!"
"I've used loads of others but they've made enough upgrades over the years to keep this decent," he added. And this is someone who I know has a Gmail account but prefers to soldier on with his trusty Hotmail.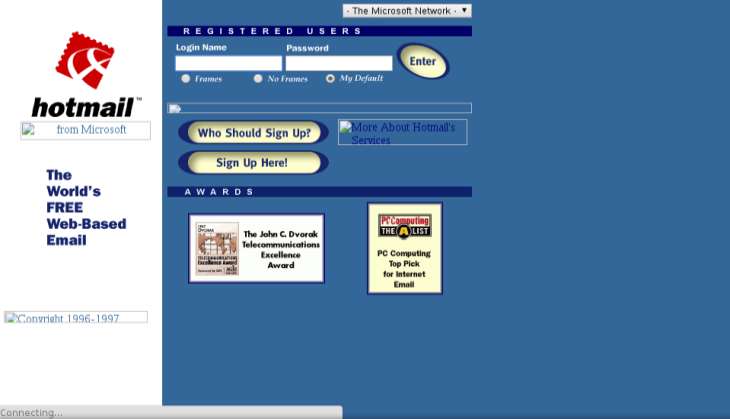 What it looked like back in the day. (Photo: Wayback Machine)
Abandoned ship
It doesn't change the fact that he's the only one on my mailing list though. If I look carefully, I might find five more. And that's such a minuscule number that all the other Gmail IDs are probably glad to have the handful around. For variety.
But why did Hotmail die? Because of a massive cultural shift.
Hotmail, Yahoo!, rediff etc signified everything we needed to move away from to accept the imminent change in our emailing habits. We stopped forwarding jokes and long emotional poems over emails. We stopped sending animated greeting cards. We stopped using comic sans font in bright colours for our mails. We stopped marking everyone on everything we sent. Most of all, we learned the important lesson of not spamming.
Because suddenly, emails were sacred. And this was because job spaces institutionalised it, the market adopted it, schools introduced it, and while we struggled in transition for a while there, we soon learned that it's impossible to find an email from boss amidst a sea of forwards.
Unfortunately for the likes of Hotmail, while we moved on, their association with non-seriousness stuck. The ample storage space that Gmail provided made it even more useful to forward and store old important emails that we wanted to keep forever. This meant that there was no use left for Hotmail.
With Yahoo! Messenger's popularity in India, those who liked chatting shifted to their light app. While this wasn't everyone, of course, Yahoo! managed to keep the compulsive chatter interested with their wide range of emojis, - then known as emoticons - then the clever audibles, and their IMVironments. Then there were the games and a Doodle plug-in. Can't go wrong with doodling.
Yahoo! was quickly abandoned for the first social media website (at least as far as Indian users go) Orkut. Launched in 2004, again by Google, by 2008 Orkut became the go-to solution for connecting with friends. Emailing was no longer needed to show our love. We could write testimonials, make posts, use pictures and waste our time effectively.
Social media takeover
Email transformed for good thanks to social media. In the same way WhatsApp has now replaced SMSs, social media took the fun quotient out of emailing back in 2008 and left the poor old email with official attachments, spam, and a lot of viagra ads.
Of course, this is also around the time Facebook started picking up. And we all know how that turned out.
By now, Hotmail was already breathing its last. Not only had we abandoned the service, but we had also abandoned the emailing culture it was tied to. The email language went from complete dyslexia - lyk y did v evr typ lyk dis? - to short forms we constantly need to look up. FYI, ICYMI this is totally in. So don't FOMO and Google it, because YOLO.
My hope is that this too shall pass.
For now though, do yourself a favour. Search for your old email ID on Gmail. There should be at least one OMGWHAT email in there. Read it in memory of Hotmail. Or better, log into your old account if it isn't suspended. Because honestly, we're quite lucky to have engaged with every moment in this evolution. As embarrassing as it was.
Happy 20, Hotmail. Try and survive?